Believe it or not, NFL free agency is right around the corner with the legal tampering period commencing on March 16. During this time, teams are allowed to contact and enter into contract negotiations with the certified agents of players who will become Unrestricted Free Agents (UFAs) upon the expiration of their 2019 contracts.
There are a lot of familiar faces and household names that are going to be free agents in 2020, as well as players who could be subject to cuts based on performance, replacement value, and sheer worth. These names include (but are not limited to) the following:
Middle linebacker Joe Schobert
Wide receiver Rashard Higgins
Edge defender Olivier Vernon
Running back Kareem Hunt
Right tackle Chris Hubbard
Free safety Damarious Randall
Left tackle Greg Robinson.
Let's play a game called "Buy, Sell, Cut" with this list, for which the rules are self-explanatory:
Buy Joe Schobert
Schobert is the defensive leader of this Browns team and is well-deserving of a new contract. The veteran MIKE linebacker is at his best in pass coverage, wherein (per Pro Football Focus) he had a grade of 87.7 in 2018 and 67.6 in 2019, which is still respectable for a player the position. The former Pro-Bowler set career marks in passes defended (9), interceptions (4), tackles for loss (7), and solo tackles (89), serving as an invaluable piece both for his on-field performance and in the locker room. He still has room for improvement in the run game, but his services are much needed and wanted going forward. When asked about returning to the team in 2020, Schobert stated, "My number one priority is to play the season out and do the best of my abilities and control what I can control, I can't really control what's going on, what's being said upstairs to my agent and them. I trust my agent. He's going to do what's best for me. I trust the Browns are going to do what's best for the organization. In my perfect world, yeah, I'd be in Cleveland." I, for one, would love to see him don the brown and orange for the foreseeable future.
Buy Rashard Higgins
The misuse of the mercurial wide receiver was one of the great mysteries of the 2019 season (and there were quite a few). It is well-known among certain NFL circles and fans that Higgins was quarterback Baker Mayfield's safety blanket during the quarterback's record-setting rookie campaign. During the 2018 regular season, Higgins had the highest success rate in the league on deep left passes, the 14th-most yards per target over the past five seasons (429 qualifying wide receivers), and the fifth-best passer rating when targeted from Weeks 9-17 (131.0). Flash-forward to 2019 and the four-year veteran was absent any meaningful playing time, only accumulating 172 offensive snaps in seven games for which he was on the gameday roster.
One thing working in Higgins' favor for 2020 is that he was part of the 2016 NFL Draft that was spearheaded by then Executive Vice President of Football Operations, Sashi Brown and Vice President of Player Personnel, Andrew Berry, who was named as the team's General Manager on Monday
Maybe next season we will see him make plays reminiscent of the following: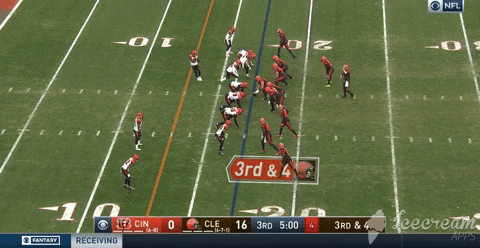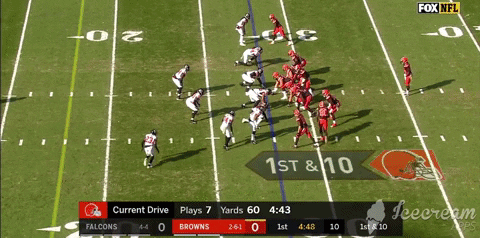 Cut Olivier Vernon
This was one of the more challenging evaluations of the 2019 season. Vernon was consistently hampered by a knee injury that forced him to miss six of the team's 16 regular-season matchups. He played fairly well during the season, generating a 6.5 pass-rush productivity, which is a measure by PFF that rates pressures created on a per snap basis. However, injuries are becoming a concern for the veteran, who hasn't played a complete season since 2016 with the New York Giants.  Another deciding factor here is the salary cap situation, for which the team could cut Vernon before June 1 and save $15.5 million with no dead cap space.
Vernon could be replaced by someone along the lines of Arik Armstead from the San Francisco 49ers, who is an unrestricted free agent in 2020. Per PFF, Armstead had a 90.0 season grade, which was third-best at the position. Additionally, he had a wins above placement (WAR) value of 0.23 in the 2019 season, which was ninth-best among all qualifying players at the position group. The 26-year-old could be a long-term solution at the Edge defender spot opposite Myles Garrett, especially with the familiarity of rumored defensive coordinator favorite Joe Woods, who currently serves as the 49ers defensive backs coach.
Sell Kareem Hunt
Hunt will be a restricted free agent in 2020, meaning he can negotiate a contract with any team, but if he accepts an offer sheet from a new team, the Browns would have right of first refusal. This is a five-day period in which the Browns would have the opportunity to match the offer and retain him, or choose not to match the offer, in which case the Browns may receive one or more draft picks from the original offering team. The Browns could place a second-round tender on the young back, which would carry a projected cost of $3.278 million in 2020. However, after the damning video released by TMZ Monday, the front office and coaching staff will have to ask themselves if the juice is worth the squeeze. Meaning, would it be more advantageous for the Browns to draft a running back in the mid-rounds, e.g. University of Utah's Zack Moss and have control of that player for three-to-four years at a discounted rate, rather than just one more year of control for Hunt?
I am in support of the former, mostly as a result of Hunt's continued questionable decisions off-the-field. There is no doubting his talent, versatility, and playmaking abilities at the running back position, but talent will only take you so far. Sometimes the best ability is availability and Hunt's availability continues to dwindle with each mistake. Further, he plays at a position for which there is relatively inexpensive replacement value, e.g. of the top-15 leading rushers in the NFL in 2019, only six were drafted in the first round. The backup to Nick Chubb should be drafted in the mid-rounds of the 2020 NFL Draft.
Cut Chris Hubbard
The right tackle signed a five-year, $36.5 million contract with the Browns on March 14, 2018. The contract included $9 million guaranteed at signing and $15.15 million guaranteed regardless of injury. I believe it is fair to say Hubbard has not lived up to this contract, as his performance consistently underwhelmed at the position and could even be considered a liability in both pass protection and run-blocking. In fact, PFF, there were 65 offensive tackles who played at least 500 offensive snaps in 2019, wherein Hubbard ranked 50th in pass-block grade (62.0) and 63rd in run-block grade (38.5).  Further, his 29 quarterback hurries allowed were the ninth-most. The Browns could cut ties with Hubbard before June 1 and save $4.9 million on the salary cap, with only $2.4 million of dead cap space. This is a no-brainer in my opinion.
As mentioned in Mock Draft v3.0, Hubbard could be replaced by former Auburn University Tigers right tackle Jack Driscoll at a fraction of the cost with a hopeful premium of production.
Sell Damarious Randall
The Browns traded for the veteran safety at the beginning of the 2018 league in a deal that included DeShone Kizer and a swap of fourth and fifth-round draft picks with the NFC North Green Bay Packers. During his two-year stint with the team, Randall never graded higher than 30th at the position group, nor did his wins above replacement ever top the same ranking (PFF). His 2018 season had a few bright spots, including four interceptions, nine passes defended, and 2 solo tackles, but will be most remembered for the year he handed former head coach Hue Jackson the football after an interception versus the Cincinnati Bengals.
2019 was a different story, as Randall was front-and-center of two incidents during the season: he was ejected week 11 versus the Pittsburgh Steelers for a helmet-to-helmet hit that left rookie wide receiver Diontae Johnson bleeding from the year and then was a healthy scratch for unspecified disciplinary reasons just two weeks later.
As a result of the aforementioned factors (and the below tweet by Yahoo Sports' Charles Robinson), I find it hard to find a scenario for which Randall will be retained by the new coaching staff and front office.
Sell Greg Robinson
The reclamation project and former first-round pick accounted for 4.08% of the team's cap space in 2019, with a total annual contract value of $6.5 million (19th out of 101 left tackles per Over the Cap). The left tackle could not seem to find his footing during the season, so to say, with a 69.3 pass-block grade and 62.8 run-block grade that ranked 37th and 32nd among the position group (PFF):
Further, per Anthony Treash of PFF, "In his career, Robinson has had the most penalties playing at offensive tackle, which is eight more than any other player at the position in the timespan and nearly 20 more than No. 3. He allowed a 7.5% pressure rate at left tackle in that period, as well, ranking among the three worst in the NFL."
As such, the team should move on from Robinson and 2020 and address the left tackle position via the NFL draft, for which there are five players currently in the running: Jedrick Wills (Alabama), Andrew Thomas (Georgia), Tristan Wirfs (Iowa), Mekhi Becton(Louisville), and Josh Jones (Houston).
Your Turn
What say you? What Browns players do you believe should be signed to new contracts or relieved of their duties?