I swore off letting this team, this Cleveland Browns team, impact my day. I can't tell you the exact day, but I recall one fall afternoon being very upset that the Browns should have won the game. I know this really narrows it down (right?) but I recall it being a game that was so, so there for the having against a team that had them punching a bit above their weight class and if they would have only done—or not done—one or two things, the game was theirs. I feel like Jason Campbell was involved, but I can't recall if it was with him as a member of the Browns or if it was the 14-11 barnburner that had sets of hands covering the television for chunks of the game.
It was one part Terry Pluto's edict of not letting millionaires ruin your day, but another part considering those millionaires being the likes of the names that have littered Browns' rosters over the last decade. This team, however, has managed to suck me back in. Even during the early portions of Sunday's (eventual) loss to the Seahawks, there were moments Seattle could not get their plays in correctly because FirstEnergy Stadium was so loud. This is the exact environment the Seahawks have had behind them for years and here it was—a taste of their own medicine. But instead of the tables actually being turned, it was Michael Scott flubbing the metaphor.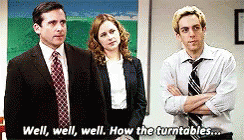 The Cleveland Browns should have won Sunday's game. And yes, the counter here is "they should have won a lot of football games" but this squad, with this talent, in that spot—they should have won. Here's a list of teams who were winning at halftime on Sunday:
Carolina Panthers
Baltimore Ravens
Houston Texans
Cleveland Browns
Minnesota Vikings
Washington Redskins
Arizona Cardinals
Denver Broncos
New York Jets
Pittsburgh Steelers
Here's a list of teams who were winning at halftime on Sunday and went on to lose:
Cleveland Browns
There are a litany of reasons why the Browns lost to the Seahawks. You hear it all the time about "knowing how to win," and you have one team that was up in the fourth quarter with a few minutes left, and another—one which has won a handful of games by single-digit point totals this season including a one-point win a week prior—knowing exactly what they had to do. And they did it. Spoiler alert: The latter team was not the Cleveland Browns.
I'm not ready to give up again. I think emotion is a good thing; it's much better than apathy. I also still think this team can be special. Long gone are the days of hoping Greg Little can catch the ball and Montario Hardesty can stay healthy. But damn do they make it difficult.
WINNER: Baker Mayfield
This may not be a popular decision, but when I think of Baker Mayfield on Sunday I think of a handful of things. For the sake of chronology, we'll start with the 20-yard pass to Jarvis Landry on 4th and 7—arguably his most purposeful pass since the opening drive on Week 1. The touchdown run was not a design—it was Baker seeing the field, noticing safeties having their backs turned, and trusting that his (admitted) unathletic build could still somehow beat would-be tacklers to the end zone. Mayfield was clearly injured during a later run. He would go on to not miss an offensive snap, and do everything within his power to will the team back when needed. Is his accuracy on point? Far from it. In fact, it's concerning that his accuracy numbers are not simply the product of a poor offensive line—even his in-pocket figures are among the league's worst. If you want to hit me with those, go for it—he doesn't look as comfortable as he did a season prior. That said, save the interception totals. Counting stats are garbage when so many other variables play into them. If not for Antonio Callaway a week earlier, the Dontrell Hilliard play during the game's final minutes may have been the most egregious of the young season.
LOSER: Freddie Kitchens
This is beginning to pain me as I'm a big fan of Kitchens. But between the debacle with the challenge that wasn't upheld that negated a touchdown or questionable (at best) clock management, this was once again a bad look for the Browns' head coach. The most egregious call of them all came at the end of the first half when the Browns, up 20-12, had all three timeouts and thought they could score twice with two minutes to play.
"I thought about scoring," Kitchens said. "I thought about scoring, using my three timeouts to get the ball back, and score again. That was the mindset I was in."
Rather than taking time, running the ball—and the clock—to ensure what would at worst be a 23-12 lead, Kitchens called for a hurry-up offense. On 2nd-and-8, the Browns snapped the ball with 22 seconds on the play clock and Mayfield threw an interception off of Jarvis Landry. The Seahawks would score a touchdown on the ensuing drive with—you guessed it—22 seconds left on the game clock.
Heading into the bye, the Browns are leading the NFL in penalties, penalty yardage, and interceptions. Not good. Also not good:
WINNER: Nick Chubb
There are some folks saying Christian McCaffery should get consideration for MVP this season. The dual-purpose back is the ultimate weapon, and has been so much fun to watch as well as own on fantasy teams. But did you know that he's the only person in the league with more rushing yards (618) that Nick Chubb (607)? No. 24 is averaging over five yards a carry, perpetually among the most elusive backs on a week-to-week basis. Last season, it felt like maybe—just maybe—Chubb's explosive runs were the exception to the rule, but he has multiple games now where big runs are a part of his box score. This past Sunday was no exception as Chubb broke off a 52-yarder in addition to finding the end zone twice. Yes, the game stalled a bit once the Browns tried to rely on the run, but this was far from Chubb's fault. The kid's a baller.
LOSERS: The Officials
I was going to expound on how Jarvis Landry was hosed on his touchdown that was somehow not upheld while multiple officials signaled multiple calls, but we'll go with this:
I'm far from "refs" guy. I loathe when people tweet at league officials—as if they're going to respond? And I'm a big believer that teams who don't want officiating to impact their game should not put themselves in position to have these sort of calls tilt the outcome of games. But this was outright awful. And worse: It burns a really well-executed play.
The Browns were far from the only team to be impacted by officiating this week, but when it feels like it happens every week, I can see how fans will snowball with each additional call.
WINNERS: Myles Garrett and Olivier Vernon
Both of the Cleveland Browns ends were in the backfield on the regular, including a fumble caused by Vernon. The down side is, when you have a quarterback like Russell Wilson, sometimes even the greatest of efforts and execution can go unnoticed as it may not always end in a positive play for the defense. Fans will point out offsides penalties much like they tried to during the three or four times a season when Joe Thomas would have a holding penalty attributed to his No. 73, but Garrett continues to be a dominant force among defensive ends, and having a running mate surely hasn't hurt.
LOSER: Denzel Ward
I thought about putting the entire defensive backfield here but decided against it as the guys currently suiting up in attempt to slow down opposing wide receivers aren't supposed to be. That Denzel Ward hasn't played a snap in weeks is an awful look. Tyreke Hill was out for weeks with a collarbone and sternum injury and came back this week to score two touchdowns. And look, I'm sure there's more to the story, and soft tissue injuries can be tough (though George Kittle hung 100 on the Rams with a groin injury on a short week, but who am I to judge?). Ward needs to be back out there immediately.
WINNER: Jamie Gillan
That 60-yard part was amazing. The look on his face after the blocked punt was event better. Get him to Hawaii.