"Winning is not a sometime thing; it's an all the time thing. You don't win once in a while; you don't do things right once in a while; you do them right all the time. Winning is a habit. Unfortunately, so is losing."- Vince Lombardi.
The Cleveland Browns are looking to create a habit of winning, as they currently sit atop the division for the first time since November of 2014 after a 40-25 rout of the Baltimore Ravens. The game saw a return to form for head coach Freddie Kitchens, with innovative and creative play designs reminiscent of the 2018 season. The football world was gifted a triple-reverse deep throw from wide receiver Odell Beckham, Jr. (who has a cannon by the way) to wide receiver Damion Ratley (which should have been caught) and a power shovel, pitch option concept that involved wide receivers Jarvis Landry and Beckham, Jr.
Let's dig into some standout statistics from the Week 4 win, with an emphasis on running back Nick Chubb and personnel usage:
Nick Chubb
"Chubbernaut." "Old School." "Chubba Wubba Hub." Or maybe just an old fashioned "CHUBBERS!!" Whatever nickname you choose, one thing is for certain: running back Nick Chubb was a formidable presence in the Week 4 match-up, generating the following statistics and ranks:
20 carries for 165 rushing yards
8.3 yards per attempt (1st)
91.1 offensive grade (1st)
63.6% breakaway percentage (2nd)
Four explosive runs (T-2nd)
Three touchdowns
Chubb continues to display superior vision, cut-back ability, patience, and footwork with each passing game. These traits were reflected on the below Week 4 touchdown run:
The Browns were positioned first-and-ten from the Ravens 14 yard-line with 9:50 left in the third quarter. Out of "11" personnel (1 RB, 1 TE, 3 WRs) and an offset i-formation, the Browns utilized an outside zone ("stretch") run concept that forced the defense to move laterally. Chubb read the playside defenders and elected to cut back against the grain, forcing a handful of missed tackles on his way to pay dirt: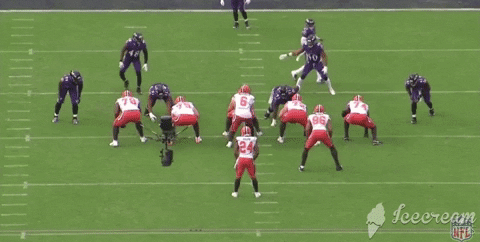 Bonus:
As Kitchens said during training camp, "I just know Nick is everything we want in a football player from the standpoint of how he approaches the game, how he approaches practice, how he approaches every time he has the ball in his hands, every time he is pass protecting and every time he is running routes. Nick works his tail off every time he crosses the white line."
It's time his name is mentioned in the same breath of Saquon Barkley, Ezekiel Elliot, and Christian McCaffrey as the best on the gridiron.
Personnel Usage
From weeks 9-17 of the 2018 season, the Kitchens offense was known for its variability in personnel groupings. Personnel groupings are denoted using a two-digit numerical system that identifies the type of offensive personnel, and the number of each type of personnel. Every offensive personnel package has five offensive linemen and one quarterback, which leaves the offense with five players among the running back, tight end, and wide receiver position groups. In naming the grouping, the first digit identifies the number of running backs, the second digit identifies the number of tight ends, and the number of wide receivers is inferred based on subtracting the total number of running backs and tight ends from five. Here are the numbers for Weeks 9-17 from 2018:
10 personnel- 6% or 26 total plays (2nd)
11 personnel- 55% or 254 total plays (27th)
12 personnel- 18% or 84 total plays (9th)
13 personnel- 16% or 72 total plays (1st)
31 personnel-  3% or 12 total plays (only team to utilize grouping more than five plays)
This was simply not the case for the first three weeks of the 2019 season, with the Browns utilizing 11 personnel the second-most in the league (84% of total plays). Granted, it is imperative to have your best football players on the field at the highest frequency, but becoming predictable and unimaginative is detrimental to an offense. The lack of execution and play design was apparent during the aforementioned time period, wherein the Browns scored 49 total points (16.3 per game).
Fast-forward to Week 4 and Kitchens returned to the innovative offense that the fan base was impatiently waiting for. The Browns deployed 12 personnel (1 RB, 2 TEs, and 2 WRs) on 34% (3rd most) of offensive plays in the victory, recording the following statistics:
Passing game- 71% success rate, 5 completions on 7 attempts, 1 TD, a 153.3 passer rating, and 17.0 yards per attempt.
Running game- 57% success rate, 14 carries for 140 yards, and 1 TD
Two of the key plays from the win were out of this personnel grouping: Nick Chubb's 88-yard touchdown scamper and tight end Ricky Seals-Jones' 9-yard touchdown reception-
Chubb 88-yard touchdown
The Browns offensive line deserves a lot of credit on this touchdown, with quality front-side blocking and excellent effort by left tackle Greg Robinson to get to the second level and knock the WILL linebacker off track. Chubb reached a top-end speed of 21.95 MPH on the touchdown, which is the fastest by a rusher thus far in 2019.
BONUS: Quarterback Baker Mayfield reach a top-end speed of 18.92 MPH on the windmill celebration, which was his fastest speed reached on a play this season: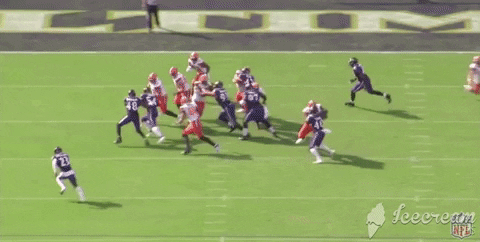 Seals-Jones 9-yard touchdown reception
The Browns faced third-and-three from the Ravens nine yard-line with 3:00 left in the first quarter. Matched up against man coverage, the Browns utilized a pick and rub concept that freed Seals-Jones for a touchdown reception on the shallow cross route: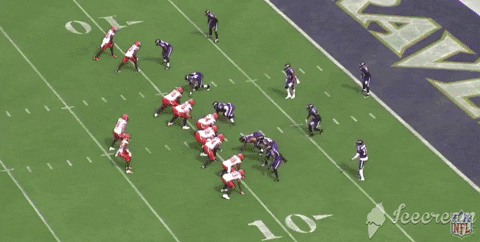 Other Statistics of Significance
Jarvis Landry set a career-high mark for receiving yards (167). 121 of those yards were after the catch, which was the most among all wide receivers in Week 4. Further, he was 1st in yards per route run (5.57) and yards after catch per reception (15.1) and 6th in receiving grade (81.4).
Safety Jermaine Whitehead was the team's highest-graded defender (84.1), which ranked 5th among qualifying safeties in Week 4.
The Browns had a 300-yard passer, 150-yard rusher, and 150-yard receiver for the first time in franchise history.
The offense totaled 530 offensive yards, which were the most by the team since September 16, 2007.
Right guard Eric Kush continued to struggle, posting an offensive grade of 29.5, which was 138th out of 140 qualifying offensive linemen for Week 4.
Mayfield has the longest active streak for touchdown passes (17).
Final Thoughts
Through the first three weeks of the season, both Kitchens and Mayfield were panned by national media outlets and analysts. They used words such as "overrated," "over-hyped," and "overwhelmed" to describe the tandem and the team. All of that came crashing down in a glorious fashion in the divisional win. The Browns have their "statement: win. Now, it's time to build on the momentum in a Monday Night Football match-up on the road versus the 3-0 San Francisco 49ers.