Adapt or die is a way of life in baseball. Hitters will figure out how to get their bat on even a 100 mile per hour fastball if it is the only pitch offered. Pitchers will find the areas of the strikezone hitters make the weakest contact if they never change their approach. The constant game within the game is part of the exhilaration of following the sport. Many top prospects have had early success only to crumble upon the need to alter their game to continue to find success. The constant ability for adaptation is why Corey Kluber finds him among the greatest pitchers in Cleveland Indians franchise history.
The Opening Day sample could be a team-specific gameplan, or it could help enlighten us to offseason changes made by Kluber for the upcoming year. The temperatures were also quite crisp (in the 40-degree range). So, please understand what follows below is being highlighted as something to track and not a guarantee of a new repertoire. One interesting note that will be shown though is that one of his signature pitches changed significantly… at least for one game.
Pitch Usage
Kluber has an arsenal of a four-seam fastball, a two-seam fastball (sinker), a change-up, a cut-fastball (cutter), and a hybrid curveball-slider (slurve) that BrooksBaseball classifies as a slider and Fangraphs classifies as a curveball.
With decreasing velocity in his fastball, Kluber reinvented himself last year to maintain his AL Cy Young Award consideration pace. He ramped down his four-seam usage to rely more on his sinker, and he went against the MLB-grain as he decreased the rate of throwing his slurve in favor of his cutter.
Opening Day saw Kluber continue to de-emphasize his four-seamer, but there were some other interesting components of the attack used on the Twins. Against right-handed hitters, he relied almost exclusively on the sinker and slider (90% of pitches). The reason to pair these pitches is they have a late break that has them follow an identical path forcing the batter to commit their swing before they know where the pitch ends up.
Here is how that pitch tunneling looks as an overlay:
https://twitter.com/PitchingNinja/status/1009570853850370049
Against left-handed hitters, Kluber also made wide use of his sinker with near equal usage of the change-up and cutter with an occasional slurve mixed in. That change-up is something he only offers to left-handed hitters as he also avoided throwing the pitch to right-handed batters in 2018. It is a needed additional pitch versus southpaws as he obviously does not trust his slurve to have the same devastating effect to opposite-handed bats.
Pitch Velocity
As Kluber has lost velocity over the years as he has aged, it is important to track as any further velocity dips– particularly on his fastball– could drop him from the ranks of the elite. Kluber has seen a slight increase in velocity during the season in recent years, so expectations of a slight uptick from Opening Day are warranted.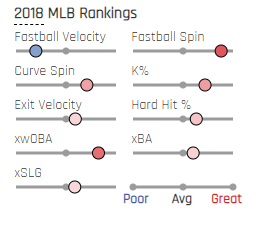 Note: Reminder fastball velocity is not everything. Kluber's velocity has been falling, but he has reinvented himself to maintain high strikeout totals in part due to an increased rotation as seen above per BaseballSavant.
Good news. Kluber's four-seam fastball (92.4 miles per hour), two-seam fastball (91.8 miles per hour), and change-up (85.5 miles per hour) all stayed nearly identical to his 2018 speeds.
He did see a two mile per hour drop-off in both his slurve (82.4 miles per hour) and cutter (87 miles per hour). The two hardest hit balls against him were against that reduced cutter, which had been a plus pitch a season ago. Small sample sizes on all of these pitches make them an early data point.
Pitch Movement
On the horizontal plane (across the plate), all of his pitches had some increased movement in Game 1. However, there was only one pitch that increased greatly in both the horizontal and vertical axis; the slurve. The hybrid curveball-slider was devastating as he added two inches of drop and almost two inches across the plate. Stepping into the batter's box was already an adventure against Kluber. If he can maintain this level of movement, then it will be an MLB-level whiffle ball game. Kluber threw the pitch 21 times with the Twins whiffing on six of the 11 they swung at, and zero players were able to obtain a hit off the slurve.
What next?
With the Indians minimizing the totality of innings for Shane Bieber by skipping his starts with the extra off days in April, Kluber will pitch again on Wednesday. In the one game sample, he had a lower strikeout rate than usual, so it will be worth monitoring if those rise. But, overall, Kluber appears to be the same elite pitcher Tribe fans are used to cheering on with a little tinkering to his arsenal that just might make sure he stays there.