Welcome to the 2018 B1G Championship edition of Know Your Opponent, the most interesting and relevant Ohio State football blog in at least two Ohio counties. KYO offers Buckeye football fans everything they need to know about their favorite squad's weekly matchups, and more often than not, some things they wish they didn't know. This week: The Northwestern Wildcats of the Northwestern University in Chicago, Illinois!
Hype Video Hors D'oevre
This was literally the only NU hype video posted this year. Not bad, but it's cheap to begin with highlights from the team's entire history. I think they even have some shots of Pat Fitzgerald's giant, square head in there from his playing days.
Stats: 21st per CFP Committee, number from NCAA.org
YPG: 110th
PPG: 107th
YPGA: 48th
PPGA: 29th
Record: 8-4, 1st in B1G West
@ Purdue, W 31 – 27
Duke, L 7 – 21
Akron, L 34 – 39
Michigan, L 17 – 20
@ Michigan St., W 29 – 19
Nebraska, W 34 – 31 (1OT)
@ Rutgers, W 18 – 15
Wisconsin, W 31 – 17
Notre Dame, L 21 – 31
@ Iowa, W 14 – 10
@ Minnesota, W 24 – 14
Illinois, W 24 – 16
Coach: Pat Fitzgerald

There's not a more-Irish looking head coach in the entire country than Pat Fitzgerald, and that includes Brian Kelly. Fitzgerald makes the Notre Dame Leprechaun look like Chef Boyardee, with his block head and perfectly square, gigantic, potato-gnashing teeth. When Fitzgerald travels to Boston the locals get upset, thinking someone has dressed up in Bad Grandpa-style prosthetics to troll the local narrowbacks with the Irish-American version of a minstrel show. The only way Fitzgerald could be more Irish-American is if he carried around a bottle of Jameson (or Bushmills, if he's Protestant; WFNY is neutral in The Struggles) and Tweeted about how The Irish Were The Real Slaves.
All joking aside, Fitzgerald is largely regarded as a very good coach, which is against the grain for these hero-player-returns-as-savior-coach types, like Scott Frost at Nebraska and Jonathan Smith at Oregon State. Not only was Fitzgerald a star linebacker at the school, he is from Chicago, adding an extra oomph to his return home to lead the Wildcats in 2006. His Wikipedia page, recounting his time as an All-American at Northwestern, says he personified the school's blue-collar defense, which is an odd way to describe the football team of the only private school in the B1G. The term "blue collar" is so over-used in football these days I'm not entirely sure what it means anymore, but I can tell you that it in no way should be used in conjunction with a private school in Chicago, style of football defense be damned.
Mascot: Willie the Wildcat

As if you fans of Ohio and Cleveland sports needed another reason to dislike Northwestern this week, here you go.
Craven Alumni Creature Feature: Charlton Heston

Are you concerned about mass shootings in the US? Perhaps you think it's bad when children get murdered at school by deranged gunmen with assault rifles. Maybe you're of the opinion that there are too many guns in the country; more than there are people. Or, like most normal and non-disgruntled Americans, you believe in the right of gun ownership for home self-defense but just don't understand why your fat, sedentary white neighbor needs three AR-15s. If so, I'm here to remind you of shitbag Northwestern alum, Charlton Heston, and how he directly contributed to the hellscape that is 2018 America.
Heston was originally a supporter of gun control and other liberal causes in the 1960s, backing Lyndon Johnson for president and throwing his fame behind the Civil Rights Act. He even led the Screen Actor's Guild until 1971. After that, he flipped to supporting rightwing causes and voted for Richard Nixon in 1972. Though he later renounced his stance, he opposed the Vietnam War while it was ongoing. When asked in his twilight why he switched from left to rightwing, he said, "I didn't change, the Democratic Party changed." You may recognize this is as similar to Ronald Reagan's response to his own flip-flopping, but really it's just a convenient turn of phrase to avoid having to deal with the fact many white American men get super racist as they age, and that becomes the sole basis for their opinions.
Heston became the president and spokesman for the National Rifle Association in 1998, leading the forces of American violence and premature death for a full five years before stepping down. Greatest hits from his NRA tenure include holding the group's annual meeting in Denver shortly after the nearby Columbine massacre, and holding a flintlock rifle above his head at the end of convention speeches while declaring "from my cold, dead hands." I could not find any sources stating that Heston was holding a cute little gun when he died in 2008 from complications from pneumonia, but I like to imagine him clutching one on his way into the blackest night like a child grasps a teddy bear as they drift off to sleep, endorphins flooding the same sector of his addled brain.
Wildcats in the NFL
Ibraheim Campbell, S, Green Bay Packers
Austin Carr, WR, New Orleans Saints
Garrett Dickerson, TE, New York Giants
Justin Jackson, RB, Los Angeles Chargers
Joe Jones, LB, Denver Broncos
Tyler Lancaster, DT, Green Bay Packers
Dean Lowry, DE, Green Bay Packers
Sherrick McManis, CB, Chicago Bears
Trevor Siemian, QB, Minnesota Vikings
Anthony Walker, LB, Indianapolis Colts
Wildcat Playmakers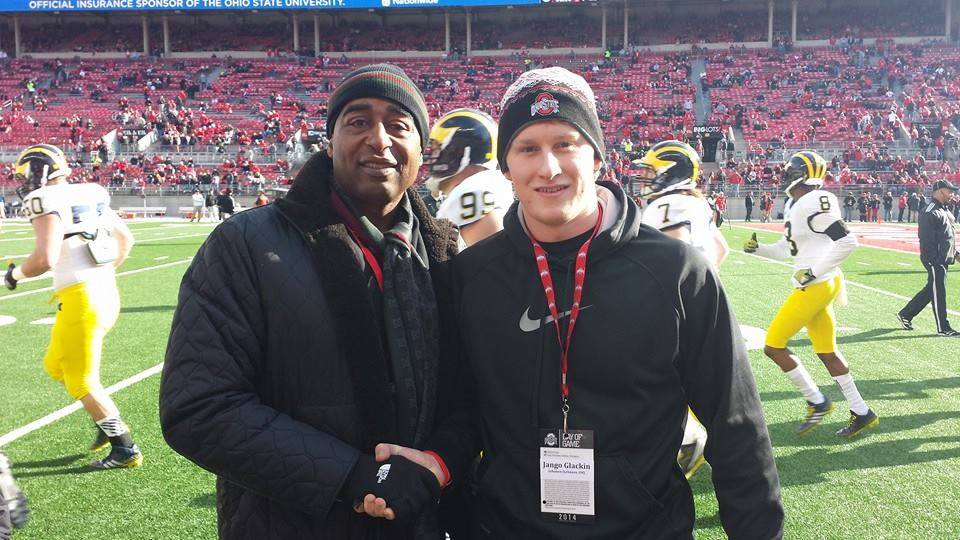 Carnifax, Tommy, DE
Chiaokhiao-Bowman, Ramaud, WR
Eshoo, Eric, TE
Fessler, Charlie, WR
Fisher, Paddy, IB
Glackin, Jango, OB (featured)
Goens, Trent, DE
Hartage, Montre, CB
He'Bert, Payne, OL
Holman, Berkeley, WR
Hudetz, Troy, LB
Klock, Trey, OL
Kolwich, Cameron, OG
Kuhbander, Charlie, K/P
Luckenbaugh, Drew, K/P
Mayo, Alonzo, DB
Sermons, Donovan, DB
Vault, Solomon, WR
Vogel, Gunnar, OT
Weissenhofer, Mason, PK
Prediction
Wow, what a Game! I don't think anyone saw that coming, but I'll take it. The most points Ohio State ever scored against Michigan, and this was supposed to be the year that Jim Harbaugh finally felled Urban Meyer. Alas, it was not to be. Nobody knows where this OSU team came from, but we're all happy they're here.
However, the Buckeyes cannot rest on their laurels this week, as they must travel to beautiful and hilly Indianapolis to take on the Wildcats, who are no slouches themselves despite playing in the weakest division in college football. And they lost to the Zips…but they beat Purdue. It's chaos, this college football we love so much.
Anyway, this week, for their contest with the 8-4 Northwestern Wildcats, I predict your favorite college football team, the Ohio State Buckeyes, takes home the win and the B1G Ten Championship trophy, 42-18. Go Buckeyes!