In what appeared to be more aptly explained as two separate deals than a three-way deal the Indians sent Yandy Diaz and Cole Sulser as part of a three-way trade to the Tampa Bay Rays in return for Jake Bauers. Many words have been spilled on WFNY footprint between Jim Pete, Michael Bode and myself on Yandy Diaz with a summary being he has a high floor and for a team that can unlock his exit velocity into more loft, a high ceiling. This was the bet the Tampa Bay Rays made; that Diaz an elite hitter in terms of exit velocity could be unlocked in some way. An entirely smart gamble. Indeed, this deal could look ugly in a few years but Diaz at 27 years old is not exactly young. What is more; this is a challenge trade; where both the Indians and the Rays had more info on their own respective players, Diaz and Bauers, and chose to challenge each other's evaluation by acquiring five years of the counterpart's potential breakout player.
The focus of this article is to look at what the Indians potentially saw in Jake Bauers to make this move as well as evaluating the scope of his 2019 impact for the club. For the sake of this analysis, I have broken it into four categories which I feel are the major tools: on-base ability, contact authority (power), baserunning and defense. An aside, I have consolidated defense because I believe often having the arm as a fifth tool often overweights its relevance to run scoring and run prevention compared to the other tools. Indeed, unless one throws like Johnny Damon on one end or Roberto Clemente on the other end, arms as tools are often overvalued.
On Base Ability
Research by Chris Mitchell which became major inputs to the KATOH projection system discovered that three major inputs to big league performance for position players are age compared to level, strikeout percentage, and isolated power with walk rate not far behind.  By reaching the big leagues for 388 plate appearances in 2018 at age 22, Bauers had been an average of nearly 2 years younger than the average age at every level he played at in the minor leagues. Simply getting to the big leagues at 22 is a strong indicator of future success. However, Bauers did more than simply reach the show; he held his own.
Among those with 350 plate appearances in 2018, Bauers was 20th in walk rate at 13.9 percent, tied with Andrew McCutcheon. Bauers had a swing percentage on pitches out of the zone on par with Carlos Santana, a historically patient hitter. Assembling both of these hitters on the same lineup card will yield an Indians team that walks a ton. Further, Bauers on-base ability was mostly held down by a low BABIP and while contact authority is an area for growth, positive regression can be expected for Bauers — setting him up nicely to sit in the .330 wOBA area as projected by Steamer.  Bauers has shown strong contact rates at nearly every level and having reached the big leagues at just 22, we can expect some reduction in strikeout percentage at the big league level to continue developing his overall OBP package.
Contact Authority (Power)
Bauers has the ability to elevate and drive the baseball with a smooth swing from the left side that is a joy to watch.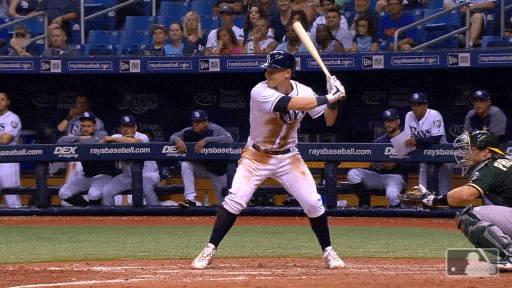 A little swagger to boot never killed a man. Bauers, solid throughout his minor league development posting mid-.150s ISOs while young for level, will ultimately determine the extent of his ceiling. As WFNY's Michael Bode has pointed out; Bauers exit velocity while below average is supplemented with nearly optimal launch angles.
However, Bauer's appears to have solid exit velocity on the optimal launch angles posting an average exit velocity of 93.1 on fly balls and line drives. This places him in the top 35 percent of hitters in that category, which is where exit velocity is most valuable.
Projecting power growth is never particularly easy but hitters with an advanced control of the strike zone and solid contact skills while consistently young for level are very good wagers to add power and that is exactly the type of player Jake Bauers is.
But for now; if you miss up, Jake Bauers is going to punish you.
Finally, Bauers is moving from a mediocre hitting park for left-handed hitters to one of the five best in baseball which never hurts. Right now, the power is average but there is a distinct likelihood it improves with age and development at the big league level.
Baserunning
Bauers is a good baserunner outside of a penchant for over aggression. While in that Santana camp of someone who can steal five bases or so through instincts, Bauers has to get better at choosing his spots and letting his situational base running create value. Like many major leaguers, Bauer's base running will likely not be an asset or a deficit.
Defense
Bauers is very athletic for a first baseman and has shown an ability to play the outfield without creating problems. In small samples, DRS (defensive runs saved) had him at -1 in left field and +1 in right. Baseball Savant's outs above average had him at -1. Indeed, all small sample but those which align with optimistic projections of Bauers being able to defend a corner spot at average to above average. Fangraphs prospect scouting reports are pretty favorable:
He's also slimmed down and become an above-average right fielder in the process of adding raw power in pro ball, a result of Bauers' well-regarded work ethic.
Bauers is not particularly flashy at the moment with average to slightly above average tools across the board but these are exactly the types of players the Indians need around generational talents like Ramirez, Lindor, Bauer, Kluber, Carrasco, and Clevinger.
A reasonable projection of Bauers is 20 home runs, a .340 OBP and competent defense which is better known as solid lineup depth.
However, Bauers solid floor should not hide the potential for offensive growth. The Indians have had pretty extensive success in helping players with good work ethics, good discipline and solid contact skills transition into plus power threats. At just 23, Bauers has shown the production to make this a safer floor play and the ancillary tools to show the ceiling for more. With a lack of impact outfield candidates, Bauers name is one Terry Francona can pencil in confidently each day.