Welcome to the final 2018 regular season iteration of Know Your Opponent, the internet's premier destination for unfounded rumors, vile smear campaigns, and irresponsible conspiracy theories regarding the opponents of the Ohio State football Buckeyes.
There's nowhere else a Buckeyes fan can go for this level of detail on rival teams' mascots, players, coaches, alumni, faculty, average campus dorm room square footage, and graduate per capita income. This week: The Michigan Wolverines of the University of Michigan in Ann Arbor, Michigan!
Hype Video Hors D'oevre
I hate to admit this, but this is a legitimately motivating and well-crafted hype video. Somebody put a lot of time and effort into this, but it's too bad because the Buckeyes will PROVE THEM RIGHT.
Stats (via NCAA.org)
PPG: 21st
YPG: 52nd
PPGA: 3rd
YPGA: 1st
Guess what, Buckeyes faithful: The Wolverines were ranked No. 1 in defense in 2016, and the Buckeyes won. Last season, the Wolverines were still a top-20 defense despite their overall struggles, and the Buckeyes won. Don't worry too much about the Wolverines defense this week; worry about the Buckeyes porous defense now that Michigan has a serviceable QB.
Record 9-1, 4th in CFP Week 12
@ Notre Dame L, 17 – 24
Western Mich. W, 49 – 3
SMU W, 45 – 20
Nebraska W, 56 – 10
@ Northwestern W, 20 – 17
Maryland W, 42 – 21
Wisconsin W, 38 – 13
@ Michigan St. W, 21 – 7
Penn St. W, 42 – 7
@ Rutgers W, 42 – 7
Indiana W, 31-20
These point differentials look like Ohio State's during any Urban Meyer season prior to this one, which is foreboding for us Buckeyes fans. Michigan treated Penn State as if they were Rutgers, and the Buckeyes were lucky to escape Happy Valley and College Park with one-point victories. UM did have sort of a struggle with Indiana, but then again so did the Buckeyes, so what I'm saying is throw out all the stats this weekend as we do for every Game, because anything can happen.
Coach: Jim Harbaugh
Jim Harbaugh, my bete noir, the Batman to my Joker, the Ted Bundy to my cop-who-pursued-Ted-Bundy, the gift that always keeps on giving, to my endless chagrin has finally stopped giving! To be completely frank here, this is a new position for me and I'm not entirely comfortable with it. Sure, Harbaugh gave me so much over the years — shirtless in khakis, milk, glasses, boogers, a mitt at the World Series, chicken, general anomie — at such a high level that at some point his performance was going to take a dip, but even though I expected it to happen it still isn't easy to process.
He's a hater's LeBron; even though LeBron hasn't started to wane yet, and everyone knows it has to happen eventually, imagine how shocking it will be to see him actually start that decline. That's where I'm at with Harbaugh. I knew this was coming and I thought I was prepared for it, but now that I can see it, I cannot process it. And to make this all the worse for me as a Buckeyes fan and beat-walking journalist, is that what killed the Jim Harbaugh I knew and loved (to hate) was winning!
So, that's it then? Michigan has one good year under Harbaugh while Ohio State struggles (according to our insanely high standards), and he turns into a normal college football coach, completely shattering the only consistent source of satisfaction in my life for three years? No more insane press conferences, no more conspiracy theories regarding the feminizing side effects of consuming poultry products, no more letting his freak flag fly without a care in the world; no sir, now's he just your average ol' college football coach. Intense, sure, they all are, but gone are the hallmarks of peak Jim Harbaugh peculiarity and pizzazz that made hating him worthwhile. He's just another Mark Dantonio now, scowly and annoying when the Buckeyes play his team, but otherwise forgettable.
When UM visited MSU this year and the Spartans picked a pregame fight during their asinine arms-across-the-field pregame ritual with some Wolverines warming up at midfield, Harbaugh called Dantonio's actions "bush league." And he was right! It was bush league to pull a dumb stunt like that and then pretend it was a both-sides-do-it situation. Do you know how demoralizing and off-putting it is for me to agree with Jim Harbaugh? To know within in my guts that he is actually the good guy in a situation? I feel like a character in a Lovecraft story, certain that something is gravely wrong with the world, hectored by an unceasing sense of dread, but unable to describe the horrors just outside of reach of my awareness, descending into a raving madness that is only eased by a merciful death. That's what it's like to agree with Jim Harbaugh about anything, gazing into an abyss that gazes back at you.
Last season I wrote about how sad and lost Harbaugh seemed at the time, and how I needed him back in fighting form so I could be whole. I did a whole Joker-Batman analogy where I was the Joker and needed Harbaugh's Batman to work; it was good, you should read it. Anyway, what happened this year is a million times worse than that, my old rock bottom with Jim Harbaugh. Instead of snapping out of his funk and returning to his insane, glorious precondition, he did the complete opposite and became a normal fucking coach. He probably gives pep talks and references winning and teamwork now, instead of sermonizing about avoiding chicken breast because it will make you a pussy. And it's because he's winning! With a legitimate nationally contending team! While the Buckeyes do whatever it was they did this season! What an absolute bummer. Let me be the one to tell you this, folks: the grass is not always greener on the other side, so be careful what you wish for.
Wolverines in the NFL
Tom Brady, QB New England Patriots
Jake Butt, TE, Denver Broncos
Taco Charlton, DE, Dallas Cowboys
Jehu Chesson, WR, Washington Redskins
Frank Clark, DE, Seattle Seahawks
Mason Cole, C, Arizona Cardinals
Amara Darboh , WR, Seattle Seahawks
Devin Funchess, WR, Carolina Panthers
Ben Gedeon, LB, Minnesota Vikings
Graham Glasgow, C, Detroit Lions
Ryan Glasgow, DT, Cincinnati Bengals
Brandon Graham, DE, Philadelphia Eagles
Leon Hall, CB, Oakland Raiders
Chad Henne, QB, Kansas City Chiefs
Willie Henry, DT, Baltimore Ravens
Delano Hill, S, Seattle Seahawks
Maurice Hurst, DT, Oakland Raiders
Taylor Lewan, OT, Tennessee Titans
Jourdan Lewis , CB, Dallas Cowboys
Erik Magnuson, OT, San Francisco 49ers
Patrick Omameh, G, Jacksonville Jaguars
Jabrill Peppers, S, Cleveland Browns
Jake Ryan, LB, Green Bay Packers
Michael Schofield III, G, Los Angeles Chargers
Dymonte Thomas, S, Denver Broncos
Matt Wile, P, Minnesota Vikings
Jarrod Wilson, S, Jacksonville Jaguars
Chris Wormley , DE, Baltimore Ravens
So I'm completely on the Jabrill Peppers train now. For his first Browns season it was difficult because he was such an annoying fixture for years at Michigan, all the dumb using-him-on-offense trick plays and the accompanying announcer-slobbering had spoiled him in my mind. Also, he was used supremely ineffectively at deep-deep-deep safety and couldn't contribute to the team, so there was nothing there to warm me up to him. These days he's in his natural position on a decent defense, he's making plays, and he's not lining up at RB to lose three yards, so consider that fixed. He's my guy now.
Craven Alumni Creature Feature: The MAGA Bomber
In a field full of the most perverted, wretched, vile, grotesque, and abysmal stains upon the face of our fine society, one Michigan alum stands alone atop the shitheap: The MAGA Bomber, Cesar Sayoc. There may be some recency bias to his victory over other notorious scumbags, as Ann Arbor has squatted out vicious monsters like HH Holmes, the Unabomber, Papa Doc Duvalier, Jack Kevorkian, and child killers Leopold and Loeb. Sayoc has not claimed any lives like these fiends, but given the pure Michigan-ness of his plot and his completely botching it, I had to go with him.
For those of you lucky enough to be unfamiliar with this insane drifter, here's a refresher on Sayoc. He sent pipe bombs to major Democratic Party figures and other antagonists of the president, including Robert Deniro and George Soros. Anyone the president tweeted petulantly about received a bomb from this absolute lunatic. Sayoc was known to drive around his Florida town in a white van peppered with Trump and rightwing meme stickers while he delivered pizzas, making him the only pizza man on the road more deranged and racist than Papa John Shatner. His friends and family say his brain went 100 percent to mush after the 2016 election, poisoned by Facebook and his love of rightwing conspiracy shitposts. If you have white boomer parents, you know how this goes. Thankfully, like every other braindead boomer, he is completely incompetent at any endeavor that requires any work whatsoever besides being handed life on a golden platter, and his bombs failed to explode. He is currently in jail awaiting trial.
Sayoc attended Michigan in the late 70s and early 80s, working towards a degree in sports psychology. He was employed by Bo Schembechler as a student assistant psychologist, overseeing the mental health of the Wolverines football team from the final year of the Ten Year War through 1982. Schembechler often spoke of Sayoc as the most critical member of his staff during those years, and praised the man in press conferences for years after he graduated. In fact, Schembechler's family was dismayed that upon his deathbed in 2006, Bo's last words were about how great of a man Cesar Sayoc was, something about his perfectly hen-pecked hairline, completely ignoring his assembled children and grandchildren as he passed from this mortal veil.
Critical Players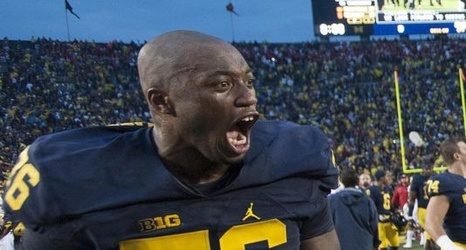 Jared Wrangler, FB
Khalese Hudson, LB
Gemon Green, DB
Donovan Peoples-Jones, WR
German Green, DB
Tru Wilson, RB
Peter Bush, FB
Jaylen Kelly-Powell, DB
Sammy Faustus, DB
George Caratonin, P
Luiji Vilain, DL
Kwity Paye, DL
Tyree Kennel, DB
O'Maury Povich-Samuels, RB
J'Marick Woods, DB
Camaron Cheeseman, LS
Louis Gorilla-Grodman, DB
Ramsey Roy-Baty, TE
Dane Drobocky, DL
Alan Seltzer, K/P
Ben VanSumeren, FB
Owen Goldsberry, DB
Jameson Offerdahl, LB
Juwann Bushell-Beatty, OL (featured)
Ron Johnson, DL
Prediction
As I said above, and as everyone has said everywhere all week, throw out all the records for this one. *gets text from editor* Sorry, I've been informed that the Wolverines and Buckeyes have the same record right now, so throw out the stats, is what I mean. Look, the Buckeyes look wonky this season, certainly on defense, and this is the most complete Wolverines team Jim Harbaugh has fielded, but it isn't as if this game is ever a cakewalk for either squad. Far from it. Shit, two years ago the Buckeyes were ranked 2, the Wolverines 3, but this is the year we lose our minds over this game?
The Buckeyes are still a top-10 team, and have still found ways to win 10 games despite giving opposing offenses any play they want. The Wolverines have not seen an offense like ours since week 1 at Notre Dame, and the Buckeyes have proven they can move the ball on solid defenses all year. Anything can happen in THE GAME, so just be prepared for chaos and alcohol poisoning.
Despite my adoption of chaos theory regarding Ohio State football, you all came here for a prediction, so by god, I predict the final score is 36-33 Buckeyes, in OT. I'm not ready to count our boys out just yet. I say give them a chance to prove it on the field at home. I will be watching the game with friends and family in my spiritual home of Columbus, in town for Thanksgiving, rooting for my beloved Buckeyes on Ohio's sacred soil, drinking mass-market light beer much too early in the day as is tradition. You should do the same. See you here soon for whatever the postseason looks like.