Welcome back to another week of Know Your Opponent, WFNY's proprietary analytics column where the statistical certainty of a Buckeyes victory is explained in layman's terms so simple even fans of the Michigan Wolverines cannot dispute them. This week it's the matchup Buckeyes fans have had circled on their calendars since the schedule was announced in 2016: The Golden Gophers of the University of Minnesota in Minneapolis, MN, USA!
To whet your football whistle let us begin with another of YouTube juiciest football morsels, skimmed from the site's dumping ground of anti-feminist rants, nude cartoon characters, morbidly obese martial arts aficionados, straight up nazis, and useless movie explainers – Row the Boat by ZS Hype Videos!
Before we go any further, check out this previous edition of KYO Minnesota for anything not covered here, like shitbag traditions, a full rundown on Goldy, and the like.
FBS Stats (unranked, stats per NCAA.org)
YPG: 113th
PPG: 80th
YPGA: 21st
PPGA: 40th
Record: 3-2 (0-2 vs. Big Ten)

New Mexico St., W 48 – 10
Fresno St., W 21 – 14
Miami (OH), W 26 – 3
@ Maryland, L 13 – 42
Iowa, L 31 – 48
Coac: PJ Fleck

Fleck hails from Illinois, playing wide receiver at Northern Illinois. He was the leading receiver there during his playing years, eventually moving on to the NFL and the 49ers in 2004 as an undrafted free agent. He was on the practice squad for most of 2004, making the roster for the final game. He spent the 2005 season on the injured reserve due to a shoulder injury, and was released in 2006. After failing to make the Bears because of said injury, he moved on to coaching.
Fleck began his coaching career in 2006 as a gradate assistant for our very own Ohio State Buckeyes, coaching tight ends and special teams for Jim Tressel. After a stop back at his alma mater to coach wide receivers, Fleck was hired by Greg Schiano in 2010 to coach wide receivers at Rutgers. He even joined Schiano in Tampa Bay when Greg was the Buccaneers head coach. PJ's entire coaching career looks like:
2006    Ohio State (GA)
2007–2008      Northern Illinois (WR)
2009    Northern Illinois (WR/RC)
2010–2011      Rutgers (WR)
2012    Tampa Bay Buccaneers (WR)
2013–2016      Western Michigan (HC)
2017–present   Minnesota (HC)
Fleck is known for his high-flying antics on the sidelines and electric locker room speeches, employing his millennial lingo and secret handshakes to fool his Gen Z players into giving a shit and juicing up Minnesota's game.
I was going to make fun of his children's names because they are peak 2010s white, suburban, upper class stereotypes like any version of "Payton," but he lost a son to childhood illness and even I have lines I won't cross.
Fleck also runs an annual football camp that benefits multiple charities, including the Alopecia Foundation. Anyway, Fleck seems like an actually cool and well-meaning guy, if a bit overly sincere about his wacky motivational tactics.
Mascot: Goldy Gopher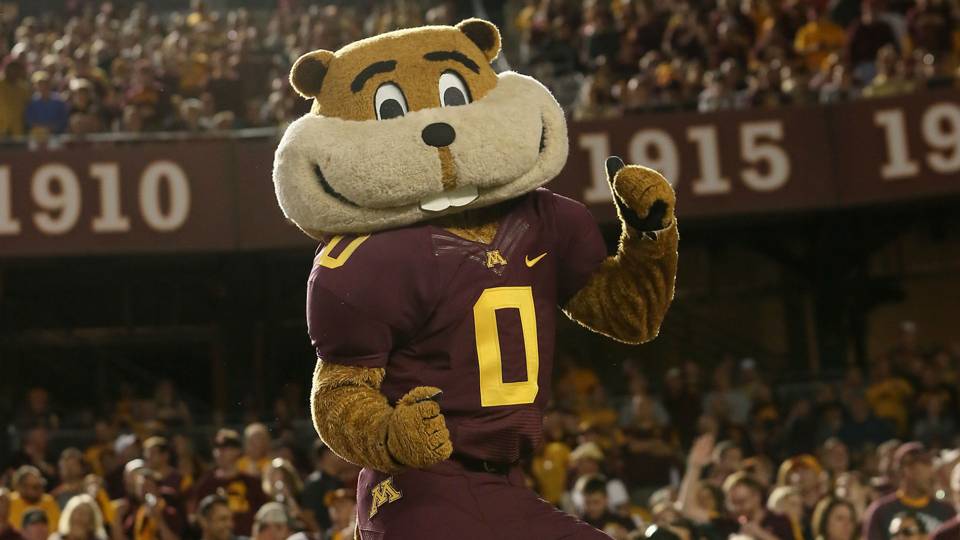 Gophers in the NFL

Briean Boddy-Calhoun, S, Cleveland
De'Vondre Campbell, LB, Atlanta
MarQueis Gray, TE, Miami
Eric Murray, CB, Kansas City
Marcus Sherels, CB, Minnesota
Maxx Williams, TE, Baltimore
Damien Wilson, LB, Dallas
BBC!
Noteworthy Players
Chris Autman-Bell, WR
Zack Amistad, QB
Jornell Manns, WR
Tai'yon Devers, DL
Rashod Bateman, WR
Coney Durrr, DB
Samuel Pickering, QB
Julian Huff, LB
Benny Sapp III, DB
Payton Jordahl, LS
Justus Harris, DB
True Thompson, WR
Jonathan Femi-Cole, RB
Alex Reigelsperger, DL
Kiondre Thomas, DB
Antonio Shenault, DB
Preston Jelen, RB
Ko Kieft, TE
Bailey Schoenfelder, LB
Colton Beebe, TE
Winston DeLattiboudere, DL
Jacob Herbers, P
Mariano Sori-Marin, LB
Ty Barron, LB
John Michael Schmitz, OL
Bronson Dovich, OL
Axel Ruschmeyer, OL
Kyle Sassack, OL
Brock Annexstad, WR
Clayton Witherspoon, TE
Yale Van Dyne, WR
Brevyn Spann-Ford, TE
Mayan Ahanotu, DL
Connor Novak-Goar, DL
Royal Silver, DL
Notorious Alumnus with whom Felons are Barred by Law from Associating: Garrison Keillor

Hey if it isn't one of the OG #MeToo victories, Prairie Home Companion founder and star, Garrison Keillor. Look at this smug bulldog and tell me he's not groping anyone who gets within the range of his hairy mitts. If you've ever heard Prairie, you know exactly the type of pretentious schmaltz this orc has forced upon the public radio listening public for decades, and you should hate him for it. Not to downplay the seriousness of the sexual assault allegations against Keillor or to make light of anyone's ordeal, but this fiend harmed exponentially more victims with his faux down-home Midwest horseshit than he ever could with his grubby, fat-knuckled dick-beaters capped with off-puttingly long fingernails.
I hate Keillor's brand of mystical Minnesota rural Midwest magic, as if there are no cities in Minnesota and the entire state is grasslands and deciduous forests. They have so many cities there are twins, and while there may be 1,000 lakes there, other states have lakes as well. Our beloved hometown has a great lake, that every single person in northern Ohio can enjoy, from Ashtabula to Toledo, without having to hike into the wilderness. I prefer my Midwest grim and gritty, which may betray my hometown bias for the rustbelt, but I haven't run a radio show for 40 years based solely upon a mythical depiction of Cleveland as a utopia. Minnesota has just as much racism, crime, pollution, obesity and corruption as Cleveland, but you don't see us pretending we're some sort of white-bred heaven.
As for the allegations, Keillor was fired from Minnesota Public Radio in late 2017 after a former writer for Prairie accused him of multiple counts of groping and other sexually harassing behaviors. After an investigation by MPR, including interviews with dozens of former employees of the station and Prairie, more allegations of sexual impropriety came out, including trying to buy the silence of an alleged victim with a $16,000 severance check, which she refused to cash.
Though he has not been diagnosed, Keillor considered himself fairly high on the autism spectrum, which you could find out simply by Google image searching his name, so why should he waste the money at a doctor?
Prediction
Folks, I'm just going to come right out and say it, I am not a fan of the Minnesota Golden Gophers football team. I reviewed previous Gopher KYOs in preparation for this one, and apparently they have played the Buckeyes extremely hard over the years (4). Then again, Ohio State is the biggest team on most school's schedules each year, so it makes sense they sell out to try and beat us. The real issue is our world-class-recruit-stocked rooting interest constantly plays down to mediocre opponents and allows nightmares like the first half last week before deciding perhaps they should execute a gameplan instead of just showing up in Scarlet and Gray.
This week, I pick the Buckeyes to win, 35-10. Hopefully it's a tune-up game for our guys to iron out there wrinkles before November. See you here next week!