Chest bumps and high-fives all around to the dedicated movers and shakers of WFNY on reaching the 10 year mark. And, that goes as well for some of the most entertaining and informed commenters in the business. You have contributed impressively to the democratizing and civilizing of sports journalism. Such a welcome reprieve from the many spitting matches on the Internet these days.
For about a year,1 I had the pleasure of contributing 80-some articles to the public conversation about Cleveland sports and, occasionally, as with the case of Johnny Football, its role in the larger culture.
My notions about WFNY's writers being part of the "public conversation" on sports changed abruptly during my tenure there. Initially, I assumed the reading public would be comprised of a couple dozen friends and relatives. Like many, I suppose, I underestimated2 the reach that such a modest electronic publication could have. But, on April 23 2015, I covered a pre-NFL draft press conference for WFNY of then Browns General Manager, Ray Farmer. He was asked a question about quarterbacks such as Tom Brady and Aaron Rodgers and how much of a priority it was to find a "franchise quarterback." Sitting at my kitchen table with a radio and laptop, I started hearing words and phrases that sounded surprisingly familiar. Pretty soon my iPhone started chirping with messages. It was my son's call that convinced me I wasn't hallucinating. Ray Farmer was virtually quoting from a WFNY column I had posted only three days earlier, "The Franchise Quarterback: An unconventional approach to conventional wisdom."
Certainly, I didn't begrudge Ray Farmer's embrace of the article's ideas or even his borrowing some of the language to express them. Obviously, it was flattering, but the big lessons for me were, first, how useful the internet and interrelated technologies are in support of the dissemination of ideas. And second, how dependent that system is on a commitment to integrity and civility. And it's a credit to those at WFNY who've stuck by their "Before You Comment" values that the public conversations continue. I would also add a third lesson learned, that the professionals and presumed experts in a good many fields of endeavor3 turn out to be a lot like many of us: not so much experts as experimentarians.
Clearly, Ray Farmer and Mike Pettine were experimenting, evolving, and learning on the job. But I don't suppose there was ever much of a chance they could have continued their careers in Cleveland. The 2014 draft probably sealed their doom. Had the Browns drafted a few players that spring like Khalil Mack, Odell Beckham, Jr., Mike Evans, Teddy Bridgewater, or Derek Carr in the first two rounds, they might still be in Cleveland. Justin Gilbert's selection at No. 8 overall was indefensible, and, it turns out, not just in hindsight. But Johnny Manziel may well have been the worst draft pick in franchise history. Not only were the Browns poor judges of talent, especially as regards The First Round and The Most Important Position On The Team, they also failed to see the extent to which Manziel's unprofessional and self-destructive tendencies could be a disruptive and polarizing influence. And what a mess it became!
Although giving lip service to the idea of patiently rebuilding and sticking with a coherent plan, the Cleveland Browns franchise, through several regimes since their return as an expansion team, remains mired in the muck of erratic changeableness, illusory quick fixes, short attention spans, and (over and over and over) the idea of quarterbacks as saviors. And Cleveland fans know full well that these afflictions blew past the 10 year marker nearly 10 years ago.
Which brings us to DeShone Kizer.
On January 3 this year, DeShone Kizer turned 22 years of age. At the age of 21, with only two years of college football behind him, he was named the starting quarterback of a very young, inexperienced, rebuilding team. The Browns had purged the roster of anyone resembling an experienced signal caller. Who can honestly say that was a good idea, that it was the kind of decision that an elite NFL organizations would make? Everyone knew it, the Browns would be one of the worst teams in the league in 2017. And yet, four games into the season, the general drift of thought was, "Well, Kizer isn't the answer, obviously, so we'll have to draft another quarterback. At least in 2018 the Browns will have the first overall pick."
So, assuming they do just that, pick a quarterback No. 1 overall, will the Browns then name the 21 year-old their starter? And, by the way, is there a better way to wreck the career of a young quarterback?
It's extremely rare that a top college prospect feels emboldened enough to refuse to sign with a team whose organization has such an awful reputation that they're willing to go on strike — or sit out — an entire year so as to avoid having their career derailed by an organization that is incapable of putting a competitive team on the field or protecting its passers. John Elway and Eli Manning are notable examples of such desperate measures. It's not difficult to imagine that this could be the scenario the Cleveland Browns are faced with come April. And trying to attract a veteran free agent quarterback may present an even greater challenge.
When the 2017 season ended DeShone Kizer tried to say all the right things about having to do some soul searching about what it will take to improve in order to be in competition for the 2018 quarterback job. But the Browns never should have left Kizer with the impression that he won't be in the running for the job next season. Naming him the starter in 2017 was premature and unwise, the sign of a desperate organization that cannot get the question of 'quarterback' right because it cannot get the question of 'team' right. A successful and confident NFL team would have told this young first year player, "You know, kid, Aaron Rodgers might not have been able to win more than two or three games with us this year. No, you didn't have a great season, but not terribly surprising given the circumstances. Go home and look up the stats for Terry Bradshaw's first five years. I repeat, his first five years. You'll see they look a lot like your first year stats. But today Terry's in the Hall of Fame. So hang in there, kid. Of course you have to improve. We all do."
Why, you may ask, did Richard decide to write on this subject to commemorate the 10 year anniversary of WFNY? My first column for WFNY in February 2015 was a treatise on the NFL draft, and how the Browns have long needed a coherent, consistent approach to building their roster without gutting it every few years and starting over. My last column in January 2016 was a recap of the Browns dismal 2015 season, a depressing review of an organization going backward, sinking into the abyss, and looking like they were about to start over again.
Since then, we've come full circle. The new guys and the new system have been jettisoned. Let's try something else, but first, let's get a new quarterback. And if Browns fans are feeling like Bill Murray's Phil Connors in Groundhog Day, you can be forgiven for having destroyed 10 years worth of alarm clocks.
So here we go again. Will the groundhog see his shadow this year? Or will he be crushed by an onslaught of unblocked blitzing linebackers?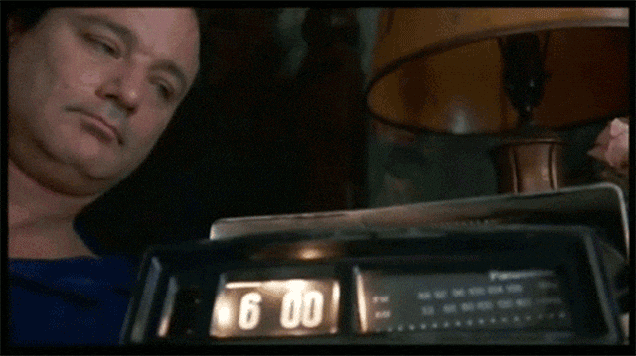 February 2015 until January 2016 [↩]
and maybe still do [↩]
I'm referring here to owners, front offices and some of the most visible faces in sports media [↩]