The Carlos Santana era has ended as abruptly as it began. Over the seven and a half seasons of his play, Jacob Rosen spent a decent chunk of his time as a WFNY Indians writer highlighting the statistical prowess of Carlos Santana as had Jon Steiner during that era. Gage Will, Mike Hattery, Jim Pete, and Joe Gerberry have each dove deep on No. 41 over the past couple of years. I might have even written an article or two demonstrating my appreciation for the catcher turned third baseman turned gold-glove caliber first baseman who moonlighted as a left and right fielder when the team needed him there. So, it should not be unexpected there is a feeling of absence when Carlos Santana signed with the Philadelphia Phillies to end a run with the Cleveland Indians which began in 2010.
The team with which Santana was called up to contribute looked much different than the team he left. The Indians were 23-36 on June 10 2010 as they sat alone in last place in the AL Central Division; a full 11.5 games out of first place. The Tribe would finish the year in fourth place, 25 games out of first with a 69-93 record. The roster had precious few stars as Santana would rise to being the third most valuable position player despite only playing an abbreviated season. Here is a peek at the lineup the day before he was called up.
June 10 2010 Cleveland Indians Lineup
Trevor Crowe (CF)
Shin-Soo Choo (RF)
Austin Kearns (LF)
Travis Hafner (DH)
Shelley Duncan (1B) PH – Jhonny Peralta
Andy Marte (3B) – PH Russell Branyan
Anderson Hernandez (SS)
Lou Marson (C)
Jason Donald (2B)
The list of Tribesmen during his tenure would include many ballplayers of all different skill levels, but Santana's rise to MLB would open the floodgates on position player prowess coming from the Indians farm system as Lonnie Chisenhall, Jason Kipnis, Michael Brantley, Yan Gomes, Jose Ramirez, and Francisco Lindor would all follow as each are Top 10 in games played with the Indians in the Santana era. Asdrubal Cabrera, Shin-Soo Choo, and Mike Aviles round out that list.
Over this period, Santana would lead the Indians in hits, doubles, home runs (by 86), RBIs, and walks (by 377) as he secured his place in Indians franchise history. Consistency is difficult to obtain in any arena. Consistence excellence the scarcest of commodities especially in the variance-filled production environment that is Major League Baseball. Thus, while Carlos Santana never had a 50 home run season or put himself in the AL MVP race, the value he provided the Tribe in his seven and a half seasons of play will be near impossible to replace. As noted by Gage Will in the initial headline, since 2011, Santana has registered at least 200 total bases with a .350 on base percentage, and 18 home runs each of those seven seasons. No other player in MLB can make the same claim. None. Zero. Zilch.
Thus losing Santana with the best known offer the club provided to him being the same amount per year Michael Brantley is receiving ($12 million) is frustrating.1 Especially given that even in the most conservative calculations, Santana's value exceeds the $20 million per year he will receive with the Phillies. Even more so when considering the Indians will be receiving 50 to 70 million dollars in 2018 from their ownership in BAMTech (MLB.tv engine). New rumors emerging the Tribe is looking to shed the contract of Jason Kipnis do little to sooth concerns payroll will once again be a limiting factor in competing for a World Series.
There are also so many great memories of Carlos Santana's 1116 games with the Tribe. See below as fans recount walk-off victories, home runs galore, and how great of a person Santana was to the fans off the field. Also, no matter what else happens, Carlos Santana, we'll always have Toronto.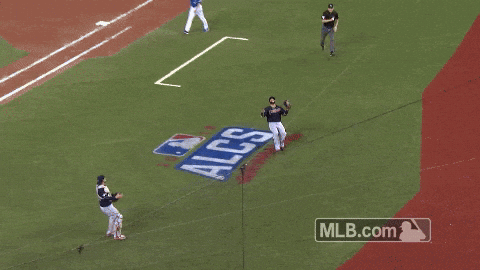 #ThankYouCarlos shows outpouring of appreciation from Indians fans
#ThankYouCarlos for being amazing with special needs kiddos for our on field event. You have such a big heart. https://t.co/2CRdRWdcWE

— Wikki (@Princesswikki) December 15, 2017
#ThankYouCarlos for being so great with my son when we got to visit the field with @R2CFoundation last year. You were so great with Hayden. We'll miss you, @TheRealSlamtana! Much ❤️. pic.twitter.com/pbD0manEYn

— Emily Vincent (@evincent32) December 15, 2017
When Santana learned 3B, 1B, and RF all to make the Indians better. A true champ. #thankyoucarlos https://t.co/USst3Dl7zK

— Mike Hattery (@snarkyhatman) December 15, 2017
8/22/16 – Santana crushes a solo dinger in Oakland, only run in a 1-0 win. I was a West Coast resident and loved seeing Santana shine in prime time. #ThankYouCarlos https://t.co/qGqUkhEL45

— Corey Barnes (@Corey_Barnes) December 15, 2017
Easily the walkoff GS off Joaquin Benoit. Was driving home from college listening to that game. #ThankYouCarlos https://t.co/JYGskfY2l5

— Gage Will (@GageWFNY) December 15, 2017
Rick Manning: "Carlos… see ball, hit ball". Walk off grand slam in 2011.#ThankYouCarlos https://t.co/tm8nOw6IUP

— HIPSTER TITO (@HipsterTito) December 15, 2017
The time this guy in the corner was loudly bashing Carlos Santana for no reason and then 'Los stepped up and hit a big sloppy HR and I screamed in that f***'s face as the ball landed beyond the fence. #ThankYouCarlos https://t.co/hPVivs6fpF

— Nino Colla (@SnarkyNino) December 15, 2017
#ThankYouCarlos
My favorite Carlos Santana moments:
LIVE: I'll never forget the walk-off grand slam against the Tigers on April 29, 2011.
WATCHING on TV: pic.twitter.com/VGEJ09jbCe

— Chris Allen (@djswim911) December 15, 2017
Met @TheRealSlamtana in 2009 interning with the @AkronRubberDuck (Aeros at the time). Easy to see he was a dynamic player. He helped lead them to an Eastern League Championship that year. #ThankYouCarlos

— Kyle Jozsa (@Kyle_Jozsa) December 15, 2017
#ThankYouCarlos
For this bad boy right here https://t.co/Amvy6cmDIj.

Also for just be an overall great/funny person and teammate. https://t.co/xy8PY1Yh8f

— JD (@Jeff_Dieringer4) December 15, 2017
April 29, 2011:

DET: 5
CLE: 5

Carlos up with 1 out and bases loaded.

Takes the 3-1 pitch 768 feet to right field for a walk off grandslam sending the corner of Carnegie and Ontario into a state choatic joy I will never forget. https://t.co/Fa347FnMQu

— mark brendanawicz (@ReggieTales) December 15, 2017
#ThankYouCarlos for being a leader for the Indians in the clubhouse and for some great memories with the Tribe! I will always appreciate your willingness for an interview.

— Troy Baumgartner (@TroyBaumgartner) December 15, 2017
Any of the several walk-off home runs I saw him hit. Dude was clutch. #ThankYouCarlos https://t.co/nlv53bunUw

— Andy Bestgen (@AndyBestgen) December 15, 2017
#ThankyouCarlos for being a team player. Coming up as a catcher. Moving to 3B, then to 1B. Playing outfield. Not caring where you hit in the order. And for wearing up to what seemed like 6 or 7 gold chains a game @TheRealSlamtana

— Jimmy Titko (@Titko) December 15, 2017
Falling to his knees clutching the last out of 2016 WS #ThankYouCarlos https://t.co/vortypGjf8

— Frank Ryan (@sports7765) December 15, 2017
Some past WFNY Carlos Santana articles
Remember, the club opted in as Brantley's health was unknown following an ankle surgery. His third surgery in three years. [↩]