Welcome back to Know Your Opponent, your one-stop shop for the nitty-gritty on each Buckeyes football opponent. There's nowhere else for Buckeyes fans to find out about the other team's mascot, traditions, world-historical child-abuse scandals, coach, players and notable alumni. This week – the Nittany Lions of the Pennsylvania State University of Pennsylvania in Happy Valley, Pennsylvania!
Check out last season's KYO for the details on Penn State's traditions, coach, mascot, and infamous alumni. We don't repeat material here at WFNY, except out of necessity for Browns columns, which could all be reduced to just this if management wanted to save some site hosting costs: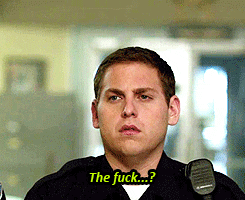 Let's start out with "Penn State Football 2017 'Hells Bells' Pump Up," an unofficial hype video for the 2017-18 Penn State football season by YouTube user PSU727. I'm always on board for some AC/DC, even in service to a monster-apologizing, corpse-worshipping, redneck-enabling team like Penn State. The music section starts off with shots of the blocked field goal that cost the Buckeyes the game last season, as if you needed any more reason to get excited for PSU's trip to the Shoe this weekend.
FBS Stats: No. 2 AP, stats from Sport Illustrated:
Points per Game: 22nd
Yards per Game: 39th
Points Allowed per Game: 1st
Yards Allowed per Game: 17th
Penn State is good on defense, folks, and is no slouch on offense either. Not much more I can tell you. Let's move on!
Record: 7-0, 1st in B1G East
Week 1 the Lions beat local powerhouse Akron, 52-0. Following that they beat their in-state rival Pitt, 33-14, gaining some ice-cold vengeance for their loss last season. Head coach James Franklin made the news, blowing off Pitt as a bunch of scrubs after his victory with, "Last year for their win it was like the Super Bowl, but for us this was just like beating Akron."
Week 3 PSU topped Georgia State, 56-0, in a real strength-of-schedule demonstration for the No. 2 team in the country. Week 4 they played the only decent team in the B1G West besides Wisconsin, Iowa, beating them in close game, 21-19. In Week 5 Penn State belittled the B1G's newest little brother Indiana, 45-14. For Week 6 the Lions traveled to America's junior big city, Chicago, and beat up Northwestern, winning 31-7. Last week they played Michigan, crushing the Wolverines 42-13, in what was likely the most morally difficult game of all time for an Ohio State fan to find a rooting interest in.
Speaking of morals, let's talk about "We Are Penn State." At this point, it's become cliched to cite the heinous crimes of Jerry Sandusky, and his being abetted by the exemplar of the "right way" to do things, Joe Paterno. The fans had nothing to do with that; we shouldn't blame them for the crimes of Paterno. What we can hold them accountable for is world-class tone deafness and misplaced self-pity after all that evil came to light, pretending they were the ones wronged in the situation, and not the dozens of young boys whose lives were ruined by their beloved coach.
Football fans are not the victims of anything, except perhaps of poor play or dashed expectations. That's why the "We Are Penn State" bullshit is so grating: Penn State deserved to be treated like the pariah of the college football community. Like it or not, college football programs build brands around themselves beyond on-field excellence. I root for an Urban Meyer-coached team, believe me, I'm an expert on bullshit narratives about character and values. PSU and Paterno built a brand around being the only righteous program in existence, the lone holdouts for doing things the right way no matter what, and it turns out the whole time their leader was violating this ethos in the most purposefully evil and destructive manner possible. If these mountain pill-heads had kept their heads down, not protested the removal of that disgusting Paterno statue, and not adopted the most self-pitying catchphrase in national history, they could have emerged from the last two seasons as a legitimate contender, but without the baggage. Instead, the country is subjected to a genuinely good Penn State team, but with their stands full of constipated, pill-snorting, pasty child-rape supporters. There's no better proof of the lack of karma in the world than the success of Penn State the past two seasons.
Nittany Lions currently in the NFL: 29 Total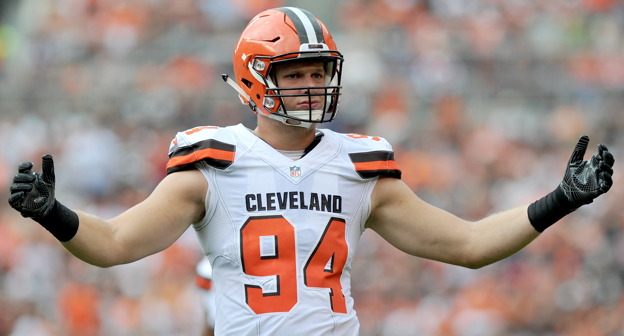 Adrian Amos, S, Chicago
NaVorro Bowman, LB, Oakland
Jack Crawford, DE, Atlanta
Garry Gilliam, OT, San Francisco
Chris Godwin, WR, Tampa Bay
Robbie Gould, PK, San Francisco
Christian Hackenberg, QB, New York Jets
Tamba Hali, LB, Kansas City
Jordan Hill, DT, Detroit
Gerald Hodges, LB, New Orleans
Mike Hull, LB, Miami
Jesse James, TE, Pittsburgh
Austin Johnson, NT, Tennessee
DaQuan Jones, DE, Tennessee
Sean Lee, LB, Dallas
Jordan Lucas, CB, Miami
Michael Mauti, LB, New Orleans
Carl Nassib, DE, Cleveland
Paul Posluszny, LB, Jacksonville
Allen Robinson, WR, Jacksonville
Evan Schwan, DE, New York Giants
A.Q. Shipley, C, Arizona
Donovan Smith, OT, Tampa Bay
Nathan Stupar, LB, New Orleans
Ross Travis, TE, Kansas City
Cameron Wake, DE, Miami
Trevor Williams, CB, Los Angeles
Stefen Wisniewski, G, Philadelphia
Anthony Zettel, DT, Detroit
Carl Nassib suits up in our beloved orange and brown on Sundays, playing backup defensive end behind Emmanuel Ogbah and Myles Garrett. Nassib is no superstar, but he's not a liability when he takes the field, which places him ahead of 75 percent of the rest of the roster. Pittsburgh TE Jesse James put up his only touchdowns of the year against the Browns in Week 1, so look for him to have another great game when the teams face off again later in the season. Jets QB Christian Hackenberg may be the only quarterback in the league less-qualified to start an NFL game than any of the Browns gunslingers, the most fantastic thing I've written this season, despite being true.
Apparently, there has never been a first or second round quarterback who has not started a game in their first two seasons, until Hackenberg. Ryan Fitzpatrick started over him last season, and ex-Brown Josh McCown has been kicking ass for the Jets this season while Hackenberg rides the pine. We can't talk too much shit on this one, because of course the Browns would cut McCown and he would be uncharacteristically good on whatever team he ended up on, but Hackenberg is a bum.
Noteworthy Players:
Running back Saquon Barkley is a legitimate Heisman contender, racking up 757 total yards on the ground this season, with 448 more through the air. Those passing yards are more than any single Ohio State wide receiver, if you're one of those who thinks the team needs to have a certified number one wideout. If the Buckeyes can't stop Barkley this weekend, PSU will be hard to beat.
Quarterback Trace McSorley is elusive outside the pocket, sort of a mini Baker Mayfield. The Buckeyes will need to force him to beat them through the air if they want to win. McSorley's chinstrap marks him as your average Midwest frat-boy, which along with his cross-and-bible-verse tattoo, allows him to fit in comfortably on the Penn State campus despite not being an abuser of prescription painkillers.
Pulp Culture Soul Mate: Hannibal Lecter
Say what you will about the crimes of Hannibal Lecter, but you've got to admit the man is a genius and is great at what he does. Especially to the lawmen pursuing the mad psychiatrist, Lecter is respected and feared, though they have to bring him down for his crimes against humanity. This begrudging respect for the serial killer shrink is the same you hear each week from commentators during Penn State games. "Sure, they're a great team, really coming into their own the last two seasons, but uh, yeah, there's some uh, controversy regarding how Joe Paterno left the program and about what and when he knew about Jerry Sandusky's crimes. Isn't that Saquon Barkley great!"
Hannibal Lecter never repented for his crimes, reveling in their debauchery until the end, but at least he tried to keep them secret until caught by dashing FBI agent Will Graham. The Penn State community refused even this superficial ode to civilized society, preferring from the outset to pretend like they were the victims from their unrepentant idol suborning the molestation of children for decades, openly flaunting their "F you" attitude towards the police and victims. To them, it's not about the children, it's about the school and the team; it's about football. Having a good football team to root for, getting loaded on fall Saturdays and watching an awesome football game, that frivolous shit is more important than protecting the most innocent among them. Even maniac serial killer archetype Hannibal Lecter wasn't that callous and cold of a monster. Now that I write this, it strikes me that perhaps this comparison is a bit extreme and possibly unfair….to Hannibal Lecter.
Prediction:
Here's how I stand for the year:
Indiana: Predicted 42-24 Buckeyes, Actual 49-21
Oklahoma: Predicted 31-24 Buckeyes, Actual 31-16, Oklahoma
Army: Predicted 49-21 Buckeyes, Actual 38-7
UNLV: Predicted 54-14 Buckeyes, Actual 54-21
Rutgers: Predicted 58-14 Buckeyes, Actual 56-0
Maryland: Predicted 45-14 Buckeyes, Actual 62-14
Nebraska: Predicted 52-7 Buckeyes, Actual 56-14
I was pretty close with my prediction again last game, and unlike against UNLV, I did not yell at the television when the 8th-team defense gave up the second touchdown. I consider this immense personal growth and hope to continue this improvement as we go forward. No guarantees for this week's game though, as its shaping up to be an old-fashioned slobber-knocker in the vein of OSU-MSU of years past. By this, I mean this is the game pundits have been pointing to all season as the one true test for the Buckeyes to prove they deserve to be ranked, or something.
Yes, they must win from here on out to win the B1G and secure a CFP slot, but that's true if this week is against Penn State, or Minnesota. I get it; Penn State is the strongest opponent left on the schedule, like MSU was in years past, but I'm dead tired of the contrived narrative surrounding this game I've had beaten into my head for months. I think Kirk Herbstreit even brought this game up while we were playing Indiana, the first contest of the season. Yes, the Buckeyes have to win, and yes, PSU is a great team, but fuck me I just want to be done hearing about this goddamn game.
Anyway, I predict the Buckeyes win it, 24-21. Each team is playing their best opponent of the season, so it should be a close one. Too bad I have a deep, emotional stake in this game, otherwise it would be a really fun one to watch! That's it for this week, folks. Tune in next time for more bad jokes, shitty puns, facile comparisons, just general shenanigans!