Welcome back to KYO, where we dig into what makes the opponents of the Ohio State Buckeyes tick, examining their players, alumni, traditions, history and coach. This week – The Running Rebels of the University of Nevada at Las Vegas!
We'll start out with UNLV Football – The New Era:
FBS Stats: Unranked, Stats per Sports Illustrated
Points per Game: 33rd
Yards per Game: 14th
Points Allowed per Game: 158th
Yards Allowed per Game: 170th
The Rebels are definitely better on the offensive side of the ball, comparatively, but they did lose to Howard, who I was unaware had a football team. The Rebs have been to a grand total of 4 bowl games in their history, the latest being the 2014 Zaxbys' Deep in the Heart of Dallas Extra Cajun All Spiced-Up Original Recipe Bowl, where they lost to North Texas. I'm going to hazard a guess that even the Buckeyes' porous secondary can handle the Running Rebs this week.
Mascot: Hey Reb!
Hey Reb! was adopted in 1983, replacing a colonial minuteman and a random sun logo. Until the 1970s, the mascot was Beauregard, a smiling wolf in a Confederate uniform. The usual and valid concerns regarding Confederate symbols caused the school to cycle through the above mentioned uninspiring options, before settling on Hey Reb!. Believe it or not, a colonial minuteman did not do anything for a fan base in a state that didn't exist until 70 years after the American Revolution. Beauregard was especially galling, given that Nevada was admitted to the UNION during the Civil War.
The school wanted to keep its "rebel spirit" (with a small "s") alive, so it settled on the mountain man image for Hey Reb!, as an ode to Nevada's actual history as a frontier toilet full of back-shooters, mine-claim jumpers, and cannibals. Hey Reb! looks like he should be hunting for Indian scalps with the Judge in Blood Meridian, committing atrocities with a Bowie Knife between his teeth and an 1851 Colt Navy revolver in each hand. He's the skinny version of Vincent D'Onofrio's character in the new Magnificent Seven. I will admit, I am a Hey Reb! fan.
Speaking of tone-deaf and egregious use of Confederate symbols by a Union state, my hometown Willoughby South High School just nixed its own Confederate mascot, The Rebel. When the old Willoughby Union HS split into Eastlake North (Stipe Miocic's alma mater) and Willoughby South in 1958, Willoughby adopted the "The Rebel" as a mascot, as well as other Confederate iconography, based upon a to-then obvious ode to its geographic location vis-à-vis its new rival.
The school stopped using the stars-and-bars in the mid-2000s, but continued to use the Confederate soldier-themed Rebel until August 17 of this year, nixing him in a direct response to the white-supremacist terror attack in Charlottesville, VA, that resulted in one killed and multiple injured. The school will keep the Rebel name and blue and grey colors, but the as-yet undetermined new mascot will not be an open symbol of the worst people in American history, so that's nice.
Aside: You should have seen Willoughby Facebook after this announcement; good god. Like all insane and racist baby boomer social media meltdowns, this one was brought to my attention by my mom, who was disgusted and wanted to ruin my day as well, apparently. It's always fun to see respected elders from your childhood community, old coaches, and friends' parents out themselves as rapid, foaming at the lips, slavering racists because their HS mascot is being changed. Imagine how shitty and small your life must be to be 65 years old and care about the mascot at your fucking high school. At least this change remotely affects these reactionaries personally, unlike the usual pointless drivel they cry about all day like political correctness from people they don't know, protests in cities they don't live in nor will ever visit, and the free speech of black professional athletes they will never meet. End aside.
UNLV also embraces scarlet and grey as their school colors, in a direct affront to our beloved Ohio State. I expect this game to put the "best scarlet and grey university" controversy to rest once and for all, with the loser switching from scarlet to rosé.
Record: 1-1, 3rd in Mountain West-West
Week 1 the Rebels lost to Howard, 43-40, which is considered by some the upset of the season so far, if not an all-time great upset rivaling Appalachian State's victory over Michigan in 2007. I vote that the App State-Michigan upset is still the greatest, for obvious reasons. The mere memory of that game is making my day that much better. Week 2 the Rebs beat Idaho, 44-16. They had a bye-week for week 3, giving their defense extra time to prepare for Ohio State's vaunted offense of QB runs on downs two through four. I also think the Mountain West Conference needs to find other names for its divisions than East and West, for clarity's sake.
Coach: Tony Sanchez
Sanchez played ball at New Mexico State as wide receiver, graduating in 1996. He started coaching there as a GA, then moved in 1998 to Las Cruces Onate HS to coach wide receivers. In 2000 he coached WRs at El Paso Irvin HS in Texas, then moved back to Onate to coach DBs. In 2003 Onate made him the DC; after a year he was made the head coach at San Ramon HS in California. From 2009-2014 he was the HC at Las Vegas Bishop Gorman HS, until he picked up by UNLV in 2015. This is his first collegiate coaching position since his GA days at New Mexico State. His first season at UNLV the Rebs went 3-9, improving to 4-8 in 2016.
I was going to make some japes about Sanchez being a glorified HS coach and having a shitty record, but he has a Vic Mackey vibe going for him, where you can't quite put a finger on why you think he can kick the shit out of you because he's 5'8 tops, but you err on the side of not talking trash just to be safe.
Silly Traditions: The Fremont Canon
The Rebels fight each season against their in-state and in-university system rivals, the Nevada Wolf Pack, for the Fremont Cannon. During the yearly Battle for Nevada, the winner takes the cannon home, and earns the right to fire it at adjunct professors picketing over a living wage and above-poverty-level living conditions. The tradition was started in 1970, inspired by the 1966 attempt of drunken UNLV students to steal a cannon from the campus of their rivals in Reno.
The marauders were thwarted by the police, but the leadership at Nevada took pity on the now-hungover criminals and cut them loose, sealing the friendly rivalry in place and providing fodder for a rip-roaring and truly exciting tradition. The winning team repaints the cannon to match their school's colors: red for UNLV, and black for Nevada. The Wolf Pack leads the rivalry, 25-17.
Famous Alumni: Guy Fieri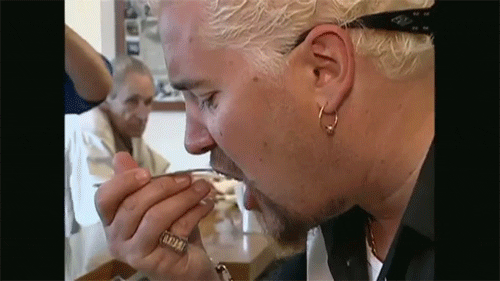 A truly raucous bunch of villains and infamous scumbags this week. Readers, you will not be disappointed. First among equals is obesity epidemic patient zero and "Donkey Sauce" slinger, Guy Fieri. Fieri is best known for his hate crime against real food on the Food Network, "Diners, Drive-ins and Dives," and for this hilarious review of his dump Guy's American Kitchen & Bar, where the reviewer lost his mind and set the article up as a series of questions to Guy regarding the absurd menu and culinary abortions therein, and somehow got it past an editor (not unlike this column, TBF).
I know Guy best for having his Lamborghini stolen by a teenager who stashed the car in his mom's storage locker and drove it around town for months before being caught.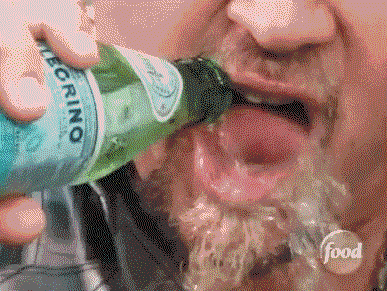 A close second among one of the more complete lists of shitbag alumni we've seen in a while is Death Row Records founder, Suge Knight. Knight played DE at UNLV, and was a scab NFL player for the Rams during the 1987 player's strike. Suge then moved on to music, where he is most renowned for holding Vanilla Ice off of a hotel balcony until the rapper signed over the royalties to his hit "Ice Ice Baby." To list the rest of his crimes here would be too long for a simple article like this, so we'll go with the most recent: Last month, he was indicted for threatening to murder Straight Outta Compton director, F. Gary Gray. This is a man who is never not true to himself.
Other UNLV alums of note include adult film stars Ashlyn Gere and Veronica Hart, UFC ring girl Arianny Celeste, late-night funny man Jimmy Kimmel, ESPN analyst Kenny Mayne, Marilyn Manson band member Kenneth Robert Wilson, WWE's Ryback, Nazi-sympathizer Tomi Lahren, MMA star and bad actress Gina Carano, and Eagles and Vikings star QB, Randall Cunningham.
Rebels currently in the NFL: 4
Joe Hawley, C, Tampa Bay
Torry McTyer, CB, Miami
Josh Shirley, LB, Chicago
Jeremiah Valoaga, DE, Detroit
Noteworthy Players:
Tykenzie Daniels, DB
Drew Tejchman, WR
Jocquez Kalili, DB
Kurt Palandech, QB
Soli Afalava, DB
Jameer Outsey, DL
Feena Phakasoum, DB
Chauncey Scissum, DB
Dorian Naiditch, PK
Xzaviar Campbell, RB
Ty'Jason Roberts, DB
Salanoa-Alo Wily, DL
Kolo Uasike, DL
Prediction:
Here's how I stand for the year:
Indiana: Predicted 42-24 Buckeyes, Actual 49-21
Oklahoma: Predicted 31-24 Buckeyes, Actual 31-16, Oklahoma
Army: Predicted 49-21 Buckeyes, Actual 38-7
I had to work last weekend and missed the first half against Army, but saw enough in the second to at least feel slightly confident that the Buckeyes offensive coaching staff figured out they needed to run the football, building RPO off of it. Lord have mercy, it's about time. I don't know if I can take one more game of watching JT try and find an open receiver for 15 seconds then get a 2-yard gain on the ground after the pocket collapses.
I've been reduced to accepting moral victories on Saturdays now, looking just for slight improvements on the team, as opposed to expecting a dominant performance by a top-3 highest paid head coach with two former HCs as coordinators, armed with consistent top-10 recruiting class levels of talent. That bullshit is supposed to be for my Sundays, not Saturdays. I know I'm a spoiled Ohio State fan, the embodiment of everything I despise about other fans of my alma mater's football team, but I'm too old to change. I stopped yelling at children and the elderly in public wearing Michigan gear, which I count as a huge sign of personal growth. We should all try to do better.
I do not look up the sports book spreads on these games before writing this, as I do not want my analysis tainted, and you readers deserve the best. So, this week, I predict our Ohio State Buckeyes get the win, 54-14. UNLV will try to pick on our DBs, and they'll give up some plays, but I would be absolutely shocked if the Rebs put up more than 14. Howard, remember?
That's it for this installment of KYO, Buckeyes fans! Turn in next week for more deep and insightful college football analysis, and stay safe this weekend. Stick to light beer until after the game, don't sneak pints of whiskey into the Shoe, and call a Lyft if you decide to tie one on.