How many quarterbacks have the Browns drafted since 1999? Yes, the number of starters continues to pile up, but the Browns have only selected nine of them through the NFL Draft with DeShone Kizer being number 10.
Four of the picks were first-round quarterbacks, but only one of them was higher than No. 22. Another three quarterbacks were taken in the third round, which is the prime backup quarterback area of the draft though these players were counted on to be starters. The last two were taken as late-round fliers and their play went as expected. So, maybe Kizer being the only second-round quarterback of the expansion Browns will be good luck?
As it is, none of the quarterbacks taken wound up being franchise players- quite the opposite.
Note that the statistics utilized for each quarterback are only those obtained as a member of the Cleveland Browns unless otherwise indicated.
No. 9: Spergon Wynn
1 GS (0-1), 22-for-54, 40.7% comp%, 167 yards, 0 TD, 1 INT, 41.2 QBrating, 3.1 YPA, 19.4% sack%, 0 career AV
Spergon Wynn started just one game for the 2000 Browns that doubled as a fantastic display of the team's overall incompetence. Wynn went 5-for-16 for 17 yards, while being sacked five times for a negative 35 yards. Yes, Wynn was responsible for a total of negative 18 yards on the day as the Jacksonville Jaguars won a hard-fought game, 48-0.
It would be difficult to label Wynn as a disappointment. He was out of the league after just two seasons- the second as a backup for the Minnesota Vikings- but he was also a sixth round draft pick as the No. 183 player selected in the 2000 NFL Draft. In almost any other year, a failed quarterback prospect from Texas State taken late in the draft would be ignored. However, since we are talking about the Cleveland Browns and quarterbacks, Wynn had the grand misfortune of being the last quarterback selected before the New England Patriots tabbed Tom Brady at No. 199. An alternate reality where the Browns take Brady and let him mature with Bruce Arians directing the offense is a tantalizing thought.
No. 8: Luke McCown
4 GS (0-4), 48-for-98, 49% comp%, 608 yards, 4 TD, 7 INT, 52.6 QBrating, 6.2 YPA, 10.9% sack%, 2 career AV
Luke McCown would have one opportunity to obtain a win for the Browns after being blown out against the New England Patriots, 42-15, Buffalo Bills, 37-7, and San Diego Chargers, 21-0. The game against the Miami Dolphins was a full-out run Lee Suggs into the ground game as Suggs would amass 38 carries to just 18 passing plays (including two sacks). Despite several opportunities in Miami territory throughout the game, a missed Phil Dawson field goal and a Suggs fumble near the goal line would leave the game for A.J. Feeley to snatch away late for the Phins, 10-7.
McCown was another quarterback taken from a smaller school whom the Browns gave up on after a single season of uninspiring play as the backup quarterback. He was drafted a bit higher- the fourth round at No. 106 overall- as there were legit tools that would be honed over his 11 year1 career as a decent enough backup quarterback. McCown would also have the good fortune of the Michigan quarterback taken after him in this draft, John Navarre at No. 202, not panning out.2
No. 7: Johnny Manziel
8 GS (2-6), 147-for-258, 57%, 1675 yards, 7 TD, 7 INT, 74.4 QBrating, 6.5 YPA, 7.9 sack%, 5 career AV
Johnny Manziel did show flashes of the potential that made him a Heisman Award winning quarterback at Texas A&M. He threw for 372 yards against the Pittsburgh Steelers. He helped create big plays that spurred the Browns to victories over the Tennessee Titans and San Francisco 49ers. And, when the wind conditions made it impossible for either team to throw with any consistency, Manziel went back to using his legs to churn out 108 yards on the ground and keep the Browns in a game against a postseason-bound Kansas City Chiefs.
Had circumstances been different, Manziel could have been given a chance to prove he could handle a starting role in a third season. Instead, circumstances ruled the day throughout Manziel's tenure on the Browns. The circus surrounding Manziel began long before the Browns made him part of the non-illustrious Club-22.3 Owner Jimmy Haslam certainly didn't shy away from adding onto it when he was quoted as having allowed the opinion of a homeless man and boisterous texts to quarterback coach Dowell Loggains about "wrecking this league" to affect his decision to draft Manziel.
Let's just say the circus didn't end at the 2014 NFL Draft. Rumors circulated during his rookie season that he was not meeting his professional obligations. After the season, he would check into a drug and alcohol rehabilitation facility for just under 90 days. Manziel would rebound to eventually earn head coach Mike Pettine's blessing as the starting quarterback, only to be caught in public on video intoxicated during the bye week and make a pathetic attempt to cover it up to both the media and the Browns organization. Worse yet, Manziel would follow up the incident with an incident that involved alcohol, driving, and potential domestic abuse. Manziel would again achieve the opportunity to start due to Josh McCown breaking his collarbone, but he would suffer a mysterious concussion during his fourth game against the Kansas City Chiefs. After a subsequent medical check was missed, it was found that Manziel had decided to fly to Las Vegas, don a blonde wig, and go by the alias of Billy. That offseason, more chilling allegations of domestic violence being revealed would both end his time with the Browns and in the NFL.
No. 6: Brady Quinn
20 GS (4-16), 184-for-353, 52.1%, 1902 yards, 10 TD, 9 INT, 66.8 QBrating, 5.4 YPA, 5.4 sack%, 3 career AV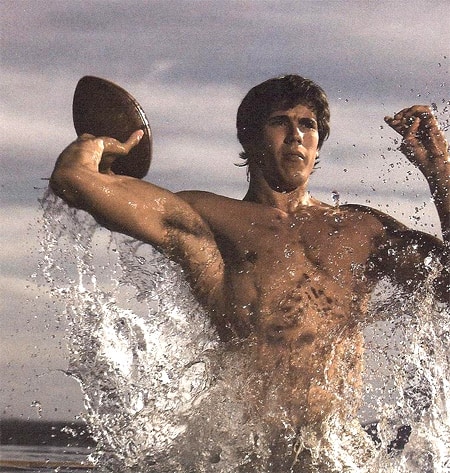 Brady Quinn was the local kid, who became a bit of a legend quarterbacking for Notre Dame. He had to face the LSU Tigers defense in the Sugar Bowl though, while JaMarcus Russell got to face the Irish defense. It led to Russell winning what would become the battle of the busts to be selected No. 1 overall in the 2007 NFL Draft. The same draft general manager Phil Savage would call up Quinn's representation to tell them that they would not be taking Quinn at No. 3 in order to use the pick on future Hall of Fame left tackle Joe Thomas. Everyone expected the Miami Dolphins to select Quinn at No. 9, including Quinn. Instead, they took Ted Ginn Jr. and Quinn went through one of the most awkward green room waits in the history of the draft before the Browns made him the founding member of Club-22. Of course, instead of doing everything he could to get to camp on time and seize the starting role, Quinn held out leading to the Charlie Frye versus Derek Anderson battle of flipping coins and gut calls from Romeo Crennel.
Quinn watched through the 2007 season as Anderson staked his claim to a longer term role despite fading badly down the stretch and the Browns missing the playoffs. The Browns had to choose between signing Anderson themselves despite the presence of a first-round untested quarterback or allowing the Dallas Cowboys to sign him away (for reportedly the bounty of a first-round pick). The threat of the Cowboys flipping Anderson to the Baltimore Ravens scared Savage into the wrong choice; keeping him. The Ravens would move onto option-B, drafting Joe Flacco.
So began the great quarterback debates. Every fan picked a side. were you with Anderson or Quinn? The quarterback controversy between them was as loud as it was fruitless. Anderson would continue to fade, and Quinn would prove he was unable to make anything of his opportunities. The Browns have seen many a quarterback take snaps from under center, but none had anywhere near the unflinching desire to check down at all costs. Pairing his unwillingness to throw downfield with poor accuracy and a low completion percentage was a bold strategy. It did not pay off. In fact, there were games where Josh Cribbs appeared to be the more capable quarterback. Looking back, the most amazing part of the Quinn era was that he somehow managed to obtain 20 starts before he was kicked out of town.4
No. 5: Charlie Frye
23 GS (7-16), 354-for-567, 62.4%, 3490 yards, 14 TD, 23 INT, 71.1 QBrating, 6.2 YPA, 11.1 sack%, 7 career AV
Charlie Frye was another Ohioan. He was drafted in the third round at No. 67 overall, so ending up a career backup would not have been unexpected. Given that the Browns were desperate for a signal-caller though, he was thrust into the spotlight midway through his rookie season despite a lack of overall tools for the position. What he lacked in size and arm strength, Frye made up in heart and leadership. Braylon Edwards once even lit into the offensive line on the sidelines in a desperate attempt to keep Frye upright.
Frye would never have a 300 yard passing game,5 and he would be sacked at least four times in 7-of-13 games started during his 2006 season. Just to ensure his place in history would remain secure, Frye became the ONLY quarterback to ever start a Week 1 NFL game, be benched at halftime, and traded before Week 2.
No. 4: Brandon Weeden
20 GS (5-15), 438-for-784, 55.9%, 5116 yards, 23 TD, 26 INT, 71.8 QBrating, 6.5 YPA, 6.6 sack%, 11 career AV
No one could convert a bad play into a stupid one better than Brandon Weeden. Perhaps it was a direct representation of what it took to select a 28 year old, developmental, shotgun-only quarterback from the defense-optional Big XII conference in the first round as a member of Club-22. Or maybe it was reflected best in being the only known NFL player to become trapped beneath an American flag before his first NFL start, during which he threw four interceptions as the team lost by a single point.
The flip, the double-pass non-touchdown penalty, the kicked ball safety, and so many interceptions and wide receivers who were destroyed from inaccurate passes. Weeden should really be sending Josh Gordon part of his salary for being the main reason that he still has a job as a NFL backup quarterback. The two things Weeden always had was a big arm and a willingness to throw the ball deep into double coverage. Gordon bailed him out enough times to make his statistics not look as horrific as they should have.
No. 3: Cody Kessler
8 GS (0-8), 128-for-195, 65.6%, 1380 yards, 6 TD, 2 INT, 92.3 QBrating, 7.1 YPA, 9.7 sack%, 3 career AV
The quarterback rating is eye-popping, but it was created under the guise of too many faltering drives against defenses allowing throws underneath. The inability or unwillingness to throw intermediate and deep passes with any consistency caused issues for the offense as did his holding onto the ball too long in the pocket. Kessler did show promise and the possibility of being a decent backup quarterback, but losing his position on the depth chart to Brock Osweiler might see him continue to fall down on these rankings in future iterations.
No. 2: Colt McCoy
21 GS (7-18), 409-for-702, 58.3%, 4388 yards, 21 TD, 20 INT, 74.8 QBrating, 6.3 YPA, 7.8 sack%, 10 career AV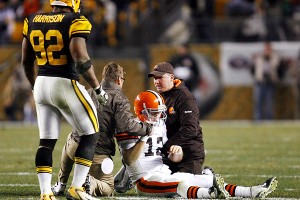 Unless he morphs into some kind of Superbowl winning quarterback,6 Colt McCoy will forever be known as the guy who James Harrison concussed on Thursday Night Football, stayed in the game,7 and threw an interception in the endzone with cameras showing how obviously dazed he was. The Browns were brought to task for not even checking for a concussion, and the NFL tightened up their medical protocol around concussions as a direct consequence of that sequence.
Maybe McCoy is fortunate that is how he is remembered. He is, after all, the guy who wrote a book that included airing dirty laundry about how the coaching staff treated him "like a leper" and "was doing everything he could to not give me the ball." The book, co-authored by his father,8 was released in the offseason after that rookie year as Ohio.com's Nate Ulrich detailed.
On the actual field though, McCoy appeared to be a competent- if limited- quarterback. His size and lack of overall arm strength would do him in, but he also appeared to be a legitimate backup quarterback, who happened to need to start for the Browns.
No. 1: Tim Couch
59 GS (22-37), 1025-for-1714, 59.8%, 11131 yards, 64 TD, 67 INT, 75.1 QBrating, 6.5 YPA, 8.8 sack%, 32 career AV
Anyone who wants to attempt to point to Tim Couch as a draft bust can refer to this overall list. While he might not have been an elite, franchise quarterback, Couch gave the Browns five seasons of decent quarterbacking, which is more than any of these other players can state. Couch's career Browns AV score of 32 is almost as much as the other eight quarterbacks on this list combined (41).9
It is not a coincidence that Couch was also the only quarterback drafted higher than No. 22 overall by the Browns since 1999. The expansion Browns needed a leader and a face of the franchise with the tools to help raise a team lacking in basic talent. They received it in Tim Couch even if his overall numbers and play would not live up to the lofty expectations set.