Each installment of this series is presented as a snapshot of a specific recollection involving the Cleveland Indians, along with thoughts on what (s)he was driving and the music (s)he was listening to.
Today, our lightly edited discussion is with Allan.
GREG: If you were asked for a particular memory involving the Cleveland Indians, what would come to mind?
ALLAN: My favorite player as a kid, Rocco Domenico Colavito.
GREG: Nice- you remember his full name.
ALLAN: I have always been a numbers person, but as a kid I also enjoyed knowing stuff like that.
Also, Orestes Saturnino Minoso. Minnie Minoso was also a favorite of mine. Besides having a great name, he was a guy with high energy, great fielding, and speed.
Jimmy Piersall was another guy I really loved- an awesome center fielder- and the guy I thought of myself as when I played center. He could get an amazing jump on the ball. He is definitely a guy I would have wanted an autograph from.
He came to the Indians with the reputation of being a nut case. He seemed to be a little better while with the Tribe, but he did have his incidents and you never knew when he might go off.
GREG: Can you give me a feel for a kid's fan experience in the late 50s.
ALLAN: Radio and newspapers, all the time. We listened to WERE, of course, with Jimmy Dudley and his signature call: "That ball is going, going, gone!"
I watched some games on black and white TV, and then there was the crazy panorama of beautiful colors on the field the first time I saw it in person and not in black and white. In the old stadium you would enter what seemed to be a deep and dank but large cavernous area. There were concessions and people milling about, but you couldn't see the field at all. But then to walk up the tunnel to your section and see the field for the first time, wow, it's something I'll never forget.
It was a simpler time. Kids (and it was just kids) would line up with their scorecards after the game to get autographs, and many players would oblige. It seemed like it was only the scorecards. You didn't see adults brandishing 20 pennants to get signed to sell on eBay like you see now. Colavito was the best. He always had the most kids waiting. He would get us to stand in an orderly line and then he would start signing away. He always seemed willing to do it. I worshipped him.
Scorecards and autographs were the rage for kids. At one game the Tribe knocked out Whitey Ford, and then the kid next to me disappeared for a while. He came back with Ford's autograph, but it required him pestering Ford all the way over the Ninth Street bridge. Another time as we were waiting through a rain delay in that cavernous area, they eventually called the game. A bunch of us sad kids were wandering around with our scorecards with nothing to do and one kid went up to a cop and asked for his autograph. The cop looked incredulous and I'll always remember what he said – "Really? How do you want me to sign it, Bob Lemon?"
Two memorable games I was at were a Dick Donovan two hitter where he faced only 27 batters and a game where Vic Power had four doubles (not as good as four home runs, but still pretty neat to see in person).
I was two and a half months old when the Indians last won the World Series. I feel like I have a great memory and I always try to bolster that feeling by providing vivid recall of past events, but I make sure those memories are always about things that cannot be fact checked, so I can continue to live in my bubble. However, two and a half months of age is beyond even my reach.
I was also still too young to have any recall of the great 1954 season. My frame of reference starts with the late 1950s, which was the Colavito era and he was my hero. My earliest memories were not of Indians championships, but in the immediate aftermath of those, and those teams were awfully good. Unfortunately, that was also the Mickey Mantle era, and the Yankees always beat out the Tribe, so I'm a Yankee hater, but with good reason. At that time there were no playoffs. It was simply that the American League champ met the National League champ in the World Series. That meant that you could have the second best record in all of baseball but not qualify for any post season play. The Tribe seemed to always be great, but the Yankees always seemed to be in their way.
The Browns were also great then, so being a Cleveland sports fan was very rewarding. Cleveland sports equated with greatness. I always marvel at guys like you who came of age after that legacy of success, and even had to put up with Ted Stepien in your formative years, but you are still die hard Cleveland fans.
So, my rooting interests were everything Indians and Browns, lots of victories by both, and two bigger than life heroes, Rocky Colavito and Jim Brown. I loved both teams, but I think I was more partial to baseball because baseball cards were very popular and they provided lots of data.
GREG: What were some of the baseball cards you recall?
ALLAN: I had all of the stars of the time. You could flip them against a wall, winner getting the cards, but we didn't do that much because it damaged them. The quest was always to get different ones, not multiples of the same. There was a refrain we used when going through someone else's deck to see if they had any you wanted, which was "gottem, gottem, gottem, gottem, DON'T GOTTEM!" I figured out that there were many cards that were very common and some that were very hard to get, and that influenced my trading. The real bummer was when you got a pack (or a couple), tore them open, and found they were all dups, which happened a lot. I only ever had the ones you actually bought in the gum packs – I never collected rare ones. It was through baseball cards that I came to know Cincinnati was also in Ohio.
A real bummer was once, in our Vine Street home in Willoughby, I went into the bathroom with a large stack of great baseball cards pinned between my chin and my chest. They fell out, into the toilet. That was it for those cards.
GREG: You were chewing the bubble gum while the cards were beneath your chin, weren't you.
ALLAN: Probably. Haha.
GREG: How did you follow what Colavito and the Indians did, day –to- day?
ALLAN: The overwhelming amount of information today is truly mind boggling. Let me give you an example of what it used to be like. When I moved to LA in 1978 I became a fan of the Dodgers for a few years, so I was big into Fernando-mania in 1980 when at the start of the year he seemed to be pitching a shutout every game. I had a business trip which had me in Cincinnati Saturday morning, and the Dodgers and Reds played a late game at Dodger stadium the night before. Even though it was against Cincinnati, and I was in Cincinnati, I could not get any info on the outcome. The morning papers had nothing since it was past their deadline. The local channels did not have any news on, and there were no cable channels. There was no sports radio there. It was very frustrating, but I finally came up with a solution. I called the Cincinnati Enquirer newspaper and asked for the Sports Department. Someone picked up and had the info. He was very sad and I masked my glee as he informed me that Fernando Valenzuela had shut out the Reds.
Flash back about 20 years prior and it was pretty much the same, except there were no west coast games in the American League in the 50's, so no late scores. My sources were Jimmy Dudley on the radio, listening with my father and some occasional TV games (black and white), which seemed to be on the weekend.
I also diligently followed the newspapers. There once were several Cleveland newspapers but by the early 60's it was down to The Press and The Plain Dealer, and families tended to be a morning paper family (Plain Dealer) or an afternoon paper family (The Press). We were the latter, and my paper route was for The Press. Newspapers had multiple editions then, updating during their press runs, so if you got a later edition, or the one marked "Final", it had more up to date info.
Sundays had a full page of stats for all players and league leaders, and I loved to pore over those numbers and see where Cleveland players were in the top 10. That was literally the only place you could get those numbers, and I dived into them while waiting to be bequeathed the comics to read after my older brothers were done with them. The Sunday numbers were always "through the previous Friday", a far cry from the barrage of instantaneously updated numbers we see now. I used those numbers to follow Tito Francona's (the father) realistic quest to bat .400 (he missed). He didn't play at the start of that year so it required monitoring both his hits and average and whether he would get enough at bats to qualify.
Colavito's four home run game was followed on the radio, but it finished too late for a young guy like me to hear. When Herb Score was hit by the liner from Gil McDougald (those hated Yankees again!), the story took up a huge part of the sports section. Score was to me a magnificent athlete. The paper gave a profile of him that I did not know, that he had a lot of physical issues as a child that he had overcome. I read every word.
GREG: Colavito's roommate and lifelong friend.
How often did you attend games, as a kid?
ALLAN: My father was a great fan and listened to every Indians game on the radio, but he never felt like he could afford to go. However, the Cleveland Press did a promotion where if you got straight A's on your last report card of the year, they would reward you with tickets. I always did well in school, so this was like a dream come true for me. You would send your report card in, and then this package would arrive with tickets. It was like manna from heaven. They were very generous – it was something like 6 or 8 games, so it was a thrill to rip open the package and get the colorful tickets and see which dates and which teams you got. The big thrill was getting a doubleheader. Back then they used to have scheduled doubleheaders, usually on a Sunday. Your ticket was good for both games, with the second game starting pretty quickly after the first game. After the game we would stay and line up for autographs, so it would be a really long day, but I loved every minute of it.
If a game ended up being a rainout, you could trade the tickets for any remaining game. I would love that, because I would try to trade them for a doubleheader.
GREG: Do you have any memory of Frank Lane?
ALAN: Oh yeah, we knew Frank Lane as this crazy trader who made some good ones and some bad ones. And then he made a trade that broke my heart. I remember exactly how I found out. It was a Sunday and I was watching the evening news and sports (I was only 11 years old) and they flashed a picture on the screen of Frank Lane taking a huge bite out of an apple, and the voiceover said "Frank Lane took a big bite out of the Indians today by trading Rocky Colavito to the Detroit Tigers for Harvey Kuenn." I couldn't believe it and said to the screen "I wish someone would take a big bite out of you." I knew from my baseball cards that Kuenn hit for a high average, but he was no Rocky Colavito. Obviously there has been tons written about the curse and all that, but speaking as a young fan, it really was devastating.
GREG: It seems like Frank Lane just REALLY liked fiery, or high-energy ballplayers. You mentioned Minnie Minoso, and Jimmy Piersall. He traded for Billy Martin…
What was the family car in 1960?
ALLAN: We had a 1954 Chevy, turquoise.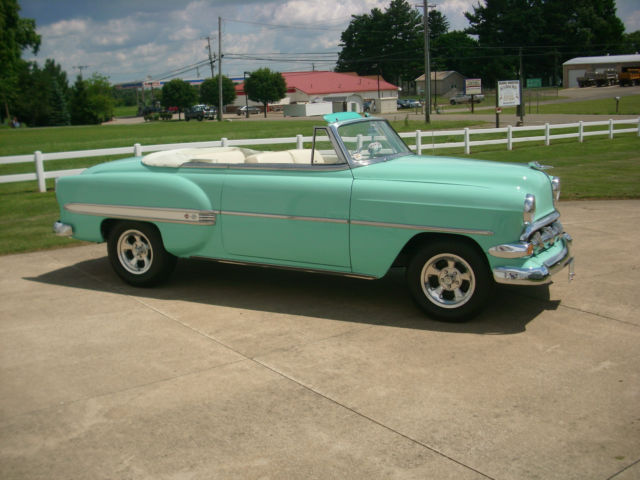 GREG: Beautiful.
ALLAN: It got stolen and totaled.
Dad owned a car shop. He fixed it and took it to the Chevy dealer to trade in, deliberately doing so at night so they would have less chance of seeing it was fixed up. It worked and the dealer later complained that Dad fleeced him.
We took it to Florida to visit family when I was in second or third grade. They picked us up early at school and we were off. It was a carful – my parents, my Grandma, and 4 kids. We showed up unannounced and stayed with them for a week. That was something people did then (visit unannounced, an artifact of an earlier era without phones where the city family would take a drive out to the farmer family on Sundays). My wife still shakes her head at how odd that is whenever she hears it.
We stayed at a motel on the way, and there was a sign that said no food was allowed in the rooms. Of course, when we were unloading the car, I yelled, "DID YOU BRING THE SOUP?"
The car had an AM-only radio, and it later developed a loose wire and Dad would pound the underside of the dash with his open hand and that would get it to work. It also had a loose tailpipe connection and if you hit a clod of snow, it would separate and Dad would have to crawl under to re-connect because it would be noisy. One time, maybe on that trip, that happened, and it was cold so he kept going, and believe it or not, he hit another clod and it knocked it back in.
GREG: Whitewalls?
ALLAN: Yes, the fat ones. The skinny ones came later. I have been predicting whitewalls will make a comeback, but so far I'm wrong.
When I became old enough, my first two cars were a used Ford Fairlane (the guy wanted $200 and I was thrilled that Dad bargained him down to $190) and a VW bug that had more rust than good metal – the passenger got a shower every time I went through a puddle. So I guess you can say that I have never been a car guy. I did live a little vicariously through my gearhead brothers who always had some pretty neat and interesting wheels. My current car is 12 years old with 135,000 miles on it, and when the oil smells are too great my wife refuses to ride in it, but I still love it and plan to keep it. I have the same attitude about cars and golf clubs. The ones I have are too old to be any good, but too new to be classic enough to be worth anything.
GREG: What kind of music were you listening to around that time?
ALLAN: In the late 50s I was pretty young, so the music in our house was the Sunday morning polka show on the radio and the Gene Carroll show on Sundays at noon and maybe Lawrence Welk Saturday evening. My own music era started more into the 60s, which of course was the Beatles and the whole British invasion era. I enjoyed the Beatles but was never totally gaga over them. I really liked the Beach Boys and then the Doors, and especially the Who. People might not remember this, but at one point the Who were known for destroying their instruments on stage at the end of concerts. I did not attend many concerts, but I did go to one in Cleveland by the Who, and they did that.
My favorite song is probably "I Can't Explain."
GREG: Oh, I know the table drums to that.