There is nothing neutral about rooting for Trevor Bauer. To follow the ongoings of Bauer leads one to take up a stance on a wide variety of issues inside and outside of the ballpark. The mere mention of his name will strike animosity with someone in your group. The particular blend of animosity will be determined by whoever happens to constitute your friends. Bauer's adherence to slowly- but now widely- embraced advanced player development methods for pitchers has drawn him the praise of those proctors, and the scorn of the old school baseball brethren. His willingness in the past to troll the trolls on social media drew him praise from many on the platform- until his political views were shown to be in stark contrast with many. On the mound, Bauer's obsession with tinkering with his ever-expanding pitch arsenal has left some questioning if it has led to his inability to command the strikezone, while others wonder if his curious mind is a huge reason he has success in the first place.1 There is nothing easy or simple or relaxed about rooting for Trevor Bauer; let alone neutral.
As WFNY's Jim Pete posed:
But when you alcohol swab Trevor Bauer's career; who in the hell is Trevor Bauer, anyways?

Is he truly a pitcher? Is he an intellectual who is just interested in the physics of baseball? Is he so mature in his approach that the trivialities of life are beneath him? Is he so immature that he can't avoid the conflict and Jerry Springer-like battles that present themselves via Twitter?
The 2016 ALCS brought about yet another philosophical sports debate to light because Bauer seemingly is incapable of not making everyone question each dark recess of their mind even when all we want to focus on is October baseball. Not even the Cleveland faithful buying up every present on Ryan Merritt's wedding registry could top the narrative of Bauer. You see, he has a bit of a drone habit. He builds drones, he races drones, he flies drones around ballparks- providing some fantastic video and pictures as a result. Sure, he almost crashed one into the Chicago White Sox scoreboard and has had MLB create specific drone guidelines due to his obsession.
Part of following Bauer's career is one in which you must create a strong stance on a topic you might have only been tepid before. Players are people who deserve to live full lives, yet they are also athletes who have a certain amount of responsibility to uphold to keep their bodies in condition to compete. Many careers have been ruined to speed boating, motorcycles, and other various accidents to the point where many- most?- teams have contractual language to forbid most endeavors deemed dangerous. Building drones might not have been on many such lists before the 2016 ALCS, but that might be different after Bauer sliced his finger on an errant blade, which could have changed the course of the entire Indians postseason. Such craziness should only be confined to fan fiction, but it almost seems natural within the surreal state of his world.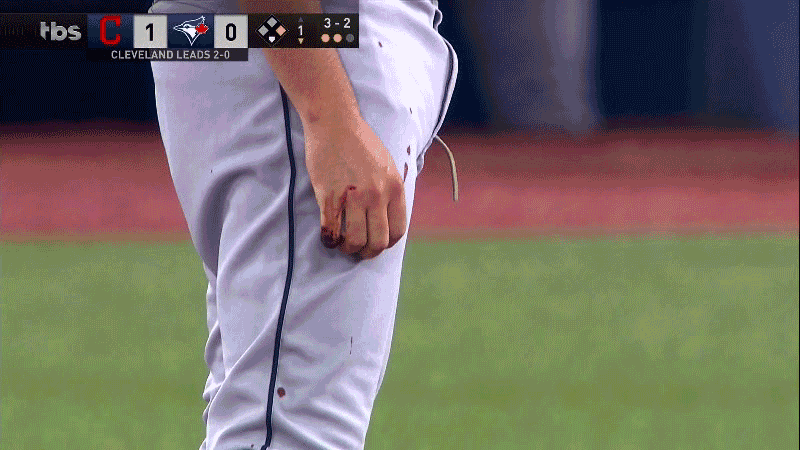 WFNY's Jon Steiner had the honor of detailing this particular event.
8:21 p.m. – The Duncan shirsey bodes well? Bauer strikes out Jose Bautista looking to start the game. Probably some "circumstances" going on; will wait for post-game interviews.

Meanwhile, Bauer is mixing the hook with his heater and seems to have adequate control over both.

8:22 p.m. – DRONE TALK. Scouring the house for alcohol.

8:26 p.m. – After getting two outs, Bauer walks two and his finger is bleeding like a geyser. This is not good. He'll be out of the game after this inning, if he can make it that far. SCOURING THE HOUSE.
Bauer would not make it out of the inning as Dan Otero started off a train of six relief pitchers to navigate Game 3 in order for the Indians to win, 4-2.
The 2017 season has not gone as planned. His 7.67 ERA might not be as horrific as it seems due to some somewhat positive peripheral numbers (4.92 FIP, 25.6% K%, 15.7% K-BB%, .347 BABIP) though his batted ball profile indicates things are awry (ground ball rate is way down, hard hit rate is way up). His only positive outing on the year was nearly three weeks ago in Minnesota whereas the most recent time he was handed the ball he walked five, gave up seven, and only pitched four.
Even Monday's start against Toronto has some added intrigue. With Corey Kluber hitting the 10-Day DL, Mike Clevinger was called up for a spot-start (or two). Instead of taking Kluber's normal spot on Monday, manager Terry Francona elected to slot him in against the Kansas City Royals.
The move pushed Bauer to travel back to the hill in Toronto where the last was seen needing to be saved from bleeding out of Game 3 of the ALCS. Perhaps a return to the scene of blood lost will help reinvigorate his 2017 campaign. If not, Clevinger appears ready to hold onto possession of the starting pitcher with insane potential but not enough control. But, that debate is for another day.
Note: the author of this article is on both sides of that particular fence. Rooting for Bauer is complicated. [↩]