Each installment of this series is presented as a snapshot of a specific recollection involving the Cleveland Indians, along with thoughts on what (s)he was driving and the music (s)he was listening to. Today, our edited discussion is with Doug. Included below is a 1977 Indians quiz, which you are welcome to try.
GREG: If you were asked for a particular memory involving the Cleveland Indians, what comes to mind?
DOUG: Memorial Day, 1977.
GREG: I know where you are going with this, because I was there too.
DOUG: Very cool! Not often you get to see a no-hitter live.
GREG: What do you remember about it?
DOUG: It was Dennis Eckersley's no-hitter. The California Angels had a young guy on the mound that night named Frank Tanana who, in those early days, was a flame thrower with a devastating curve ball.
Tanana was perhaps the best pitcher in the American League at the time. He only gave up one run (a triple to Duane Kuiper and a suicide squeeze in the first inning) on 5 hits…and lost the game. I remember how pissed he was he lost that game.
Eckersley was dominating in that game (much like Large Lenny's perfect game). He struck out 12 and was completely overpowering. And that Angels team had some potent bats: Joe Rudi, Bobby Bonds, Don Baylor, Bobby Grich. Around 7th Inning, I kind of got the vibe Eck was gonna nail the No-No.
My dad got us great seats. We sat in the upper deck (below the poles) between home and third base. The place was going bananas beginning with the top of the eighth inning.
GREG: Those were the days of fans mobbing the field in celebration. My memories have faded some- I thought Eckersley's only baserunner was Bobby Bonds, on a walk in the first inning. I read that Tony Salaita walked in the first, and Bonds reached in the eighth on a strikeout/wild pitch. Eckersley erased him on a Don Baylor double play.
DOUG: After the eighth inning, Joe Rudi of the Angels was jogging in with the ball. He kissed it and smiled as he tossed it to Eck.
GREG: Do you know how many people attended?
DOUG: 13,000. Sounded like 60,000.
GREG: Yep, 13,400. Were you aware of Eckersley pointing to the on deck hitters and shouting, "You're next!" before he even got the previous guy out? I wasn't but I read that. Also, the last hitter he faced was Gil Flores, who stalled before getting in the batter's box. Eckersley later said he yelled at him to stop messing with him and step in- he struck out Flores with nothing but sliders.
DOUG: Never heard that either. Wouldn't surprise me though because Eck had a nasty streak in him.
Ray Fosse was in his second stint as an Indians catcher in 1977, and caught the No-No. He was famously clobbered by Pete Rose in 1970, but he was a solid catcher for years afterward.
GREG: Great point. By the way, I also just read that in Eckersley's previous start, he pitched a twelve inning complete game win vs. the Seattle Mariners. Twelve innings, and the game lasted exactly three hours.
So did you have your driver's license at that time? What were you driving?
DOUG: My parents had a Dodge Dart and a Ford Bronco.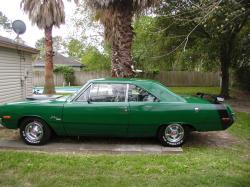 GREG: Tell me about the Dart.
DOUG: It was forest green, and I drove it during high school. What I remember was the personalized license plate (GO BEES, as in the Medina Bees) that my dad put on the car. I HATED those plates because I was constantly a target of my friends.
***
BONUS QUIZ: 1977 CLEVELAND INDIANS
Resources include baseball-reference.com
Here are the answers to the following questions. Each name will be used, but only once.
The intent was to make this doable, yet challenging. Don't look them up until you try!
And, cover the answers below until you finish!
• Paul Dade
• Jim Kern
• Jim Norris
• Jim Bibby
• Andre Thornton
• Rico Carty
• Buddy Bell
• Duane Kuiper
• Wayne Garland
• Frank Duffy
• Fred Kendall
• Bruce Bochte
Who played the most at each of the following every day positions for the Tribe in 1977, and who were the Top 3 starting pitchers and the closer?
Catcher
First Base
Second Base
Shortstop
Third Base
Left Field
Center Field
Right Field
Designated Hitter
Starting Pitcher A
Starting Pitcher B
Starting Pitcher C
Closer
***
GREG: Did you have a place you liked to go do donuts at, in the snow?
DOUG: Oh, heck yeah. The Medina High School parking lot. Did donuts there all the time in the winter!!
GREG: So how about music? What were you listening to?
DOUG: My brother turned me on to the Doors, and they're still my absolute favorite band. I have DVDs, books, and a ton of their music. They had seven gold albums in four years… almost unheard of. One of the most talented bands ever. No telling how much music they could have made if Morrison had his head on straight. Loved John Densmore's jazz drumming and Ray Manzarek playing the organ and base at the same time. Robby Krieger played the perfect style of guitar. He complemented Manzarek and Densmore so well.
GREG: My favorite Doors tune is Roadhouse Blues- I had heard that Lonnie Mack played the lead on it, but I read just now that he played the bass only.
DOUG: John Sebastian of Lovin Spoonful played the harmonica under a pseudonym. Morrison was always talking about Sebastian.
I also liked Rush, and Dire Straits. And Johnny Cash – my dad's influence. "Man in Black" is my favorite. Also love "Folsom Prison Blues," "Ring of Fire," "Hey Porter" and "A Boy Named Sue."
GREG: Favorite stuff from Dire Straits?
DOUG: Their first album. "Sultans of Swing," "Water of Love," and "Down to the Waterline."
GREG: Did you like the 70s stuff from Rush that lasted entire sides of an album? I don't know a lot of Rush but I did get into "2112." It was roommate-influenced.
Back in high school, I had a teacher who welcomed students to open class with one song on the phonograph, and tell why it is important to them. Maybe it was a literature class, and she was trying to get us to pay attention to lyrics. I remember someone played the Eagles' "Desperado" one day, and Queen's "Somebody to Love" another day. Most songs lasted about three minutes.
Well, I had a friend who was obsessed with Rush. He talked about them all the time. He brought in the double-live, "All The World's A Stage" album (he said, "Hey, that's Shakespeare, right?"). He started class with Side 2- which is mostly a twenty-plus minute hard rock jam session. The teacher's face got redder and redder the longer it lasted. It became a test of the teacher's will, to see how long she'd let it play. She finally stopped it and instituted a time rule.
DOUG: My favorite Rush album was their first- just titled "RUSH." Here's a trivia question. Who was the original drummer for Rush and was on the first album (no, it's not Neil Peart) only? I've stumped many a Rush fan over the years with that one. Don't cheat and Google it!
GREG: I couldn't even try to guess at that. A Canadian, like the others?
DOUG: John Rutsey. Died in 2008. Alex Lifeson paid tribute to him when they were being inducted into Rock and Roll Hall of Fame. He was more of a hard rock drummer, while Peart was much more progressive rock-oriented.
***
WFNY readers are encouraged to participate in this series- let me know below if you have a Tribe memory you'd like to share, or email me at greg.popelka@gmail.com.
***
ANSWERS TO THE QUIZ
Catcher Fred Kendall (as we said, Fosse caught Dennis Eckersley's no hitter)
First Base Andre Thornton (the 27 year old was in his first Tribe season in 1977)
Second Base Duane Kuiper (hit the lone home run of his career in '77- also had 8 triples)
Shortstop Frank Duffy (Larvell Blanks was arguably better that year- they both played a lot)
Third Base Buddy Bell (a fan favorite, and also a lightning rod for fan discontent, in the 70s)
Left Field Bruce Bochte (Tribe acquired him in May of '77, with Sid Monge and cash, for former
Indians Man of the Year Dave LaRoche and Dave Schuler)
Center Field Jim Norris (Rick Manning had made his debut in 1975, but was still only 22 years old in '77)
Right Field Paul Dade (would eventually be traded for Mike Hargrove- a terrific deal for the Tribe)
Designated Hitter Rico Carty (the Big Mon- good hitter but knees were shot- typical of the 1970s DH)
Starting Pitchers
– Dennis Eckersley (22 years old, same as roommate Rick Manning- led team with a 5.1 WAR)
– Wayne Garland (caught so much grief from fans for hurting his arm after signing a big contract – but in '77, while folks focused on his 19 losses, he had a 3.60 ERA over 280+ innings of work)
– Jim Bibby (very consistent starter who'd come to the Tribe in 1975, with Jackie Brown and Rick Waits, for Gaylord Perry)
Closer Jim Kern (I'd forgotten he had been made a closer- he had 18 saves for the 71-90 Indians in '77)