What does it mean to be a casual fan?
I'm sure some interpret that as not being a fan at all. After all, the word 'fan' is simply short for 'fanatic', right? So the idea of a "casual fan" is perhaps something of an oxymoron. You're either a fan or you're not.
But that's a simply semantic way of approaching this conversation. By using the word "fan", there is an inherent implication that someone still cares. If you don't care, then you are simply not a fan at all. But if you care about something, how can you be casual about it?
It's not really an easy question to answer. Or, rather, the answer is easy, it just takes a very long time to get there. Regardless, here we are. I'm sure some see my name as a byline for an Indians article and thought to themselves, "Does Andrew even know 10 things about the Indians, period?" That's fair. Because I am a casual fan when it comes to the Indians.
I don't read many (any) third-party articles about the Tribe, I don't follow spring training closely, I don't know what roster moves the rest of baseball made this offseason. But, none of that means I don't care about the Indians, or that I don't root for them. That couldn't be farther from the truth. I care deeply about this franchise. And thankfully, even though I may not be able to follow them as closely as I once did, I'm surrounded here at WFNY by so many awesome baseball-minded writers.
I'm lucky, I get to sit back and just follow along at some incredibly engaging baseball talk that goes on behind the scenes in our private chats as a site. And, because I care about the Indians, there are some things I wanted to know more about them. And who better to ask than Michael Bode? Bode is always willing and eager to talk about baseball1 and, mercifully, he has the patience to suffer the ignorance of fools such as myself. So without further ado, I sent 10 questions over to Mike and he was kind enough to provide some answers below. If you're like me and you're a casual fan who wants a primer going into this season, keep reading. And if you're a hardcore fan, you should keep reading anyway because why wouldn't you read more baseball thoughts from Bode? I hope you enjoy.
1. Starting with changes from last season, we all know Party at Napoli's is no more and Edwin Encarnacion is the big new acquisition. But what are the other changes to the lineup that we should expect to see?
The 2017 Cleveland Indians are not just adding Edwin Encarnacion as a potential Silver Slugger to the lineup, but the Tribe looks to also add back Michael Brantley. After a second surgery in July last year and some stalls during rehabilitation, the expectations were muted for much of the offseason. However, the past few weeks have seen Brantley take live batting practice, participate in minor league games, and advance to the MLB Spring Training games without any reported set backs. Brantley has also shown some surprising pop in his bat as he has been lacing doubles and then there's…
"Home run, Michael Brantley!" pic.twitter.com/kuBVQowNBI

— Josh Poloha (@JorshP) March 27, 2017
Brantley still is recovering from a severe shoulder injury (and surgeries to both his shoulder and biceps). Inflammation could re-occur at any time. There is still reason to be cautious with optimism, but the fact there is reason to be optimistic is welcome.
If Brantley is healthy, then the lineup might be quite familiar as a whole with Austin Jackson filling the Coco Crisp role of veteran outfielder off the bench (supplementing the returning Abraham Almonte, Tyler Naquin, and Brandon Guyer). Manager Terry Francona is already stating Brantley will return to the No. 3 position in the lineup once he does return (Opening Day not a guarantee yet despite it being on Monday).
I'll admit it. I'm a swing snob. Just take a peek at the sweet swing of Dr. Smooth here in the wonderful work done by Let's Go Tribe.
Good news, everybody: Brantley's swing is *definitely* back. pic.twitter.com/SK7zNlKfz4

— Let's Go Tribe (@LetsGoTribe) March 30, 2017
Francisco Lindor, Jose Ramirez, Carlos Santana, Yan Gomes, and Roberto Perez all return to what could/should be a quite good offensive (and defensive) bunch of positional players.
2. Injuries were a major storyline of the team down the stretch last season. Obviously Michael Brantley was out all season and Yan Gomes struggled with injuries all season as well, but then we had to endure a postseason without Danny Salazar and Carlos Carrasco. What is the injury situation looking like heading into the start of this season?
There's a reason Jason Kipnis (rotator cuff strain) and Lonnie Chisenhall (shoulder strain) were not mentioned above. Kipnis looks to open the season on the DL. The Indians initially downplayed his injury as just needing precautionary rest, but he has continued to be sidelined and will be sidelined until mid-April at a minimum. He just started beginning light baseball activities (light throwing and cage work) on March 25. It is too early to believe Kipnis in 2017 will go the way of Brantley in 2016, but it has yet to be ruled out either.
Speaking of far too early to know anything about shoulder injuries, Chisenhall was shut down this week after running into the right field wall. There's a chance it is a mere blip on his season, but the Indians are accustomed to beginning the season without him as they did last year. The team is also better equipped in the outfield a year after starting Colin Cowgill on Opening Day (no really, go look it up). For now, Chisenhall hopes to be the first player to return from the 10-day DL on which he was placed.
The rotation has had more than its fair share of Spring Training worries, but nothing has stuck yet. Corey Kluber and Josh Tomlin were held back a bit early on but have been pitching fine. Danny Salazar started late and struggled with his command, but he has been blowing people away in recent outings. Carlos Carrasco (elbow soreness) is the lone rotational starter to still be behind schedule, but Francona noted that he is expected to make his regular turn in the rotation once the season begins (just limited in pitch count). Trevor Bauer is Trevor Bauer. He puts more work into arm maintenance than any other pitcher in baseball, which has continued to give him impressive durability.
Indians pitching coach Mickey Callaway's full quote on Carlos Carrasco. His initial spot in rotation is still TBD. pic.twitter.com/NuV40Qkmvc

— Ryan Lewis (@RyanLewisABJ) March 27, 2017
After a postseason of literally stitching together what they could for a rotation, the Indians will be quite relieved to have their starters ready to go for 2017.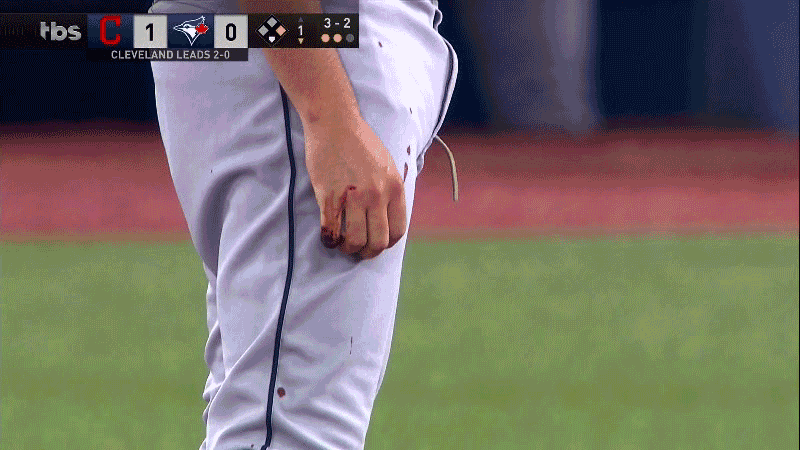 3. Speaking of Yan Gomes, Roberto Perez was huge filling in. From my novice point of view, he seemed to have a really strong grasp of calling pitches and putting his pitchers in the best possible situation to have success. What is going to happen with the catcher position this season? Who is likely to end up getting the majority of starts at catcher this year?
As much as I love yelling That's My Boy! during Indians games, Tribe fans should hope that Gomes is the one putting the most time in at backstop. Perez is ridiculously good at defense. He has a fantastic knack for pitch framing and a strong arm for nabbing would-be base stealers. His pop time isn't quite peak-Gomes, but his overall defensive stoutness is superior.
Gomes still has more offensive upside than Perez. His World Series Game 1 home run aside, Perez is likely a slightly below average hitter at his best. Healthy Gomes, on the other hand, had 223 games of well above average hitting especially for a catcher, while still providing above average defense. The only problem is that 2014 was the last year that healthy Gomes was seen. Whether or not he still has that hitter inside him is a big question.
Both Gomes and Perez were awful at the plate in 2016 though. As in, worst in MLB awful. As in, actually worse than the vaunted Michael Martinez, who also made the Opening Day 25-man roster if you were wondering. The great thing about hitting rock bottom is there is only one way to go. Up.2
The highest probability is that Gomes and Perez split time at the backstop in an effort to keep them both healthy and as productive as possible.
4. I saw that Francisco Lindor had a really nice World Baseball Classic this spring. In basketball, a big deal is often made of guys who play in the Summer Olympics with some fearing fatigue and injury are more likely to occur (even though there's no real evidence to support that point of view). How does that work with baseball? Is it actually a good thing that Lindor (and the rest of the Indians in the WBC) already got some competitive, real baseball under their belts already this spring? Or is there no impact on regular season performance one way or the other?
For positional players, if you can guarantee surviving the WBC uninjured, then it should be a good thing. The level of pitching is similar to Spring Training, but the stakes are higher. Heightened stakes mean more pressure to hone your craft earlier in the year. While the Kansas City Royals lost catcher Salvador Perez, the Tribe had no such issues with Lindor or Carlos Santana who both finished the tournament healthy.
Furthermore, Lindor and Javier Baez (2B, Cubs and Puerto Rico) continued their worldwide marketing campaign as they are quickly becoming the Faces of Fun for MLB by just being themselves on the diamond.
It is a bit different with pitchers though as one could worry about the extra innings of stressful pitching putting some mileage on those arms. All pitches are not created equal, which is why the less-controlled environment of the WBC worries some fans and front offices despite the agreements in usage for their players. Andrew Miller is the most notable Tribe pitcher to have participated, so even though he only threw four innings, his effectiveness will likely be monitored closely.3 Joseph Colon also participated and could be kept on a tight pitch leash early in the year.
Amazing atmosphere at Dodger Stadium as Team USA crowned @WBCBaseball champs for the first time pic.twitter.com/u8GO5Di2OE

— Dodger Insider (@DodgerInsider) March 23, 2017
5. Shifting away from individuals and more toward the team as a whole, obviously expectations are high, but it seems in sports that it's hard to make it to successive Championship games/series. Forget the World Series, though. To get there the Indians have to get into the postseason first. What is the AL Central looking like this year? Who is the biggest threat to the Tribe's defense of their division crown? If they don't win the Central, what are their prospects of earning a Wild Card spot?
Remember the mid-to-late 90s when the rest of the AL Central was a heaping pile of trash?
The White Sox are still trying to sell off all of their remaining useful veterans. They were able to ship Chris Sale to the Boston Red Sox, and Adam Eaton to the Washington Nationals. Jose Quintana, Melky Cabrera, and Todd Frazier remain, for now. Their farm system looks incredible but competing in 2017 does not.
The Minnesota Twins fired their general manager, and the team is currently undergoing a 2007-Indians-style restructuring of their entire player development system under ex-Indians Derek Falvey's direction. Their 2016 surprise run appears to be the outlier.
The Kansas City Royals continue to hemorrhage off useful pieces as they lost starters Edinson Volquez and Kris Medlen, while the Toronto Blue Jays stole slugger Kendrys Morales. Their bullpen and defense remain stout, but Wade Davis is now a Cub (in exchange for outfielder Jorge Soler) and Luke Hochevar is not on the MLB roster for the first time since 2006. They could compete, but they would need a ton of breaks to go their way.
The Tigers are still considered the second-best team in the AL Central due largely to their infield of Miguel Cabrera, Ian Kinsler, Jose Iglesias, and Nick Castellanos. The Motor City Kitties are still not supposed to be a great team though. Fangraphs projects them to be the 18th best team in MLB and 11th best in the AL, while still finishing just one spot behind the Indians. Conversely, the Tribe is ranked only behind the Los Angeles Dodgers and Chicago Cubs.
6. This one is slightly subjective, but why should casual fans like myself pay attention this summer? There's no question the postseason ride was a blast last year, but I worry about a hangover effect making this regular season actually seem less interesting. What are the aspects of this team that will appeal to a casual baseball fan?
Francisco Lindor is reason alone. His flair for making ridiculous plays in the field with continued excellence at the plate, and his award-winning smile (well, if not it oughta be) make every game must-see television. Every ground ball and line drive into the infield could be the next impossible play turned possible by our own infield magician.
Lindor is joined by a stable of young, developing players with some great intrigue such as Jose Ramirez, Abe Almonte, and Tyler Naquin. The veteran presence on the team is also outstanding. Carrasco, Santana, and Kipnis help keep things light, while holding people accountable in preparations. In fact, the 2016 assembled team was a joy to follow due to all of the outstanding characters in the clubhouse, and the majority of that clubhouse returns.
Also, there has to be a realization that the current Cavs season is not pertinent to the team next door. Because Baseball means that there is too much variance in the sport for players to expect to be able to turn it on once the postseason hits. No one player can wait to flip a switch in the postseason and potentially save the season. Winning the division is a needed component if the are not to let their entire postseason be staked to a single-elimination Wild Card game.
Furthermore, the Indians have to realize their window is NOW. Michael Brantley and Carlos Santana are free agents after the season. The only rule about pitching is that it is impossible to rely on long-term. The time for the Tribe to win their World Series is 2017. Following the ride towards that possibility with this cast of players is going to be incredibly fun. Join the ride.
7. What kind of team do you expect the Indians to be this year? What do you project to be their biggest strength and weakness?
The Indians should be a really, really good team. A year ago, the rotation was expected to be the strength of the team, and it was through June as they had the best starters in the American League. When injuries sapped their strength, the lineup and bullpen supplemented the team by being better than expected. Oh, and outside a couple potential troublesome spots in the outfield (cough- center field- cough), the defense is really good too. So, the strength of the Indians should be considered their overall balance and depth.
8. As a casual fan, I absolutely love Terry Francona. What he has done for this team and the progress he has brought has been really fun to watch from afar. How do the hardcore fans view Francona, though?
Most everyone loves how beloved Francona is with the players in the clubhouse. Carlos Carrasco wrote for The Player's Tribune about his United States citizenship this offseason. Once again, the unification of the clubhouse was highlighted as he spoke to how many players helped him on his journey. Tito gets some deserved credit there.
There is also an appreciation for his willingness to bring some of the more analytical aspects into his approach. Francona's usage of Miller might seem obvious in retrospect but many managers would have stubbornly stuck to old baseball adages. He also moved Carlos Santana into a lead off role early in the year in order to take advantage of how often he gets on base.
The negative is he tends to let players dictate the game even when it isn't smart strategy with the most obvious being sacrifice hitting. The love of the bunt is either Tito's or the players. While most of MLB is moving on from sacrifices, the Indians still finished with the third most in the AL in 2016 (though down from leading AL in 2014 and 2015).
9. Yandy. Talk to me about Yandy. I've heard more about him than I have probably anything else this spring. What's the story here? Is he going to make the team, and what role will he play if so?
The other WFNY Indians writers are in love with Yandy, so I have been attempting to pump the brakes a bit. He hasn't been given MLB time quite yet and Francona has been consistent in his messaging about poor third base defense. After a strong Spring Training and an injury to Jason Kipnis though, it was probably time to give him some MLB run. Diaz has a bat that should play well, and he is built like The Destroyer from Marvel comics.
So, he rightfully made the team for Opening Day. Whether or not he remains will be dependent on if his bat starts off hot.
Ah, what the heck. Yandy Diaz is destined to become the Cuban version of Jim Thome. Cuban Thome! Cuban Thome!
If I'm a pitcher and Yandy Diaz steps up, I think it'd be a good time to try out that new intentional walk rule. pic.twitter.com/18KTH14Zh4

— Adrenaline Baseball (@AdrenaBaseball) March 15, 2017
10. I know, this is getting long. Much longer than I anticipated. So I'll make this the last question, and it's a fairly open-ended one. Is there any final thing you think I, or other casual fans, should know about this team?
The Indians signed the best hitter on the free agent market in anticipation of competing for the 2017 World Series. They have an overflowing amount of talent everyone on the roster. The division appears to be down. To top if all off, the players are incredibly likeable.
So, come down to the ballpark and enjoy this team. Baseball is a fickle sport, so we need to appreciate when something special happens. 2017 could be one of those special times.
Editor's note: We are talking about Bode here. Just find a topic he has any interest in at all. Heck, any topic. He'll be willing and eager to talk. [↩]
Quote from the recent motion picture Sing. [↩]
Personally, I think it is of little worry. [↩]