As the Cavaliers were getting ready to open the 2016-17 season with a home game against the New York Knicks, a truck was parked just south of the Harry Buffalo bar and restaurant on Cleveland's East 4th neighborhood. The truck, replicating a food truck with a large window on one side, was painted entirely black, had a basketball goal hoisted above off of the back end, and had unmistakable Swoosh branding.
While many were waiting patiently for the typical October release of the latest in James' signature line, this truck was paying homage to the team's mid-summer run, selling packages for each of the Cavs' NBA Finals wins. Four boxes, each named after the team's wins—Game 3, Game 5, Game 6, and Game 7—would feature the shoes worn by James and his teammate Kyrie Irving. The first three games were sold exclusively in Cleveland in the three days prior. This would be the only chance to purchase Game 7.
Lines formed for hours, starting in mid-afternoon, lasting until well into the start of the Opening Night game. The logistics of the entire thing were a bit of a mess as a line had never moved slower. Nevertheless, everyone who stood nearby had a chance to see the giant Irving-clad banner above, featuring the Cavs guard's game-winning shot over Golden State's Steph Curry. This, including a gut-punching subtitle, served to roll out Nike Basketball's "Come out of Nowhere" campaign.
The concept was simple: The 2016 NBA playoffs featured moments that will forever define them—the block, the shot—but were completely unforeseen. What will happen this season?
The campaign features Iriving, LeBron James, and a host of other Nike athletes including Indiana's Paul George, Orlando's Aaron Gordon, and Boston's Isaiah Thomas. Be that as it were, each pack of shoes purchased from the truck came with two "Come out of Nowhere" stickers. On the same day, Nike unveiled this chilling black-and-white spot with a James voice over and damn good cinematography.

For as amazing as the commercial of a young LeBron James walking through the halls of St. Vincent-St. Mary and the reminder that such an offensive powerhouse may very well be defined by a defensive play are, it's this type of journey—inspiring, uplifting storytelling—Nike could have used to catapult its retro release of James' signature line.  As Russ Bengston penned in his Rafiki-like it is time column for Complex, the retro LeBron line should be designed to remind us all of the path James' incredibly scrutinized career has taken. The lack of collective appreciation for James's game notwithstanding, given the dearth of LeBron-based colorways to hit the shelves in recent years, there are tons of places to visit along the way, but only one real place from which to start.
The Generation was James's Air Jordan 1, in a more self-aware kind of way. OK, the shoes themselves weren't aware, but Nike certainly was, producing limited numbers of the "First Game" colorway, pink-accented PEs for James's mother, Gloria, and even "L.A." All-Star PEs for an All-Star Game he didn't even make. A reasonable first year of LeBron retro product could include his true first-game shoes (the "White/Black/Red" he wore in Sacramento), the "Wheat" version he wore in the rookie game, and either the original prototypes or something entirely new.
Bengston thumps the bulls eye here. Starting with the Air Zoom Generation, Nike has the chance to take us all on an nostalgic adventure. Whether you were someone who wasn't sold on James coming out of school, didn't want to buy into the hype of an 18-year-old with a multi-year deal with the biggest apparel company in the world, or—if you are in Cleveland—bailed on all things James over a four-year stretch which just so happened to produce some quality shoes, the retro production of the LeBron line has the ability to do exactly what the Jordan line has done—allow us to re-live moments in a sentimental way which selectively magnify the good while dampening the bad.
The only catch, of course, is that while Bengston went Robin Hood on his target, Nike has looked more like Rube Baker, their attempts sailing every which way. Instead of producing the true "first game" colorway, Nike opted for a little poetic license in recreating the Air Zoom Generation from James' first home game, complete with the date on the insole, and dubbed it "First Game." That's fine. The early-November game was in Cleveland and he's in Cleveland and it just so happened to be a part of an axis-tilting concept wherein pairs would be tied to a box made with pieces of the Cavaliers' championship floor and sold with a championship ring. There's some wiggle room to be had—if you make it about Cleveland from that point on.
Where things start to go awry, however, is that there would be only 23 pairs and these packages to the highest bidder on StockX.1 Worse, they were marketed as an "SPO", or, StockX Public Offering wherein winning bidders were then encouraged to resell their winnings, or stock, on StockX's platform to take advantage of "market value."
This is all well and good, but unlike an actual IPO which is priced through underwriting and valuation through investment banks, the pre-SPO price was set by an actual auction which already replicates the secondary market. The auction was market value, with a premium added based on rarity and hype. Factor in the StockX business model that incorporates a percentage-based fee (i.e. commission) for each transaction2 and the complete omission of any sort of hyperlocal marketing to those who would actually value a piece of the Cavaliers' floor (instead, there was an embarrassing SportsCenter "unboxing" which may have been the most disingenuous unboxing in the history of unboxings), and you have a retro release that came off more like a business play for multiple players than a way for Nike to lead us down the path described above.
Making matters worse: The alleged SNKRS app sale of the sneaker that was buried within a story. Only could one find the "First Game" if they read through a story about the design, scrolled all the way to the bottom, and found the button to buy the shoe—except immediately after going live, the shoe was listed as sold out.
So wait—the #AZG was a quickstrike on SNKRS? pic.twitter.com/LKpPdqTz9T

— Scott @ WFNY (@WFNYScott) January 26, 2017
Nike's own app, with nary a push notification or a heads up through their frequent "notify me" function, was to serve as another avenue, but only served to make matters worse.3
---
The next wayward step in their plan to retro James' line comes in the way of the "wheat" Air Zoom Generation Bengston mentions above. Though James was not named to the All-Star team during his first year in the league (21, 6, and 6 wasn't quite enough back in 2003-04), he participated in the rookie challenge while wearing a workboot-like colorway of the AZG.
The "wheat" Zoom Generation are transcendent sneakers for a variety of reasons, but when you couple James' first signature shoe with a nubuck, gold and gum colorway that had more Timberland than Jordan, you have yourself a shoe so important that Nike tried replicating it with later James lines.
Anyone who pays attention to the retro Jordan marketplace will tell you how the most important aspects (next to the quality of the materials used) come in the way of details—how close are the colors, angles, markings, and other items that rendered the first iteration of the sneaker as one for the ages? When it became known that Nike was planning on retro releasing the "wheat" colorway during the impending All-Star festivities in New Orleans, you can imagine the collective response. This was, of course, until Nike released official images of their attempt to recreate this iconic James shoe.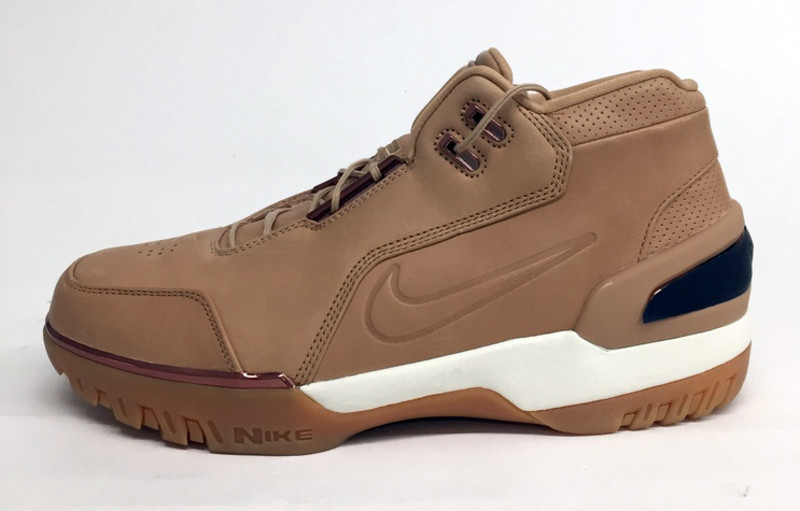 Wait, what? This is what was cleared to release as a retro colorway for Nike's signature athletes most important shoe? Not only are the materials vastly different, the color is no longer "wheat"4, there's a Sail (red) pipe along the forefoot and there is a gaudy, white midsole. This sneaker is an homage to the "wheat" AZG in the way a rural carnival cover band is an homage to whichever band they're attempting to horrifically portray.
Remember when the Cleveland Indians first displayed their renderings of what right field would look like post renovations? You see what that upper deck looks like now? This is way worse.
---
For a company to have the worst performing stock in the Dow Jones in 2016 subsequently decide to put a ceiling on early revenue streams in the first quarter of 2017 is an interesting tactic in and of itself.
Making matters a bit more troubling is the unforeseen delay in the
LeBron 14
. Typically on Nike's October release schedule (the company staggers signature athletes with Kyrie Irving in December and Kevin Durant in June), James' signature line has been unveiled right before the start of each season. In 2014, media and influencers alike were shipped to Portland, saw James lift the curtain on the LeBron 12—the first to come with the hexagonal Zoom Air—and complete the event with a wear test. The 2015 iteration was in Akron, where media was given an intimate forum to ask James questions about the new design before the entire event rotated to a celebration around the LeBron James Family Foundation.
What would have been a 2016 release came and went without nary a mention as James continued to wear his Soldier 10 line, the one which became a part of the four-box championship pack that released in the days leading up to the Cavs' first home game as defending NBA champions. Rumors and speculation surrounded the delay, some hinting that the company was forced to go back to the drawing board after a panned focus group assessment; others stating that the Soldier line was doing well enough and the delayed 14 was done to allow for more breathing room. Then, out of nowhere (clever, right?), James wore a pair of the LeBron 14 colorway on Christmas Day in the Cavaliers' eventual win over the Golden State Warriors. The colorway was officially dubbed "Out of Nowhere" and a release date was not confirmed… until this past week when Foot Locker announced that two stores in the entire country would be getting pairs of the shoe.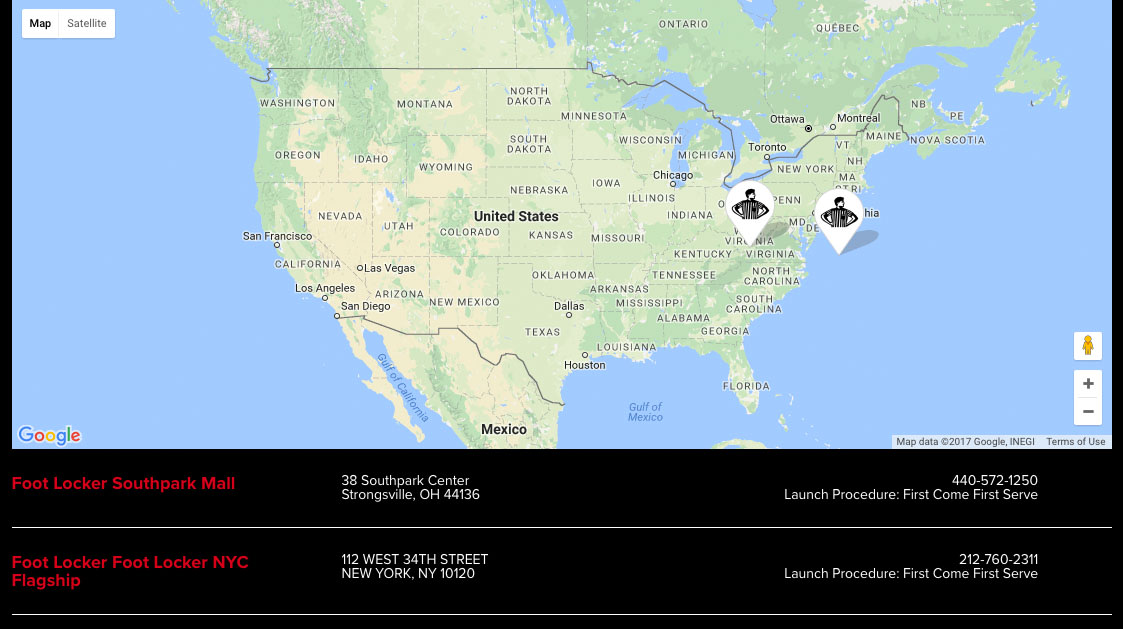 There's a "Get them Nowhere" joke to be had somewhere.
While pairs of the LeBron 13—both high and low top—still sit on shelves, and the retro line is starting to get a push, Nike decided to roll this colorway of the 14, complete with Christmas Day packaging, to just two stores in the country, again without anything in the way of local engagement prior to the release. The one near Cleveland, in Strongsville, OH, was given just 40 pairs across their full run. To put this in perspective, the secondary release of the Air Zoom Generation "First Game" was limited to 500 pairs that would be raffled off locally, and that was an insanely low amount.
For 40 pairs to be stocked at a local Foot Locker, and for SNKRS to sell out just as quickly as the Air Zoom Generation reeked of the company merely trying to create hype moreso than satisfying customer demand. The "Out of Nowhere" LeBron 14 immediately hit resale markets and was listed for upwards of $350 on StockX later Saturday afternoon, double the shoes retail price. For a company to have the worst performing stock in the Dow Jones in 2016 subsequently decide to put a ceiling on early revenue streams in the first quarter of 2017 is an interesting tactic in and of itself. But hey, one guy traveled a few miles to get in line.
https://www.instagram.com/p/BP1QOyZl7_2/?taken-by=kingjames
Meanwhile, adidas continues to pick up steam with their Boost technology, insanely popular NMD line, handling of the James Harden line, and the recent social efforts around Damian Lillard's Dame 3. You have a stark contrast between approaches of two separate apparel companies. Even Jordan Brand, releasing new editions of Michael Jordan's signature line while also producing retros of other sneakers, manages to keep media and influencers engaged on all fronts. While one is alienating and making it more difficult for its fans to engage, the others are doing everything in their power to take advantage. That Jordan is a subset of Nike5 makes things all the more puzzling.
As can easily be attested, fewer people have been looking forward to the retro releases of Nike's LeBron line. It was flattering when James used a picture I took at Media Day to tease the impending roll out, the way the Zoom Generations were packaged resulted in a literal tweet storm. But so far, it's ended there. The execution of the two James releases in January have come off as an attempt at building hype while the retro images that have leaked for subsequent releases have been a huge swing-and-miss. The only way Nike could make up for butchering the "wheat" retro would be for them to pretend the one slated for All-Star weekend is an entirely different shoe all together and a wheat AZG could still very well be on the way.
Much like judging an album two songs in, or a television show by its pilot episode, it would be unwise to characterize the entire retro release as a flop. Nike has plenty of time to right the ship, but they would be wise to do it quickly. The concept of this entire release may have been "Come Out Of Nowhere," making things unpredictable and unattainable, but Nike would be wise to leave that branding to the Aaron Gordons and Isaiah Thomases of the world. James, and his fans, deserve much better.