Hope y'all are enjoying your Christmas Adam.1 You should be if you are an Tribe fan as the year of our Lord two thousand and sixteen had one more suprise lurking for us. The Cleveland Indians and Oakland Athletics got into a bidding war for the best hitter on the free agent market.2 The Tribe was willing to offer slightly more money and an additional year, which helped flip Edwin Encarnacion from the North coast of the Great Lakes to the Southern side.
Non-Browns Cleveland sports have taken a significant turn for the better, and Encarnacion's presense in the Indians lineup should help keep that going in 2017. There are still some worrisome fans out there who remember another near Christmas signing four years ago that did not work out as intended. Nick Swisher was an Ohio guy through and through. The Indians even used Jim Tressel to help woo him back to the great state. And, just before Christmas in 2012, Swisher signed with the Indians to what was the biggest free agent deal in team history (four years, $56 million).
Swisher had been extraordinarily consistent as a ballplayer as he hit .258/.365/.471 (120 OPS+) over the previous seven seasons, while never playing in fewer than 148 games and hitting less than 120 OPS+ only once. When he came to Cleveland, Swish was a huge part of the 2013 Indians making their push for their first taste of the MLB postseason since 2007 as they made the AL Wild Card game with him hitting .246/.341/.423 (115 OPS+). Things went poorly from there as knee injuries robbed him of his bat prowess before the Tribe dumped him along with hamstrung Michael Bourn on the Atlanta Braves for Chris Johnson (who they later dumped).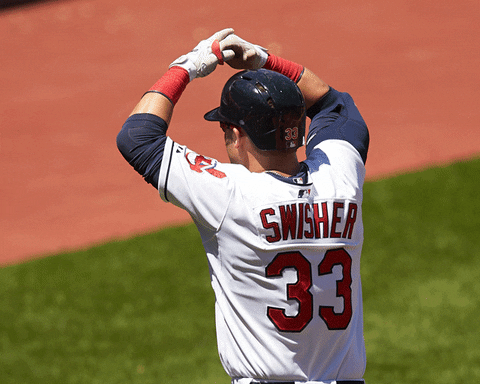 Similarities to Swisher
Encarnacion has some similarities to that Swisher signing. He now has the biggest contract guarantee in Indians history (three years, $60 million). Encarnacion has also been extremely consistent over the past five years as he has hit .272/.367/.544 (146 OPS+) with no OPS+ lower than 133 and the only year with less than 142 games played being 128 in 2014. He is also a player who gives a team value with his bat but notsomuch with his defensive skills (expect a timeshare with Carlos Santana at first base but with Santana getting the "Napoli-share"). Age is a factor as well. Swisher was entering his age 32 season in 2013, EE will be in his age 34 season next year.
EE does not possess Swisher's Bro-ness, nor is he from Ohio State, but he is not devoid of personality either. He is a ballplayer who pretends a parrot is on his shoulder for his home run trot, is known to throw an occasional bat, and Tribe fans might remember from the 2016 ALCS that he has some fire in that belly. Encarnacion, like Swisher, is the type of player that is as easy to root against when he is in the opposing dugout as he is to root for from the home side.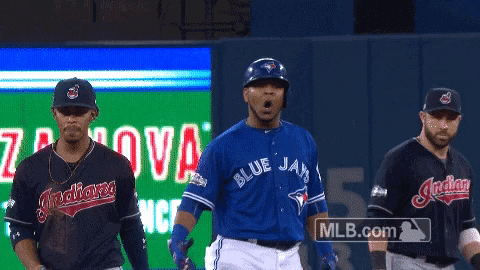 Why EE is not Swish
Swisher was a good, consistent hitter, but Encarnacion is among the Top 10 hitters in MLB. EE has the second most home runs (193 HRs) over the last five years to Chris Davis (197 HRs). A three time All-Star (Swisher was just once), received MVP votes four times (Swisher never did), and a SLG% over .500 is his norm (Swish cracked that line with a .511 in 2010). Basically, while Swisher was a good hitter, Encarnacion is a legitimate star much more in the line of the last time the Indians received a former Blue Jay, Roberto Alomar.
The circumstances are also much different with EE. 2012 was a terrible 68-win season for the Indians. Swisher and Bourn signing along with obtaining Terry Francona to manage was needed in order for that particular team to compete. The 2016 Cleveland Indians won 94 games and almost won the World Series. Michael Brantley is expected to return in 2017. Carlos Carrasco, Danny Salazar, and Yan Gomes should also be back. Encarnacion will be projected to be the best hitter, but he's the frosting on top of an already excellent team when Swisher needed to be the cake.
The 2013 American League Central division had the young, burgeoning Kansas City Royals and veteran Detroit Tigers teams to fend off. Next year, the division should not be quite so difficult. The White Sox have already flown the white flag for 2017 as they have begun to trade off their best players, such as Chris Sale. The Royals have slowly been allowing their talent to leave and also traded reliever-extraordinaire Wade Davis. The Twins are still building, and the Tigers are not the scary proposition they once were.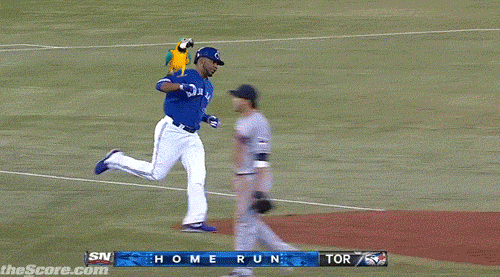 Last Word
There is always the chance that the Encarnacion contract becomes an albatross around the small market neck of the Cleveland Indians. $20 million a year can handcuff later signings and possible extensions of young players such as Jose Ramirez and Francisco Lindor. However, EE is no Swish and the risk is the type that the Indians have to make if they are going to make a push at winning a World Series. The Tribe just pushed their chips to the middle of the table. Let's enjoy it.
Because Adam came before Eve. Hey-O. [↩]
Remember when I said that the new CBA was a win for small market teams? Yeah, I'm feeling good about that statement. [↩]