As we have throughout the last several years, WFNY will use the last two weeks of December to discuss the most important stories of the last twelve months. Stay with us as we count down the biggest and most discussed topics of 2016. Our "Best of 2016" continues on with the day 1.3 million (allegedly) converged on the city of Cleveland.

No one quite knew what to expect. This, of course, comes with the territory of not winning a major sports title in 50-plus years. The logistics surrounding a championship parade were oftentimes an afterthought as so many seasons ended without the need for one. But as the Cavaliers came back to beat the Golden State Warriors in the NBA Finals, the city of Cleveland had it's "oh shit" moment wherein they had a little over 24 hours to create not just a route, but erect a stage, put out a few hundred chairs, and line up so many barricades that a portion of the route would have to essentially be on the honor system with those in attendance.
All of the uncertainty, however—WOULD THERE BE BATHROOMS?1—would disappear as hordes of Cavalier fans took to Cleveland to see the Cavaliers parade through downtown streets, ending at Mall C where a post-parade rally would be held. Fans who decided to get their spot for the rally did so in the early hours of the morning. Fans who wanted certain spots along the route did so even earlier, some in chairs (even a recliner) the night before.
The route itself would leave Quicken Loans Arena, heading just south on Ontario where it would loop around Progressive Field, east on Carnegie and then north on E. 9th street. It was here where things would get a bit questionable as what had been a clear path for the parade quickly became less so as the day carried on. Fans were literally perched everywhere they could, hoping to get a glimpse of the Cavs. They sat on bus stops. On top of parking garages. In parking garages. In each of the four letters in the FREE stamp on Lakeside avenue.
One by one, players, coaches, and other local notables would file out of Quicken Loans Arena in a convertible car of some sort. Machine Gun Kelly flat-bed truck that doubled as a stage. The Lake Erie Monsters were there. So was Stipe Miocic and Urban Meyer. Then came Ty Lue and the Cavs' coaching staff. Dan Gilbert and the ownership team followed closely behind. Richard Jefferson had Snapchat and Channing Frye had the Larry O'Brien trophy. J.R. Smith, Kyrie Irving and Iman Shumpert were shirtless—Smith was in what felt like his fourth consecutive day of bare-chested celebration. Kevin Love had a WWE title belt inscribed with the Cavaliers' NBA Champions logo. There were Tristan and Delly and Timo, Dahntay Jones and Jordan McRae. Even Sasha Kaun was there. The man who everyone was there to see, however, would soon roll through with his family, taking time to pose for what was the still shot of the entire event: LeBron James, arms stretched, replicating the pose that had hung over the city of Cleveland since his return in July of 2014.
WFNY's Top 10 Stories of 2016:
December 29
December 28
December 27
December 23
Over at Mall C, fans continued to file in, a sea of humanity stretching nearly the entire length of the green space. Two giant screens flanked the stage that would hold the Cavaliers upon their arrival, airing the parade as it rolled along, mixing in clips of the final few minutes of Game 7—the block, the shot, Kevin Love's domination of the league's unanimous MVP—each receiving a roar from the fans as if it were happening live.
The weather was ideal. Late June in Cleveland is typically so. A few clouds would occasionally cover the sun for moments of time, but blue skies dominated. The entire day had a feeling like it could have been raining everywhere else in the country, yet Cleveland would be graced with picturesque conditions—after all, 52 years of waiting should buy you something.
The Parade itself was to last just 90 minutes with the rally taking place roughly 30 minutes after the final car arrived at the stage. FOX Sports Ohio had plans to air the 90-minute parade, the rally that would follow, and then air a special replay of Game 7 of the NBA Finals around 3:30 in the afternoon. Cavs fans, however, had a bit of a different itinerary as the lack of barricades led to thousands upon thousands of fans pouring into the streets, blocking the entire route for several miles. By the time Game 7 was to air, the parade was barely halfway down E. 9th as fans were essentially water—as police would clear what they thought would be enough space in front of various floats, fans would simply file in behind as there was a complete lack of available space.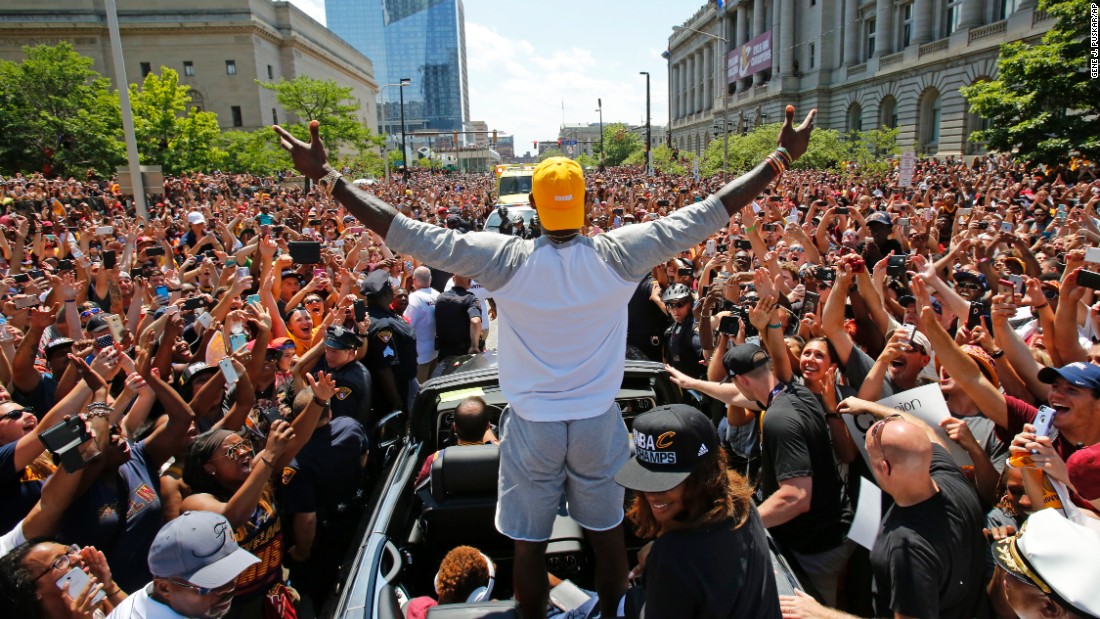 When the team finally arrived to the Rally, they wasted little time getting on the stage. Team majority owner Dan Gilbert would welcome the crowd, giving way to a few local politicians before David Griffin and the rest of the Cavaliers gave their thoughts. One by one, each player addressed the crowd, offering their appreciation for the city as well as the men who joined them on that very stage. Griffin mentioned a letter he wrote the team the night before Game 5, their backs against the wall with a 3-1 deficit. It was here where Richard Jefferson would tell fans he would be staying in Cleveland for at least another season. It was here where James would go one by one, mentioning something about every one of his teammates, providing them with a place in what was a storybook run to top all storybooks, saying "I'm nothing without this group behind me, I'm nothing with out all of you—Let's get ready for next year." And it was here where Jim Brown would hand the Larry O'Brien to James as his teammates flanked nearby and buckets of wine and gold confetti rained down across the entire mall.
---
Championship parades are a way to celebrate a team that worked tirelessly over a several-month span, adding in just the right amount of luck, timing and fortuitous bounces of a ball. They're a way to see each member of said team get their moment in the sun. They're a way to see said team one last time, a way to thank them for all of the happiness they bestowed upon their fan base. But this parade, the one celebrating this team, was just as much—if not more—about the fans. The group of like-minded folks who happened to come from all walks of life, waiting and waiting and waiting for this very moment where they were all champions. Cleveland waited 52 years not just for a title, but to celebrate one in the most memorable of ways.
As a Cleveland fan, Wednesday, June 22 was the ultimate You Had To Be There moment. Images from the Cavs' championship parade will live on the internet forever, but those who were in attendance on this day will have much more than a few still shots to scroll through. They'll have memories. They'll have stories. They'll know exactly where they stood as a parade of champions went by within arm's length. They'll know how they felt the moment they saw
There may be additional parades in Cleveland's future, but this was the one that ushered in the buzz that carried the city through the entire summer. As LeBron James howled following Game 7, "Cleveland, this was for you."
There were. [↩]