Welcome back to Know Your Opponent! Each week during the season we shed some light on the Buckeyes' opponent, examining their record, traditions, mascot, famous alumni and anything else we think is worth making fun of. This week – The Terrapins of the University of Maryland-College Park!
Full disclosure: I am a resident of the fair state of Maryland and my wife is a UMD alum, where she attended grad school. However, this will not color my usual fair and unbiased analysis as we are first and foremost OSU alumni and fans. We actually tried rooting for UMD as our #2, but it never took. Their games are nigh-unwatchable, especially since joining the B1G. It's like trying to eat spam after feasting on prime rib your entire life. I don't recommend it. Good school though!
With that out of the way, let's kick off this shindig with the only football hype video I could find for UMD:
FBS Stats: Unranked (stats from Sports Illustrated)
Points per Game: 103rd
Yards per Game: 86th
Points Allowed per Game: 117th
Yards Allowed per Game: 187th
The stats speak for themselves, folks. UMD started the season off strong, going 4-0, but are 1-4 since then.
Mascot: Testudo the Terrapin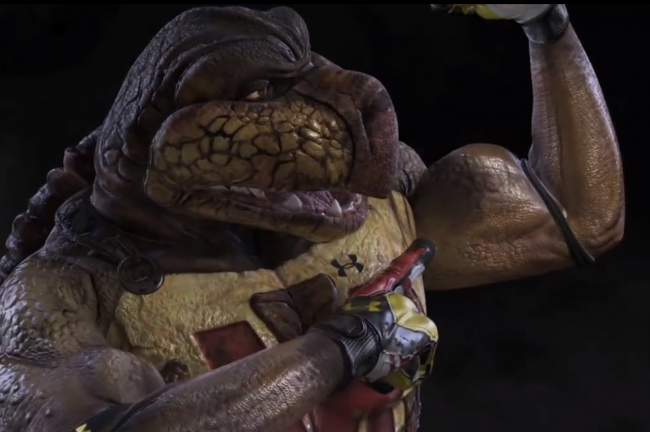 Testudo is a gigantic turtle, similar in appearance to Toka from Teenage Mutant Ninja Turtles II: The Secret of the Ooze. "Testudo" means turtle in Latin, and "terrapin" is a type of turtle common to Maryland. The school adopted the terrapin as its mascot in 1932, upon the recommendation of the head football coach. The Diamondback Terrapin was prevalent in his hometown on the Chesapeake Bay, and is also the state animal, so it makes football-mascot sense. The teams were originally known as the "Old Liners," in reference to Maryland's nickname as the "Old Line State." Maryland was the only colony during the Revolutionary War to commit regular troops ("of the line") to the war effort, the Maryland Line, and George Washington himself praised their effectiveness, referring to them reverentially as the "Old Line."
Two bronze statues of Testudo stand watch on the campus, the original in front of the library and a backup in front of the stadium. In 1947 students from Johns Hopkins University kidnapped the original Testudo statue and absconded to their campus in Baltimore, causing UMD students to rush to the city and lay siege to the building where he was being held. 200 police we needed to quell the riot, which eventually turned into a large party that raged well into the night. The original Testudo statue was turtle-napped so many times during the 1930s and 40s that they had to fill him with 700 pounds of cement to keep him in place.
To be honest, I've lived in Maryland for five years and did not know why the school had a turtle for their mascot until researching this post. The school often has promos and signs around town that say "Fear the Turtle," which I understand, even though it's an empty threat. UMD started using graphics in their promos since they joined the B1G ten that depict Testudo as a straight-up Mortal Kombat boss, which I like. Terrapins are not snapping turtles. In fact, they are such cute and unassuming little guys that over the centuries they were almost eaten into extinction. You can walk up on these buggers and scoop a few up for a delectable turtle soup, if you are so inclined, and don't mind violating federal protected species law. That's why it's best to depict Testudo as a video game monster – opposing teams see that and lose their minds. A muscle-bound mutant with a spiky shell is always preferable to a cute pond-dweller best known for being eaten into near-extinction.
2016 Record: 5-4, 5th in B1G East
Maryland has wins over Howard, FIU, UCF, Purdue, and Michigan State this season. Yes, that is how far MSU has fallen since their playoff berth last year. They lost to Penn State, Minnesota, Indiana and Michigan. Their loss last week to TTUN was especially brutal at 3-59. My surface-deep analysis shows that Maryland is on the rise, soon to reach Illinois or Indiana-level status in the conference.
Coach: "Hardcore" DJ Durkin
A native of Youngstown, Durkin played outside linebacker at Bowling Green. He began his coaching career there as a graduate assistant in 2001 under then-new coach Urban Meyer. He was then a GA at Note Dame for two years, before returning to Bowling Green to coach linebackers and special teams. He then spent three years at Stanford coaching DEs and ST for Jim Harbaugh, until he was reunited with Urban Meyer in 2010 as the LB and ST Coach for the Florida Gators. In 2013 he was promoted to DC for the Gators, and then served as their interim head coach for the 2014 postseason upon the departure of Will Muschamp. Last season he was the DC for Michigan, where he was known for his ravenous appetite for roadkill, a Wolverine coaching tradition Jim Harbaugh reinstated with gusto upon his arrival in Ann Arbor, in which Durkin was recruited specifically to implement. Brady Hoke was unpopular for changing the tradition to one of gorging on pizza pies and fried mackerel, one of the many stated reasons for his dismissal.
Durkin is young as far as head coaches go, only 38 years' old by my math. The silver fox look definitely works in his favor, imparting an air of gravitas and élan lacking in most youngster coaches. Physically, Durkin is the prototype for the guys you see at the bar in your hometown the night before Thanksgiving, who won't stop talking your ear off about fights and other shenanigans from high school 20 years ago and insisting on Jack Daniels shots, regardless of who is driving.
Silly Traditions:
Maryland is the only college with four official colors: red, white, black and gold, which mirror the colors of the state's flag. If you've ever been to Maryland you have seen it, as the people here are absolute maniacs about stickers on their cars with various shapes shaded in the style of the flag. My favorite sticker is the crab with the flag colors, because everyone knows you can only get crabs from Maryland.
There is literally nowhere else on the planet where crabs of any type live, which is what you would think if you ever visited here, with how crab-obsessed Marylanders are. This is not a joke – the first meal I had at a restaurant in Maryland was at an Italian place, and I was offered the option to add crab to my spaghetti and meatballs for a small upcharge. That is foul. The people here are generally a decent and caring lot, but their flag-worship in out of control. A time traveler from 1930s Nuremburg would be embarrassed for them.
Also a silly tradition, albeit more recent: Letting Under Armour dress them.
https://twitter.com/umterps/status/795671990912827393
Famous Alumni:
Notable alumni of the University of Maryland-College Park include Animal House and Indiana Jones and the Last Crusade actress Karen Allen, Curb Your Enthusiasm star Larry David, Barbershop and Secrets and Lies star Michael Ealy, Muppet Show creator Jim Henson, Howard Stern sidekick Robin Quivers, and The Wire and The Corner creator David Simon.
Sergey Brin, co-founder of Google, is an alum. So is failed Hewlett Packard CEO and failed presidential candidate Carly Fiorina, Pulitzer Prize-winning journalist Carl Bernstein, CNN anchor Connie Chung, ESPN SportsCenter anchor Scott Van Pelt, and former NFL quarterback and current CBS Sports commentator Boomer Esiason.
Famous fictional alumni of UMD include Liz Lemon from 30 Rock and Special Agent Dana Scully from The X-Files. In my opinion, these are two of the greatest women television characters of all time.
Terps currently in the NFL (13 total):
Nolan Carroll II, CB, Philadelphia
Jon Condo, LS, Oakland
Vernon Davis, TE, Washington
Sean Davis, S, Pittsburgh
Stefon Diggs, WR, Minnesota
Darrius Heyward-Bey, WR, Pittsburgh
Shaun Hill, QB, Minnesota
D'Qwell Jackson, LB, Indianapolis
Quinton Jefferson, DT, Seattle
Darius Kilgo, NT, Denver
Yannick Ngakoue, DE, Jacksonville
Nick Novak, PK, Houston
Torrey Smith, WR, San Francisco
Though not a traditional football powerhouse, which is a massive understatement, the Terps have a number of notable players in the pros. Stefon Diggs has emerged as the leading receiver for Minnesota when he's healthy, and a perennial waiver-wire addition for me in fantasy. Darius Kilgo isn't as well known, but he's the best villain on Game of Thrones this season, I don't care what anyone says. Torrey Smith was a superstar here in Maryland during the Ravens' 2012 championship season, but has not done shit since. I didn't realize he was a local guy at the time, because it's the Ravens and I don't care. He gets like three looks a game from Blaine Gabbert or Colin Kaepernick. He rode his high performance in Baltimore to a nice payday in San Fran and then stopped playing, not that anyone can blame him. Darrius Heyward-Bey, despite being a big enough Beyonce fan to change his name, is best known by Cleveland fans for being the eighth wideout on the Steelers' depth chart, in which the Browns make him look like Calvin Johnson twice a season.
Noteworthy Players:
Maryland has inexplicably used four quarterbacks this season, starter Perry Hills and backups Tyrell Pigrome, Caleb Rowe and Max Bortenschlager. Hills did leave last week's contest against TTUN with an undisclosed injury, but I still find this amusing. Keeping with our theme of amazing QB names this season, I would just like to point out the beauty of Tyrell Pigrome and Max Bortenschlager. These kids were destined at birth to play quarterback, with names like these. Are any of these guys good? Who knows; this is the wrong post for that.
Other notables are linebacker Shane Cockerille, wide receiver Levern Jacobs, defensive back Milan Barry-Pollock, WR Teldrick Morgan, DB RaVon Davis, DB Qwuantrezz Knight, TE Kevin Woodeshick, OL Quarvez Boulware, and OL JaJuan Dulaney.
Prediction:
Here's how I stand for the year:
BGSU: Predicted 43-7, Actual 77-10
TULSA: Predicted 45-21, Actual 48-3
OKLAHOMA: Predicted 33-28, Actual 45-24
RUTGERS: Predicted 50-14, Actual 58-0
INDIANA: Predicted 48-14, Actual 38-17
WISCONSIN: Predicted 35-28, Actual 30-23
PENN STATE: Predicted 45-14, Actual 21-24
NORTHWESTERN: Predicted 34-10, Actual 24-20
WISCONSIN: Predicted 24-21, Actual: Actual: 62-3
I was totally surprised by our performance against Nebraska, but I will take it. Hopefully this team continues to progress and keeps performing at a high level for their meeting with TTUN later this month. This week I don't expect anything other than a blowout. I predict the Buckeyes take it, 55-7. I will be at the game, my first since 2005, so I am very excited. OSU playing down the street from me every other year is really the only good thing to come from Maryland's entry into the B1G, which is why I supported it emotionally. That's it for this week, Buckeyes fans! Stay safe, have a good time, and go Buckeyes!