Welcome back to Know Your Opponent! Each week during the season we shed some light on the Buckeyes' opponent, examining their record, traditions, mascot, famous alumni and anything else we think is worth making fun of. This week: The Badgers of Wisconsin!
Let's start this off with this Badgers' 2016 hype video, which is very original in its use of "Seven Nation Army." It's likely the first time I've heard it used for a football promotion—ever.
FBS Stats: #8 in AP Top 25 (stats from Sports Illustrated)
Points per Game: 161st
Yards per Game: 184th
Points Allowed per Game: 5th
Yards Allowed per Game:  19th
I'm thinking this contest will be a battle of defenses… The Silver Bullets should be able to limit the Badger offense, and if we can keep the turnover margin on our side, we should come out on top.
Mascot: Buckingham U. "Bucky" Badger
Wisconsin picked up the nickname "The Badger State" from the miners who first settled the area in the 1820s and 30s. Without adequate shelter in the winter, they survived by "living like badgers," burrowed into tunnels in the hillsides. Currently, the average Wisconsinite is too bloated from gorging on cheddar cheese products and Blatts to burrow into a single-sized bed, let alone a tunnel, but the name has stuck. At least "badger" has some relevance to the state of Wisconsin's history, even if modern Wisconsin residents are only burrowing into burritos and Lays bags. It could be a folk term for retard no one knows the origin of, or a tropical storm for a landlocked desert, so let's give Wisconsin credit where it's due.
The Univeristy of Wisconsin-Madison has used a badger as a mascot since 1889, with the name "Bucky Badger" being officially chosen in 1949. The school experimented with a live Badger for a short while in the 1930s, but the little guy proved too fierce for the provincial UW grounds crew, so he was quickly retired to a nearby zoo. After this, the school employed a live raccoon named "Regdab," for "badger" backwards, which lasted until the adoption of the name "Bucky" and the sweater-clad water rat we know today. I really wish I had thought up the Regbad thing as a joke, as it truly makes me feel bad for the people of UW. This school is supposed to be one of the "Public Ivies," a state school where you can get an Ivy League-level education, and this was the best they could come up with? This seems like something a Hoosier would devise.
Bucky does the usual mascot shit on the sidelines during games, like a push-up for each point scored, lead the student section in chants, and interact whimsically with the opposing team's mascot. Bucky used to engage in play fights with the rival mascot, but NCAA rules currently prohibit mascot combat, because of course they do. National Communists Against Athletes™ is right. This is a good thing for Buckeyes fans, however, because unless Bucky takes a bite out of Brutus' head and dies a slow death of buckeye poisoning, a badger will kick a nut-man's ass every time. Only a wolverine or a Spartan can really give a badger a run for its money in unsanctioned bloodsport.
2016 Record: 4-1, 3rd in B1G West
The Badgers are good this year, their only loss coming from Michigan 14-7 on October 1st, in a defensive battle that Michigan needed a last minute touchdown to win. They knocked off then-number 5 ranked LSU in their opening game, and have notched wins over Akron, Georgia State, and Michigan State. They put a hurting on MSU, beating them 30-6.
Coach: Drew Carey's brother, Paul Chryst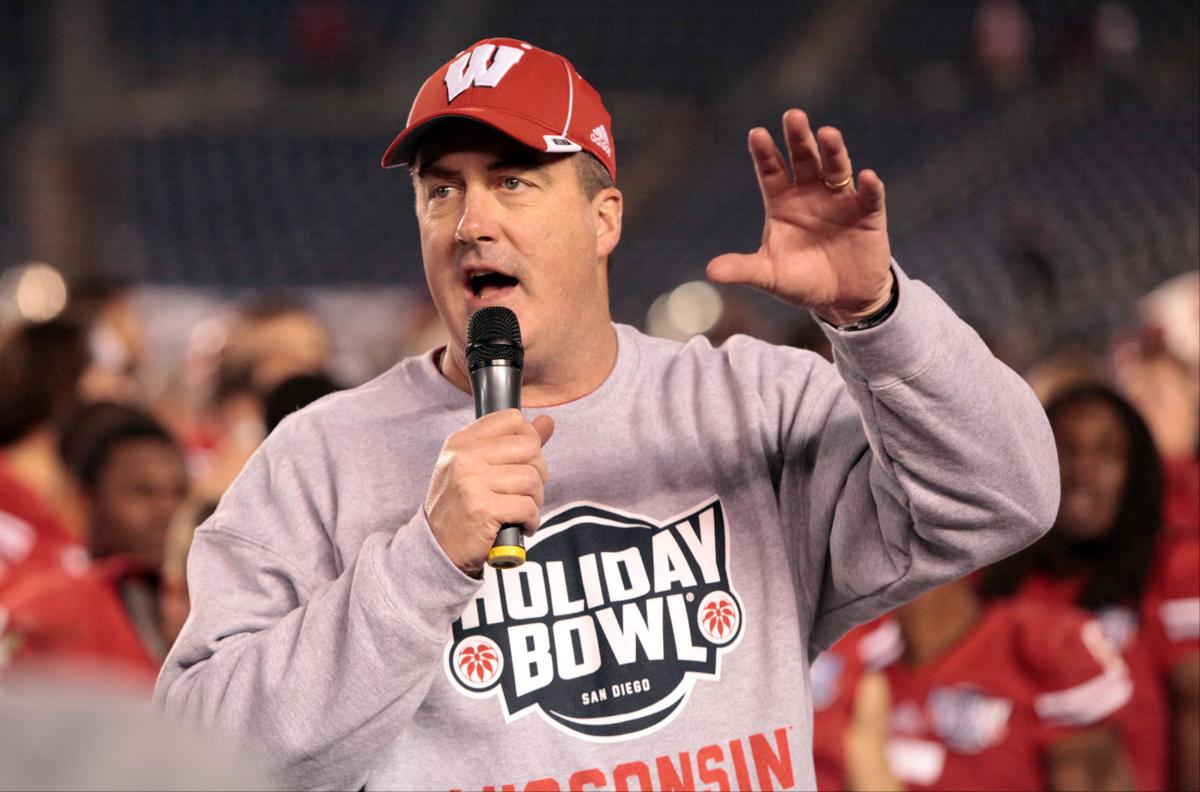 Chryst is a Wisconsin native, and attended UW-Madison where he played QB. He attended WVU to get his master's, where he began his coaching career as a graduate assistant in 1989. From there he coached for the San Antonio Riders, University of Wisconsin-Platteville, Ottawa Rough Riders, Illinois State, Saskatchewan Roughriders, Oregon State, the San Diego Chargers, and Wisconsin as the TE coach.
In 2003 he returned to Oregon State to become the offensive coordinator, where he coached one-time Cleveland Brown and current Panthers starting QB, Derek Anderson. In 2005 he returned to Wisconsin to become the OC/TE coach, then the OC/QB coach, before leaving in 2012 to get his first head coaching job at Pittsburgh. He returned to Wisconsin as the HC in 2015, upon the departure of Gary Anderson, who left to coach Oregon State after the Buckeyes stomped the Badgers 59-0 in 2014's B1G championship game.
Last season Chryst led the Badgers to a 10-3 record, their only losses coming to Top 25 ranked Alabama, Iowa, and Northwestern. Chryst has done well for himself in his short stint at the helm in Wisconsin, despite the team not having the word "rider" in its name.
Silly Traditions:
House of Pain's "Jump Around" is a Badgers classic, played in between the third and fourth quarters of home games. It is so revered at the school that many Wisconsin t-shirts feature the phrase on the front, with the skinhead Irish-American rappers on the back. This is appropriate because when one thinks about the state of Wisconsin, one thinks of narrowback rappers from Los Angeles.
The students and faculty of UW-Madison also hold a cheddar cheese ball eating and light beer drinking contest before every event at the school, even non-sports ones. For example, 17 students died of complications from diabetes before the first period of class on March 23, 2015, a normal day with no significance outside of the school's daily routine. The political science department held the contest outside of their offices, resourcing $10,000 worth of cheese balls and beer with their own money. The school administration wrote off the deaths as a sad, but acceptable risk of living in Wisconsin and attending UW-Madison. All of this just to commemorate a normal spring semester day like any other.
Famous Alumni:
Actress Joan Cusack, best known for playing second fiddle to her more famous brother John in multiple 80s movies, is an alum.
Comedian and actor Anders Holm, from Comedy Central's Workaholics, is a UW-Madison grad, as is Malcom's mom from Malcom in the Middle, actress Jane Kaczmarek.
Director and producer Michael Mann received his B.A. in English from UW-M before going on to make cinema classics such as Heat, The Last of the Mohicans, Ali, Collateral, and Public Enemies.
Musician Steve Miller, of Steve Miller Band fame, is a graduate. Former Steve Miller Band lead singer, Boz Scaggs, is also an alum. I first discovered Scaggs because my dad had a few of his solo albums, which are shit. He always stuck in my head because of his wacky name. Most people under the age of 63 who don't have my dad, likely recognize Scaggs' name from the Saturday Night Live skit where Norm McDonald plays Larry King, who looks at the camera and says completely batshit insane things like "sometimes I think giving women the right to vote was a grave mistake," or "there's no better singer out there than Boz Scaggs."
Actor Seann William Scott, Stifler from the American Pie series, is an alumnus. The milestones of the fictional group of friends in this series coincided with those in my life; they were seniors when I was a senior, etc. For this reason, I always got the impression I was supposed to give a shit about these movies, like how my parents' generation reveres Animal House. However, watching them now, they are not any good. Perhaps they pandered too much to the adolescents they were trying to reach, freezing them in that particular moment, but except for introducing the world to the term "MILF," they failed to make a larger impression. Anyway, this is a long way of saying Seann William Scott is only an OK actor and American Pie sucks.
Former Major League Baseball Commissioner Bud Selig attended UW-Madison from 1952-1956.
Former NFL running back Ron Dayne was a Badger, winning the Heisman with the team in 1999. Dayne played professionally for the Giants, Broncos, and Texans. During his NFL career, he struggled with weight gain, sometimes coming in at 40 pounds heavier than ideal, making him one of the lighter Wisconsinites in the country.
Badgers currently in the NFL (24 total):
Jared Abbrederis, WR, Green Bay
Beau Allen, DT, Philadelphia
Jonathan Casillas, LB, New York Giants
Marcus Cromartie, CB, San Francisco
Alex Erickson, WR, Cincinnati
Travis Frederick, C, Dallas
Melvin Gordon, RB, San Diego
Ryan Groy, G, Buffalo
Robert Havenstein, OT, Los Angeles
Lance Kendricks, TE, Los Angeles
DeAndre Levy, LB, Detroit
Chris Maragos, S, Philadelphia
Tanner McEvoy, WR, Seattle
Brad Nortman, P, Jacksonville
Joe Schobert, LB, Cleveland
Joe Thomas, OL, Cleveland
Scott Tolzien, QB, Indianapolis
Kraig Urbik,C, Miami
Rick Wagner,G, Baltimore
J.J. Watt, DE, Houston
Derek Watt, FB, San Diego
James White, RB, New England
Russell Wilson, QB, Seattle
Kevin Zeitler, G, Cincinnati
Melvin Gordon has been doing well for the Rams, but the Buckeyes shut him down during his college career. Go figure. J.J. Watt needs no introduction here, but as annoying as he is on social media with his box jumps and motivational slogans, as a Texans fantasy owner, I wish he were healthy.
Notable long-time virgin and concussion reducing sports drink hawker, Seattle QB Russell Wilson, finished his college career at Wisconsin, transferring from NC State. Our own Cleveland Football Browns have two Badgers on the roster, LB Joe Schobert and the perennial best left tackle in the league, Joe Thomas. One of the few offensive linemen to survive the purges of the Huey Jackson and #HarvardDisruption era, Thomas earned some media this week based upon his "negative" comments regarding the Browns' releasing decent young players just when they're starting to be productive.
This seems like giant nothing-burger to me. Next, he'll make the news for saying the key to winning games is scoring more points than your opponent, or that he prefers playing in clear weather to the snow. No shit.
Noteworthy Players:
Look out for WR Jazz Peavy, who despite having a 1930s gangster name, is good at modern American football and has 17 receptions for 281 yards this season. He's followed closely by Robert Wheelwright, who has 18 for 274. The Badgers' lead rusher is Corey Clement, with 82 carries for 319 yards. The Badgers are currently starting Alex Hornibrook at QB, replacing season starter and previous season's backup, Bart Houston. I only mention this because it seems like a damn crime to sit a quarterback named "Bart Houston," which is the initial name chosen for Keanu Reeves' character in Point Break before they went with Johnny Utah. The only more in-your-face quarterback name out there is Chad President, with General McNulty coming in a close second.
Prediction:
I don't want to brag, but I was very close to meeting my prediction for the Indiana game. If that Malik Hooker pick-six didn't get called back, I'd be good to go. Anyway, despite the commentary from someone called "Brock Huard," which I refuse to believe is a real name, the game went as I expected. Even when the Buckeyes win by three TDs, the narrative is still that we had a down game. This is poppycock, tomfoolery, nonsense, just plain wrong. If we are supposed to consider the contest against Indiana a "down game," I'll take it. Sure, the passing game was degraded, but the team stepped up the running game and won by three TDs. Let's try and keep some perspective. Here's how I stand for the year:
BGSU: Predicted 43-7, Actual 77-10
TULSA: Predicted 45-21, Actual 48-3
OKLAHOMA: Predicted 33-28, Actual 45-24
RUTGERS: Predicted 50-14, Actual 58-0
INDIANA: Predicted 48-14, Actual 38-17
This week, on the road against a hot Badgers team coming off their bye week and looking for a win after a close loss to Michigan, I predict the Buckeyes take it, 35-28. All the talk about Oklahoma and Indiana being the toughest games of the schedule was bullshit, in hindsight. This one is the real test, but I think we're up to it. Of course, I'll say the same thing about Nebraska in a few weeks.
That's it for this week, Buckeyes fans! Stay safe, have a good time, and go Buckeyes!