Welcome back to Know Your Opponent! Each week during the season we shed some light on the Buckeyes' opponent, examining their record, traditions, mascot, famous alumni and anything else we think is worth making fun of.
Finally, here's a true test for our reloaded Buckeyes squad. Scope out this hype video to get you pumped for the game:
FBS Stats: 14th, AP (stats from Sport Illustrated)
Points per Game: 48th
Yards per Game: 33rd
Points Allowed per Game: 119th
Yards Allowed per Game: 126th
Here's another hype video for your enjoyment:
Mascot: Boomer and Sooner
It was very hard to determine what the  mascot of Oklahoma is – many sources say it's the Sooner Schooner, and many say it's Boomer and Sooner. Even the school's website did not provide any clarification. Both exist in a state of semi-official mascotdom, orbiting Norman like twin moons. So, since they have students dressing up as Boomer and Sooner, I went with them.
Boomer and Sooner are matching white ponies who pull the Sooner Schooner, a Conestoga wagon representing the pioneers who settled the state. "Boomer" refers to settlers who wanted the opening of unassigned federal lands in the Oklahoma Territory after the Civil War, as well as the generation of most of our parents, responsible for the ruin of our economy in 2008 and our dismal future of rising sea levels, low-paying service jobs, and Soylent Green. "Sooners" refers to settlers who left early, before the official start time of the 1889 Land Run that opened up federal lands in the state for settlement. We call that "cheating" in Ohio. "Sooner" came to mean a symbol of progressivism, an "energetic individual who travels ahead of the human procession." Which is ironic, given Oklahoma's current status as the modern day know-nothing state, a Texas-lite, its foremost difference from the Lone Star state being less executions of retarded people.
Sometimes the school has real ponies that pull a real wagon around, but mostly it's just two students in horse costumes performing the typical beginner-level gymnastics and flinging swag into the crowd. The horses' lack of nostrils makes them look like Cenobite flesh-molding victims from the Hellraiser movies in red and white football jerseys. Their creamy flesh is also reminiscent of the Fluke Worm from the X-Files. This is the stuff of nightmares.
However! For the first time this season, the Buckeyes are playing a team with a mascot that harkens back to the school's history, relevant to the identity of its home state and fans. No random birds or meteorological phenomenon this week. It is too bad it's Oklahoma, a dusty, flat litterbox of a state peopled with wannabe cowboys, militia members, and anti-contraception, anti-vaccine, and anti-evolution extremists. Never forget – these assholes started the Dust Bowl, from which we needed WWII to recover.
2016 Record: 1-1, 1st in Big 12
The Sooners topped University of Louisiana-Monroe last weekend after a heartbreaking loss to Houston in week one, which saw them drop to 14 from three in the AP preseason poll. Still first in the Big 12, along with every other conference team, the Sooners will look to make a comeback in the rankings by beating the number-three Buckeyes and get back into the playoff conversation.
Coach:  "Big Game Bob" Stoops
f you're normal like me and don't follow other college football teams unless they play the Buckeyes, you knew Stoops only peripherally from sports media cut-ins during games or halftime updates, until this 2013 AT&T commercial:
A Youngstown native, Stoops played linebacker at Iowa where he a one-time All-B1G defensive back and one of the conference's most valuable players in 1982. He began his coaching career as a graduate assistant at Iowa, moving to Kent State in 1988. After a stint at Kansas State, Stoops joined Steve Spurrier's Florida Gators as defensive coordinator. Stoops' turnaround of the Florida defense helped lead the team to their National Championship win over Florida State in 1997. Oklahoma picked up Stoops in 1999, where he took the Sooners to their first bowl game since 1994.
Stoops is the winningest coach in Oklahoma history, with a total record of 180–47 (.792), losing only seven games at home. He took the Sooners to the National Championship in 2000, defeating Florida State. He has also led the team to championship appearances in 2004, 2005, and 2009, but failed each time to secure another title. His last championship loss was against the Urban Meyer-helmed Florida Gators. He is the only coach in the BCS era to win the Rose Bowl, Fiesta Bowl, Sugar Bowl, and Orange Bowl. Stoops picked up the nickname "Big Game Bob" early in his tenure at Oklahoma for his penchant for winning big games, but this has since been turned into an insult. The Sooners are 4-6 in BCS games and 8-9 in bowl games under Stoops, with notable losses in his last three championship appearances, the 2014 Russell Athletic Bowl against Clemson, and the CFP semifinal last year against Alabama.
The greatest controversy in Stoops' career was when the NCAA placed the Sooners on two-year's probation and ordered them to vacate all wins from 2005-2006; due to two players trying to obtain payment for work they did not perform. This was self-reported to the cartel by the school, but it still earned them the dreaded "failure to monitor" charge. The NCAA eventually changed its ruling and allowed the school to keep its wins. This is a tame scandal, comparatively. No cover-ups, no systemic sexual assaults or violence, no hawking practice jerseys for tattoos, none of that real bad shit. This is odd, frankly, for a Youngstown boy. The man grows up in the most mobbed-up city outside of Chicago, a sweaty shithole full of ginzos, greasers and gumbahs (Steelers fans, for short), and runs a by-all-accounts clean and respectable football program at the highest level for almost 20 years, and this bush-league violation is all we get? I don't buy it.
Let's face it Buckeye faithful, Stoops is one of the most successful coaches in modern college history – here's hoping his big-game choking streak keeps rolling this week.
Silly Traditions:
OU has two spirit groups, the RUF/NEK and Lil' Sis organizations. RUF/NEK sounds like it's a 1990s dirty south rap group with stars named Canaryman, Retchid Killah, and Swangin' Dacks. Separated by gender, confirming every stereotype I have about the state of Oklahoma, the groups team up to provide spirit activities at sporting events. At home games, the groups carry red and white paddles that were initially used to intimidate opposing fan bases, but now are only for pride and tradition. They also wear the traditional garb of the runaway slave patrol: two pistol belts across the waste and leather ammo belts across the chest, bandito-style, hearkening back to the state's roots as a Confederacy-aligned territory, and a picture perfect depiction of the current state of politics in Oklahoma.
The RUF/NEK crew maintains the actual Sooner Schooner and the accompanying live horses, running them around the north end zone when the team scores during home games. The Lil' Sis ladies ride the Schooner, in another ode to traditional gender roles in this backwards, godforsaken state.
Each year before the OU-Texas rivalry game, the organizations paint the sidewalk in front of Dale Hall on the OU campus with the slogan "BEAT THE HELL OUT OF texas!" with "Texas" in all lower-case letters. That will really show them, if you ask me.
Legendary WWE announcer and personality Jim Ross is a huge Sooners fan and can be seen at all home games, as well as critical away games. Keep your eyes peeled for Ross in the stands on Saturday.
Famous Alumni:
Professional basketball players Mookie Blaylock and Blake Griffin are Sooners. The late Evan Tanner, one-time UFC middleweight champion, was an alum, along with retired UFC fighter and Kurt Angle-lookalike, Frank Trigg. Former WWE World Heavyweight Champion Jack Swagger played football and wrestled at Oklahoma, under his government name Jake Hager. Current Aaron Rodgers flame and mute-Psylocke actress Olivia Munn graduated from the school in 2002 with a television journalism degree. OKC Thunder owner Clay Bennett is an alum, as well as Denver Broncos owner Pat Bowlen. Bowlen is one of the few NFL owners you don't hear much about, overshadowed by GM John Elway and his penchant for upper-lip dipping. Legendary actors James Garner and Ed Harris are Oklahoma alumni.
The most famous Sooner of all time is of course Brian Bosworth,  "The Boz" himself.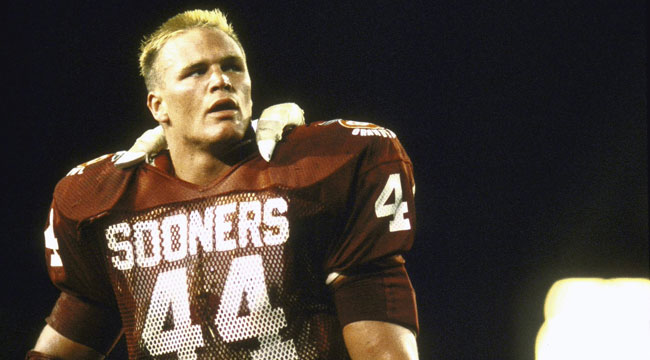 Boz was the prototypical linebacker, the only one to win two Butkus Awards. He was known for his wild whitetrash Mohawks and feather earrings, as well as is outspokenness against the NCAA, which he once called the "National Communists Against Athletes." While barred from playing in the 1987 Rose Bowl for a positive steroid test, Boz unveiled a shirt on the sidelines bearing that slogan. This got him booted from the Sooners by then head coach Barry Switzer. I can't fault Switzer for this, but I'll be damned if I'm going to criticize someone for shitting on the NCAA.
Bosworth hilariously sent letters to the NFL teams he was uninterested in playing for before the 1987 draft, when the Seahawks, one of the teams he sent a letter to, picked him up. They signed him to the then-largest contract ever for a rookie, $11 million over 10 years. Boz shit-talked Denver QB John Elway his rookie season, causing thousands of Broncos fan to wear "Ban The Boz" t-shirts to the game. Unknown to the fans, Bosworth's company made the shirts. This has to be one of the great trolling scams of all time. Boz retired after two seasons due to injury, one of the all-time biggest draft busts.
Bosworth has a lackluster on-and-off acting career, best known for his action debut Stone Cold, where he went undercover to stop a Lance Henriksen-led biker gang from storming the Mississippi Supreme Court. My favorite Boz acting anecdote is his canceled-after-one-episode TV show, Lawless. The description of the show from Wikipedia says it all, no jokes required: "The series centered on John Lawless, an ex-special forces operative who became a motorcycle riding private investigator in Miami's South Beach."
Boz is Oklahoma personified: Peckerwood swagger with a rat-tail, in acid-washed jeans and a biker gang vest, even though he's not a member of one.
Sooners currently in the NFL (30 total):
Dominique Alexander, LB, Cleveland
Blake Bell, TE, San Francisco
Devante Bond, LB, Tampa Bay
Sam Bradford, QB, Minnesota
Chris Chester, G, Atlanta
Aaron Colvin, CB, Jacksonville
Dorial Green-Beckham, WR, Philadelphia
Jermaine Gresham, TE, Arizona
James Hanna, TE, Dallas
Tony Jefferson, S, Arizona
Lane Johnson, OT, Philadelphia
Landry Jones, QB, Pittsburgh
Gerald McCoy, DT, Tampa Bay
Stacy McGee, DT, Oakland
Trey Millard, FB, Kansas City
DeMarco Murray, RB, Tennessee Titans
Corey Nelson, LB, Denver
Adrian Peterson, RB, Minnesota
Jordan Phillips, DT, Miami
Aaron Ripkowski, FB, Green Bay
Sterling Shepard, WR, New York Giants
Donald Stephenson, OT, Denver
Kenny Stills, WR, Miami
Charles Tapper, DE, Dallas
Tyrus Thompson, OT, New Orleans
Tress Way, P, Washington
Damien Williams, RB, Miami
Daryl Williams, OT, Carolina
Trent Williams, OT, Washington
James Winchester, Lon Snapper, Kansas City
An absolute shitload of Sooners in the NFL, outnumbered only by alums of our beloved Ohio State; I know this only because the schools are next to each other alphabetically on ESPN's website. Obvious standouts include DeMarco Murray, Adrian Peterson, Kenny Stills, and Sam Bradford. Landry Jones is also someone I'm familiar with, if only because he's a no-name backup for the fucking Steelers who is still more competent at the position than any Browns QB of the post-move era.
Speaking of the Browns, a former Sooner named Dominique Alexander is a linebacker for us, which is a fact I did not know until researching this article.
Noteworthy Players:
Quarterback Baker Mayfield is an obvious player to watch for, not that you could miss the freaking guy with the ball in his hand during every offensive play. Greg Schiano compared Mayfield to Brett Favre this week when asked who the QB reminded him of as he prepared the OSU defense. Picked by many as the pre-season top QB in the country, Mayfield was in the Heisman conversation last year, and is again this year. RB Joe Mixon has 157 yards over two games on 20 carries, which ain't too shabby. However, Oklahoma is known for its passing offense, with 14 receivers recording catches so far this season. Wide receiver Mark Andrews has racked up the most yards, with 154 over 5 (!) catches for a 30.8 yard average. Damn.
Prediction:
Last week I was close on the Buckeyes' performance, but severely overestimated Tulsa. Here's how I stand for the year:
BGSU: Predicted 43-7; Actual 77-10
TULSA: Predicted 45-21; Actual 48-3
This week, I predict the Buckeyes take the win after a slugfest, 33-28. They will need to throttle Mayfield and the Sooners' passing game, and attack deep themselves. Oklahoma will be the first real test for the Buckeyes this season, so expect all the scorching takes and hand wringing in the media (but not here!) if we lose. Beating Alabama and Oregon in 2014 for the championship should have quieted all the OSU-soft-schedule talk for the rest of the Urban Meyer era, but don't hold your breath. This is a young team and they are going to be inconsistent, but I'm confident they can pull it off. Moreover, it's still early in the season. We came back from a loss against an unranked Virginia Tech two years ago; we can recover if we lose to a ranked Oklahoma.
That's it for this week, Buckeyes fans! Please leave any suggestions for what you want to see from future iterations of KYO in the comments, along with the NSFW GIFs. Stay safe, have a good time, and go Buckeyes!