Welcome back to Know Your Opponent! Each week during the season we shed some light on the Buckeyes' opponent, examining their record, traditions, mascot, famous alumni and anything else we think is worth making fun of. This week – the Golden Hurricane of Tulsa University! Yes, that's "hurricane," singular. I don't know. We struck out again on hype videos, so check out the AAC's Tulsa preview, if you have 10 minutes to spare. I didn't.
FBS Stats: 66/128, per CBS Sports
Points per Game: 49th
Yards per Game: 48th
Points Allowed per Game: 37th
Yards Allowed per Game: 70th
We're still going with CBS' rankings, because Tulsa will not make the AP Top 25 poll. Sixty-sixth is not too shabby for a school I didn't know existed until seeing OSU's schedule for this year. I'm inherently biased against schools named after a city, like Toledo, Youngstown, Tulsa, etc. At first glance it seems like they're actively restricted to where they are drawing their students, and I think that's a bad way to go about college recruiting, for both academics and football.
I know this isn't actually the case, but I can't stop dismissing them out of hand as second-rate. What Houston has done after our boy Tom Herman got there should disabuse me of this tendency, but I'm too old to start applying rational thought to college football. Tulsa put up 45 points and allowed 10 against San Diego State in week one, which sounds like a pretty good ratio until you compare it to what the Buckeyes or even hated Michigan did against buster teams this week. Jesus.
Mascot: Captain Cane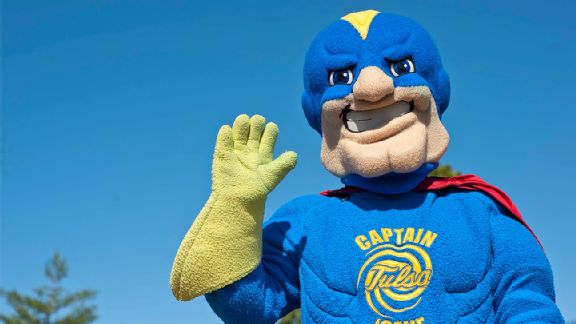 Not a bad mascot, as far as these things go; certainly a great one for a Presbyterian school. I always assume religious schools will have a mascot calling back to their faith, hopefully something offensive like an inquisitor for a Catholic school, but I'm always let down. The school's website has the official story of Captain Cane as an IT support guy who was struck by lightning while watching a TU game, and was transformed into a Tulsa University-themed superhero. They even use the word "zealot" to describe his love of all things TU, which is poor word choice for a religious school, in my opinion.
The original Captain Cane look was of a football player with a cape and a hurricane head, which I would have guessed was a beehive, had I not known the whole hurricane angle. In 2009, the school switched to the current, traditional superhero look. Until 1994, the mascot was known as "Huffy," an ode to the hurricane label.
Now, you may be asking yourself, why would a school in dusty, landlocked Oklahoma name themselves after a tropical storm? In 1922, the team voted to name themselves the "Golden Tornadoes," but Georgia Tech already had the name, so they switched to hurricane to keep the meteorological theme. Try as I might, I could not find out why the "hurricane" is singular.
2016 Record: 1-0, American Athletic Conference, 1st in West Division
As stated earlier, they beat up on San Diego State this week, so they're tied with every other team in their division for first except for Tulane, the only loser. Typical Tulane. Here's the recap:
Coach: Pro Wrestler Shane Douglas' love child, Philip Montgomery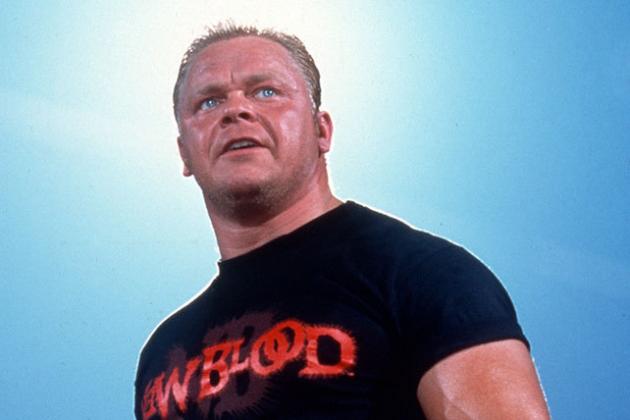 Previously the OC at Baylor, Montgomery took over as Tulsa HC for the 2015 season. Known as an offensive guru for running Baylor's high-octane offense, Montgomery took the Golden Hurricanes to a 7-6 record his first year, including a win at the prestigious Camping World Independence Bowl over Virginia Tech. He has coached his fair share of big-name QBs like Case Keenum, Kevin Kolb, Bryce Petty, and the Cleveland Browns' own, RGIII.
A protégé of Baylor HC Art Briles, he first coached under Briles at Stephenville High School in Texas, then at Houston, and finally at Baylor. Montgomery appears to have avoided any fallout from the Baylor football scandal that forced out Briles this year, but if we've learned anything about college football coaches, there's a good chance he knew of the terrible sexual misconduct covered up by the school. ((As if we needed any more motivation to root for the Buckeyes, this week we'll have the moral high ground as well. Speaking of moral high ground and a coach's potential ethical lapses at a previous job, I don't know who Aaron Hernandez is, do you?))
Silly Traditions:
Tulsa being a religious school, this was going to go one of two ways: absolutely offensive, batshit crazy traditions, or tame, quiet, milquetoast traditions. Unfortunately for all of us, it's the latter. TU's signature tradition is students in the student section at home games wave a school flag, called "wave the flag." This "tradition" was started in 2013. That's it. The school's website even lists its marching band as a tradition…this is not a tradition.
Having a marching band is just something schools do. It's an organization that every single college has. They might as well have listed "have classes" or "have roads that allow students to drive places." Here's a typical Tulsa tailgate, with the flag waving in action:
Famous Alumni:
Radio personality Paul Harvey is an alumnus, who I know best from his voiceover in a Rams Trucks commercial during the 2013 Super Bowl. Harvey was close friends with FBI founder and fascist J. Edgar Hoover, and red-baiting, alcoholic, and fascist Senator from Wisconsin, Joseph McCarthy. A real freedom-lover, this Harvey fellow.
Emmy Award-winner Rue McClanahan, best known for her portrayal of cougar Blanche Devereaux on the Golden Girls, was an alumnus. I credit Blanche for opening 12-year-old me's eyes to the uncomfortable reality that one's sexual drive does not stop when you get older, no matter how wrinkly and creaky your body is. I have yet to recover.
Shitbag armchair psychologist and Oprah's crime against humanity, "Doctor" Phil McGraw, played football at Tulsa until his team was beat 100-6 by Houston, one of the most lopsided games in college football history, after which he left for Midwestern State. Perhaps Dr. Phil should have heeded his own advice and stayed strong at Tulsa instead of giving up and leaving. He needs to follow through on his obligations, like he tells bikers and their obese common-law wives daily on UPN.
Waterworld's Jean Tripplehorn briefly attended the school, before dropping out to pursue acting full time. I was a huge Waterworld fan as a kid, and to this day, I do not know why. It's a terrible movie. Most of the other crap I liked back then is at least watchable, but not Waterworld. Tripplehorn may have had something to do with it, but I cannot be sure. I even made my own Waterworld action figures out of a Kevin Costner Prince of Thieves Robin Hood and a Dennis Hopper Mario Brothers King Koopa. I should not be admitting this.
Current Illinois, and former Chicago Bears and Tampa Bay Buccaneers head coach, Lovie Smith, is a Tulsa graduate, where he was a two-time All-American at linebacker and safety. Smith's recent hiring at Illinois invigorated the school's fan base, which had been lagging the past few years under subpar records and coaching turmoil. With only one allowed under NCAA rules, Lovie's compulsion for challenging unreviewable plays should be limited. He just needs to get it out of his system in the first quarter. It's as if the school hired him knowing full well their team would be without this critical tool as long as Smith is the coach. Desperate times, my friends.
Other notable alumni include NFL Hall-of-Famers Steve Largent and Jim Finks, as well as 2002 Olympic bobsled silver medalist Todd Hays.
Golden Hurricanes currently in the NFL (4 total):
Charles Clay, TE, Buffalo Bills
Keyarris Garrett, WR, Carolina Panthers
Dexter McCoil, S, San Diego Chargers
Tyrunn Walker, DT, Detroit Lions
Clay was a decent pickup in fantasy last year, good for when Rob Gronkowski had a bi-week. He did well enough that I played him at flex a few times, which was a bad idea. You never play two TEs if you have any other choice. Garrett is a rookie with a total of 12 yards of NFL offense. McCoil is a rookie who spent three years trying to make an NFL roster, until the Chargers finally signed him. Walker is in his fifth year, playing for New Orleans for two years before coming to Detroit.
Noteworthy Players:
QB Dane Evans threw for 198 yards and a touchdown in week one. He is backed up by the whitest-sounding football player in America, Chad President, who had nine yards. However, President is not white, killing untold jokes. The only more stereotypically white-villain names out there are Rupert Moneybags, Todd Countryclub, or Jeff Sessions. RBs D'Angelo Brewer and James Flanders combined for 246 yards on the ground, with Brewer bringing in three touchdowns. WR Keevan Lucas accounted for 112 yards on six receptions, which is impressive.
Prediction:
Last week I was close on Bowling Green's total, but severely underestimated the Buckeyes offense. These early season games against no-name teams can be hard to call, so cut me some slack. Tulsa is a little higher caliber of opponent than BG, so I'm predicting the Buckeyes take it 45-21. I'm hoping the Buckeyes continue to improve, looking to the week three matchup with Oklahoma.
That's it for this week, Buckeyes fans! Please leave any suggestions for what you want to see from future iterations of KYO in the comments, along with the inevitable threats and insults. This one's at 3:30 p.m., so don't start drinking too early. Stay safe, have a good time, and go Buckeyes!