Welcome to Know Your Opponent! Each week during the season we will shed some light on the Buckeyes' opponent, examining their record, traditions, mascot, famous alumni and anything else we think is worth making fun of. This week: The Michigan Wolverines!
This is it, team. Given this is our biggest rivalry and one of the hallmark rivalries in college sports, if you're a Buckeyes fan you should know most of this stuff. So, this week we did a little extra research to reveal some facts about the Wolverines you may not know. I hope this is as informative for you as it was for us!*
FBS Stats:
Points per Game: 76th
Points Allowed per Game: 9th
Yards per Game: 126th
Yards Allowed per Game: 3rd
Hey, they're good on defense; I may have heard that mentioned somewhere this season, but I can't be certain.
Mascot: Biff the Wolverine
Many people believe that Michigan does not have a mascot, in the sense that most schools have costumed students that romp around the sidelines doing pushups, and this is true. However, they do have a mascot: Biff, a real, live Wolverine. In the 1920's, Biff was brought to the field during games in an elaborate cage by men in formal attire, but after he escaped and mauled three cheerleaders to death despite their full-body woolen outfits, the school was banned from keeping a live, vicious monster around, so he was given to the Detroit Zoo.
However, it is a little known fact outside of Ann Arbor (one of the most notorious hives of scum and villainy in the Midwest) that the school still keeps a wolverine captive in the bowels of the stadium, for the sole amusement of the athletic staff. This is in violation of numerous state and federal animal cruelty laws, not to mention industry best practices for housing dangerous, wild animals, but as we've come to learn about the University of Michigan, laws, regulations and standards of social propriety hold no sway.
How does one go about obtaining a live wolverine, you ask? Apparently when the school needs a new wolverine due to the demise of the current one, they mount an expedition to Michigan's Upper Peninsula to capture a new animal. Led by members of the notorious anti-government group the Michigan Militia, known nationally for training Oklahoma City bomber Timothy McVeigh, the expedition uses human body parts donated to the science department by alumni when they die, specifically noted in their wills for this purpose, to bait the target wolverine. It is then tranquilized, put in the same cage they've been using since the '20s, and transported back to the Big House. It's all very illegal and hush-hush, but WFNY has a contact in the Michigan ASPCA who has been working undercover for years to put an end to this practice, to whom we are grateful for this information.
2015 Record: 9-2, third in B1G East
Notable games include shutouts against BYU, Maryland, and Northwestern, which is a record of some sort, but because it's laudatory towards Michigan I'm not going to look it up. They pulled off close wins over Minnesota and Indiana, and lost on the last play against Michigan State. I loved that at the time, but now it would be better for the Buckeyes if Michigan had beat MSU, meaning we'd have a better shot at the B1G championship if we beat them this week. However, I'll take Michigan losing even if it's not the best scenario for the Buckeyes, which is just the spiteful Browns fan in me bleeding over into college football.
Coach: Lifetime Movie Channel Ted Bundy biopic star, Jim Harbaugh What is left to be said about crazy man Jim Harbaugh that hasn't already been touched upon by countless sportswriters and internet opinion-mongers? Plenty!
The man tucks his crewneck sweatshirts into pleated khakis. This alone should disqualify him from any positon of actual responsibility or import, so good thing for him he works in football. I'll never understand why coaches cannot wear jeans on the field. Bill Belichick dresses like a former-Soviet-bloc Mafioso, but jeans are out of line? The athletic-gear-top-with-dress-pants look is almost as ridiculous as golf clothing…..Almost. That's a take too hot for me at this point in my life.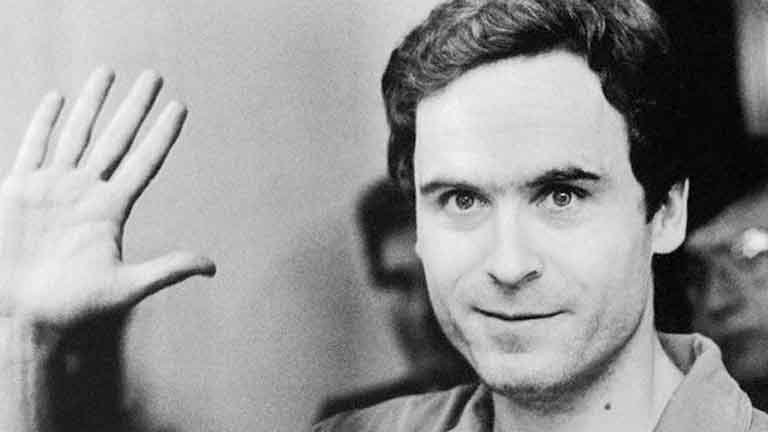 Harbaugh was fired from the 49ers in 2014 after an 8-8 season, even though the previous three years the team went to the post-season, including a Super Bowl; this is how toxic the man is. The team is a dumpster fire this year, eclipsed in dysfunction only by our own Cleveland Browns. Didn't the Browns try and trade for him? Craig mentioned it on the podcast recently, but I can't bring myself to look it up. Incidentally, I'd kill for a Browns 8-8 season. Of course Harbaugh went back to his alma mater Michigan, where they make it a contest to see how many scumbags and scoundrels they can have on the staff at any given time.
Harbaugh was born in Toledo, arguably Ohio's third-worst city, behind Hicksville and Cincinnati. I'm grateful it was the only Ohio tie I could find, sparing me from having any further connection to the man, no matter how tenuous. I know the Michigan-Ohio War over Toledo helped create the rivalry between OSU and UM in which we take much of our traditions and football lore, but part of me thinks the great state of Ohio would have been better off if we had lost Toledo, an apocalyptic hell-scape rivaled only by Detroit in muggings and murders-per-capita.
Well known for his tantrums and near constant poopy-face, Harbaugh works the refs even when up by 31 points, as in this clip.
Silly Traditions: Another bummer as far as traditions, I'm unhappy to say. Check this out for a full list if you absolutely must. There are a few almost-interesting ones, which we will examine in greater detail.
Put on by students in Michigan's oldest degree track, the world-renowned Carnival Studies Program, the "Carny Fun-Time Hootenanny" halftime show takes place every home game. CS-tracked students set up their mini-roller coasters and weight-guessing stations, as well as performances by those in the Wolf-faced Boy and Geek Show minors. The school has not had a death result from this halftime show in the Jim Harbaugh era, which is worth commending. The Brady Hoke years were known as some of the bloodiest in school history, particularly because Hoke insisted on being shot out of the human cannon into the student section.
Another tradition at Michigan is the game-day morning Lawn Darts™ live target practice on fraternity row. Each frat votes for a sacrificial member who must report to a stage set up at the end of the street, to be a contestant in what is advertised around Ann Arbor as "The All-Day Lightning Round." They are made to lay down on a bullseye painted on the stage, and students who won a school-sponsored raffle earlier in the week stand on a platform 50 yards away, launching Lawn Darts ™ at the human targets. Points are awarded for a direct hit, with major organs being worth more than limbs, and a kill is an automatic winner. Surprisingly, this tradition is credited by the school on their website for robust fraternity recruitment and is the key contributor to their thriving Greek system, proving once again the suspect mental faculties of anyone who attends the University of Michigan.
Famous Alumni: Previous iterations of KYO found some truly amazing and renowned alumni from Buckeyes opponents, but this week has got to be the cream of the alumni crop.
Well-known Wolverines include "Scopes Monkey Trial" lawyer Clarence Darrow, co-founder of Google Larry Page, creator of "Civilization" and other seminal computer games Sid Meier, professional terrible person and political-commentary shitheel Ann Coulter, founder of 1960s terrorist group the Weathermen Bill Ayers, dictator responsible for the deaths of 60,000 Haitians Francois "Papa Doc" Duvalier, singer and pop culture icon Madonna, mail-bomb terrorist Ted "Unabomber" Kaczynski, actress Lucy Liu, assisted-suicide pioneer Dr. Jack Kevorkian, infamous child-killer Richard Loeb of the murderous duo Leopold and Loeb, rock star Iggy Pop, and America's first big-name serial killer, as well as conman and bigamist, HH Holmes.
Wolverines currently in the NFL (21 total):
Jason Avant, WR Kansas City Chiefs
Tom Brady, QB New England Patriots
Alan Branch, DL New England Patriots
Frank Clark, DE, Seattle Seahawks
Kenny Demens, LB, Arizona Cardinals
Devin Funchess, WR, Carolina Panthers
Brandon Graham, LB, Philadelphia Eagles
Leon Hall, CB, Cincinnati Bengals
David Harris, LB, New York Jets
Chad Henne, QB, Jacksonville Jaguars
Jordan Kovacs, S, Miami Dolphins
Taylor Lewan, OT, Tennessee Titans
Jake Long, OT, Atlanta Falcons
Mike Martin, DE, Tennessee Titans
David Molk, C, Philadelphia Eagles
Patrick Omameh, G, Chicago Bears
Denard Robinson, RB, Jacksonville Jaguars
Jake Ryan, LB, Green Bay Packers
Michael Schofield, T, Denver Broncos
LaMarr Woodley, LB, Arizona Cardinals
Charles Woodson, S, Oakland Raiders
Tom Brady is the obvious big-name Michigan graduate here. I was able to draft Brady in the sixth round in fantasy this year due to his "Deflate-gate" suspension being lifted a few days earlier. I'm not implying I'm some sort of fantasy genius for getting him cheap, just that I happened to see the suspension was lifted and none of the other guys in my league paid attention, because they have lives and families and other priorities. I'll take Brady in fantasy all day long, but he has definitely reinforced Michigan's reputation for attracting and producing crooks. Ohio native and 1997 Heisman winner Charles Woodson is still going strong in the NFL despite being the oldest defensive player in the league. I would make a joke about that, but I'd kill to have him in the Browns' backfield.  On Nissan's "Heisman House" commercials he feuds with Eddie George and Troy Smith over who gets the best spot to hang their alma mater's mascot painting, where he dubiously comes out on top. I feel like the two of them could take him, if they were motivated. Denard Robinson is a third-string RB for Jacksonville, where he has retired his trademark "feed me" gesture from college in favor of the new "can I please play?" shrug. In week seven of the 2014 season, he ran for 127 yards against the Browns, helping the Jaguars end a nine-game losing streak while continuing the streak of broke-ass players having career-high games against the Browns.
Noteworthy Players (all rankings B1G-specific):
Graduate transfer from Iowa and strawberry-blonde man-child, QB Jake Rudock, is fourth with 16 touchdowns, 10th with nine interceptions, fifth with 2,476 yards, and fifth with an overall rating of 138.9.
Leading WR Amara Darboh is eighth with 52 receptions, 12th with 635 yards, 22nd with 12.2 average yards-per-catch, and 13th with five touchdowns.
Leading RB and Warren native, De'veon Smith, is 10th with 145 rushes, 14th with 621 total yards, 21st with 4.3 average yards-per-carry, and 18th with six touchdowns.
Pickerington native, TE Jake Butt, isn't too flashy with his conference stats, but he's tall and heavy and serves a Rob Gronkowski-type role as an outlet for QB Rudock when a big play is needed.
WR Jehu Chesson falls behind Darboh in receptions and total yards, but he's seventh in the conference with 14.5 average yards-per-catch, and fourth with seven touchdowns.
Despite having a mouth-watering last name, S Jabrill Peppers doesn't have any flashy stats with zero interceptions for the year, but he's a beast who is a punt and kick returner and often lines up as a RB on offense.
Known for their defensive prowess this year, the Michigan offense is no slouch either. QB Ruddock has a variety of targets to throw to, an ok running game, and super-player Peppers is available as a change of pace which the Buckeyes will need to account for. You all saw how well we handled a great defense last week, so this will be fun! Also, a Buckeyes win puts an end to the narrative of Ohio natives who were not good enough to play at OSU so they went to a Michigan school and are now extra motivated to beat us.
Prediction: I'm hoping the Buckeyes rally from their loss against Michigan State last week and call more plays on offense besides the QB run. I was confident the Bucks would beat MSU but would struggle against Michigan, so I'm hoping the loss motivates them to play like they want to win this week, as opposed to just not lose. If they weren't saving up all season for Michigan State, what were they saving up for? We've never played well as frontrunners, so hopefully the loss brings back some motivation and opens up the playbook. Anyway, I predict a Buckeyes victory, 21-20, but I'm not so confident on that I'd put money on it. Also, go Penn State!
That's it for this week, folks. Let us know in the comments if there's anything you want see in the bowl game edition (and B1G championship game edition if we're SUPER lucky) that we didn't include here. Enjoy your weekend, stay safe, and go Buckeyes!
*Note: I made a lot of this shit up because it's Michigan, and it was fun. Except for the famous alumni; all these horrible people are really Wolverines.