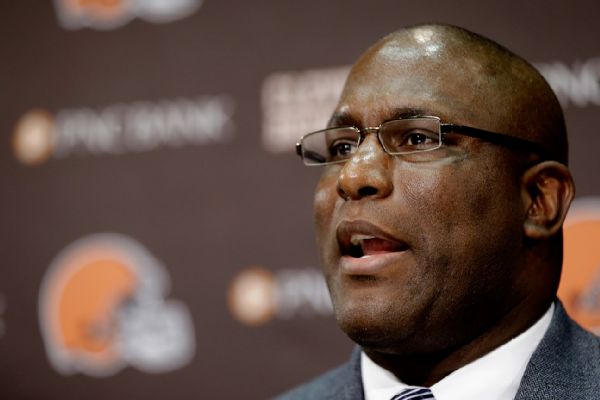 The Browns seemed to be set to be one of the most active teams in free agency as the period began. They signed Karlos Dansby and Donte Whitner very quickly and were off to the races. They followed that up with an offer sheet to Andrew Hawkins, a smaller move on special teamer Isaiah Trufant before making another marginally big splash over the weekend with running back Ben Tate. As I write all that out, it really does seem like they've been active, but there are a couple things that the Browns haven't done which has surprised me and makes me curious about their strategy and plans. So let's explore what the Browns have done and what it might mean for their plans from this point forward.
1. Are the Browns confident in Kyle Shanahan's system for offensive lineman and the personnel they currently have on the roster? I expected the Browns to make a move at offensive guard or maybe even at right tackle this off-season. The team has Jason Pinkston, John Greco, and Mitchell Schwartz who are question marks compared to Joe Thomas and Alex Mack. Greco played pretty well and Pinkston really has shown some potential when he hasn't been hurt. Other than that, they have Garrett Gilkey and some other really unknown prospects. Yet, so far the Browns haven't done anything to address the offensive line. Do the Browns feel confident in Shanahan's system to elevate the play of existing personnel? Do the Browns have a draft strategy in place to address their offensive line? I have one last theory.
I think the Browns watched tape of the offensive line when Brian Hoyer was playing behind them. Brandon Weeden signed in Dallas yesterday and there's no comparison between how the offensive line looked when Hoyer was back there unloading the ball decisively compared to the statuesque Weeden staring down receivers and waiting for them to look "college open" before delivering the ball. Maybe it's totally unfair to grade the offensive line with someone like Brandon Weeden leading the offense.
2. The Browns were interested in Darrelle Revis, were rumored to have invited Dominique Rodgers-Cromartie for a visit, but have stayed quiet at corner otherwise. Why? I'm sure the Browns relished the opportunity to put one of the bigger named players at corner opposite Joe Haden to see how dominant a Mike Pettine defense can be. Still, even as they've chased names like Revis, they've avoided being desperate like trading something (anything) for the right to pay him $16 million for the 2014 season.
For the Browns, it was tempting to go after one of the best corners in the game, but their real strategy was revealed with the signing of Karlos Dansby. It's actually something of a continuation of what Banner and Lombardi claimed to be putting in place with Ray Horton last season. Corners can be made to look better with pressure on the quarterback. The Browns invested heavily in the pass rush a year ago with Paul Kruger, Desmond Bryant and then the drafting of Barkevious Mingo. Still, despite getting pressure, the Browns felt like they had a gap in the pressure up the middle. So, they cut D'Qwell Jackson and signed Karlos Dansby.
It's important to have good cornerbacks, but it's also easier and cheaper to make corners look better with a good pass rush than it is to get corners who are so good that they can live on their islands. With Darrelle Revis' $16 million the Browns can sign how many pass rushers like Karlos Dansby?
3. What are the Browns doing in their draft? The team reportedly wasn't at Teddy Bridgewater's pro day. They didn't speak with quarterbacks at the combine. They reportedly liked Johnny Manziel and then reportedly didn't like any of the quarterback prospects. The Browns are a complete mystery in the draft right now, and that's a good thing. Some teams end up looking like they like every candidate. Johnny Manziel? Absolutely! Great prospect. Clowney? Wow! What a player! Bortles? We'd pick him twice if we could! Not the Browns. The way it feels right now, I don't know if the Browns like anyone at all. It's pretty funny really.
If I had to guess, I still have to think based on what we've seen so far that the Browns will go offense in the draft. I don't know if they like any of the QBs enough to make that move, but they need a prospect. They probably need a second wide receiver as much, if not more. They could use an offensive lineman. In this day and age of the tight end, they could probably use another prospect behind Jordan Cameron too. Yes, they could use an inside linebacker and a cornerback, but I can't help but think we're firmly on offense right now in the first round of the draft. Then again, I already said the Browns are playing some serious poker, so I truly have no clue.
*****
So those are the things I'm thinking right now. I must say that I haven't felt this confident and comfortable with a Browns organization in a while. I had even more inherent distrust in Banner and Lombardi than even I realized. As Ray Farmer and Mike Pettine move through this off-season it feels like a team all pulling in the same direction for the first time in a long time. That's something that Joe Banner killed when he fired Rob Chudzinski after just one year. Right now, it leaves me thankful that Jimmy Haslam realized that toothpaste was already out of the tube.
Of course, we're still in the honeymoon period. The Browns have to continue to make decisions that give the fans confidence and, you know, win more than four games in 2014.