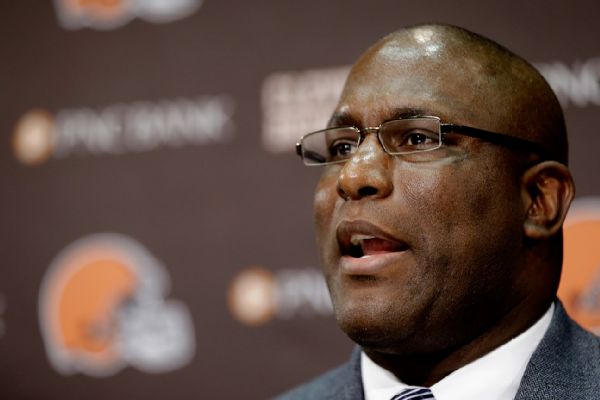 The NFL combine is wrapping up, and for Cleveland's new collective brain trust, the next few weeks will be setting a foundation for the 2014 season and beyond.
After the scouting combine closes on Tuesday, the Browns will put together their plan of attack for the off-season. The first order of business will be making decisions on their own free agents and players who they may decide to part ways with. The three high profile decisions to make are of course center Alex Mack, safety T.J. Ward and linebacker D'Qwell Jackson.
D'Qwell Jackson isn't a free agent, but there is a chance that the Browns could choose to part ways with the 30-year-old linebacker. The team leader in tackles for the last three seasons is due a $4 million dollar roster bonus for being on the roster when the 2014 league year begins. Jackson has said that he would be "shocked" if he wasn't brought back, but he was also shocked that Rob Chudzinski was let go, and certainly felt that Ray Horton would be the defensive coordinator when he made those statements. His base salary for 2014 is set to be $3.9 million, meaning he would be a $8 million player with all his bonuses included, and a cap hit of $9.43 million. Next season that base salary number would raise to $7.7 million. If the Browns were to cut Jackson, there would be a $4.2 million dollar dead money hit. Keep in mind that the current coaching staff does not have any real connection to Jackson.
Mack and Ward are the real wildcards here, and what happens with them will have a real impact on what the team has to do in free agency, and possibly the draft. If the Browns could reach a deal with Mack, it would make things much easier. The Browns have the ability to designate one of the two as a franchise player, likely locking them up for at least next season. Players can still negotiate a deal with another team, but the Browns would then have the ability to match the deal and retain the player.
Since all offensive linemen are lumped together when it comes to assigning franchise tag amounts, Mack would get just over $11 million for a one-year tag. That would make him the highest paid center in the league by a few million. Signing Mack to a deal would mean that the Browns could use the more team friendly franchise tag on Ward, who would get a little over $8 million for the season. That figure is still among the tops at his position, but not by $3 million like Mack's number.
The Browns need to make these decisions before the league year ends on March 11. In truth, they would like to have these contracts wrapped up before teams are allowed to talk with unrestricted free agents on March 8.
If one or both of those players leave, it would create a pair of holes in the Browns' depth chart. John Greco worked at center during practices and camp last season. Without Mack the Browns could decide to let Greco have a shot at the starting center spot, but behind T.J. Ward is nothing comparable.
The Browns are $38 million or so under the cap (depending on where you get your stats). Locking up Ward, Mack and possibly cornerback Joe Haden would reduce that number obviously. They would still have money to work with in free agency.
These decisions will be coach Mike Pettine and general manager Ray Farmer's first fingerprints on the team. In his introductory press conference, Farmer and team owner Jimmy Haslam confirmed that he will have final say over the 53-man roster with Pettine deciding who is active on game days and who starts/plays on Sunday. To his credit, Farmer said that he will take his cues from the coaching staff as far as what kinds of players they want.
Those are the conversations that have been happening in Berea. They are the ones that will shape the decisions that Ray Farmer makes about free agents and the draft.
Speaking of the draft, the Browns have ten picks overall. It doesn't seem likely that the Browns will use all of those picks on players. The team would likely love to trade a few of those assets to move into better position. They already have three of the top 36 picks, but could still move up or down as they have extra picks in the third and fourth rounds.